The kitchen is the central hearth of the home and this is where you can really spruce up in terms of its backsplashes. When you get fed up of your usual backsplash you can change it at minimal cost. Try making your kitchen more eco friendly by using materials which are not only biodegradable but are easier in terms of maintenance. Backsplashes tend to get dirty due to food stains and the buildup can be really ugly if you forget to clean them. These green materials can vary from marble, ceramic tiles, glass, granite, stainless steel and recycled metal. You can even combine some of these materials together for a truly unique and green experience.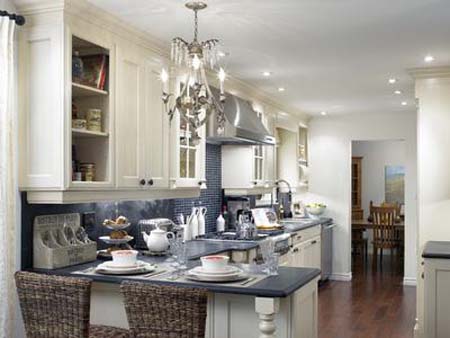 Recycled glass for a change
These recycled glass tiles are made up of a mixture of industrial glass and post consumer waste, making them quite sustainable and green. If you want to go a step further into knowing its green composition you can always enquire from the supplier. The healthy aspect of such tiles is their original colors with no other colorants or oxides added, as the original pre-recycled glass color design is retained. They are handmade and come in a variety of styles, sizes and colors, although you may need to check the size variations. While installing these glass tiles, use un-sanded water-based chemicals and silicone binders which have no VOC emissions.
Get in the recycled aluminum effect
This kind of tiles are fairly recent where manufacturers use old industrial and consumer aluminum shavings to create green and solid tiles. These eco tiles are garnered out of 80 to 85 percent of scraps and should be fixed using low VOC setting and adhesive materials. The great thing about these eco tiles is its application on rock board, tile backer and plywood. You just need to accommodate a color infused silicone grout for expansion and contraction as aluminum is prone to react with heating and cooling. You can also opt for aluminum and polyester surface composites which have been made out of polyester resin and recycled aluminum. It will become a nice, non absorbent, VOC-free green backsplash addition for your kitchen.
Recycled concrete with glass backsplash
These days there are cement composites made of a mixture of industrial glass, porcelain, old bottles, toilets, and bathtubs which are post consumer materials. The combination gives the tiles a terrazzo design which reflects the light beautifully. Since these materials are all bio-degradable they are relatively safe even after the completion of their lifespan. They are not only attractive to look at but are very easy in maintenance for green living.
Green ceramic tiles
Using recycled ceramic tiles is another great option for a green kitchen as they are inexpensive and readily available. They come in many different sizes, colors, finishing, and styles. They are also easy to install. These tiles have been made with a combination of recycled green materials like stone, dust, dirt, plastic, and glass. The manufacturers prefer to use their own waste or waste from sources which are close to their plant. This brings down the energy consumption and keeps pollution level down. Using these tiles will naturally be contributing towards a green production.
Natural bamboo and reclaimed wood backsplashes
Some manufacturers are now creating inlaid kitchen backsplashes with reclaimed wood and bamboo. These are really green materials which can add a certain kind of rustic charm to your kitchen. You just need to ensure that these materials have the FSC certification for sustainability and proper re-forestation. Look for VOC-free wood so that there is no gas emission in your kitchen. The best varnish application for such reclaimed wood and bamboo would be water based coating, which can be applied whenever needed.
Get a stainless steel look
Generally stainless steel backsplashes are used for industrial kitchens as they are easier to clean and install. Nevertheless, you can get the same look into your kitchen as it can complement very well with stone and wood. They are also very durable and can stay looking as good as new for many years. These eco friendly stainless steel tiles come in various patterns, such as diagonal, diamond, checkerboard, square and harlequin which are all very attractive.
There are so many exciting green products available for backsplashes and you will be spoilt for choice. However, your needs and requirements must always be the right choice of materials which will work best in your green space. Making your kitchen an island of sustainability will go a long way in your green living experience.