Cabinet refacing is eco friendly and cheaper, where you can replace cabinet doors and windows without changing the layout. It is one good eco friendly option to remodel the kitchen, as it utilizes most of the resources that go to the landfill. Typically, it serves as a wonderful green substitute for environmentally conscious people. Here are some environmental friendly ideas for refacing your kitchen cabinets.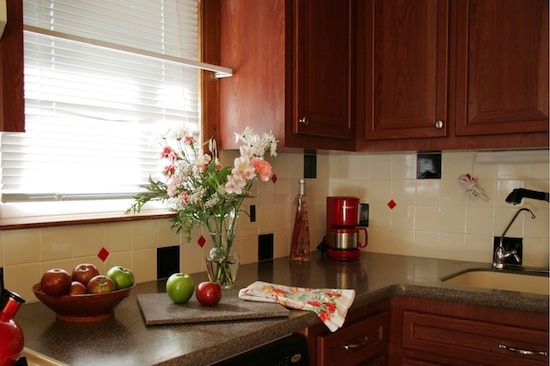 Various options are available these days that will help to make your cabinets structurally sound and environmentally friendly. The process involves both replacing and refacing of certain elements. It includes cabinet doors and drawer front removal and replacement, coating the front portions of cabinet boxes with either RTF or wood veneer and more.
Objectives of refacing kitchen cabinets
The most important benefit of cabinet refacing is that it helps to keep good indoor air quality. With avoiding a few hundred pounds of plywood or particleboards to the waste stream, you can support a healthy environment in the kitchen space. The formaldehyde resins present in the plywood materials can cause respiratory problems with chemical sensitivity.
Cabinet refacing is totally eco friendly, in which less than 75 percent of the waste will go to the landfill. Moreover, replacing cabinet hardware and doors, the old drawer fronts and cabinet doors are recycled. It is one of the best options as compared to demolishing the kitchen cabinets. It saves the resources as well as saves money.
Unique environmental friendly ideas for refacing/remodeling the kitchen cabinets
Water based finishes
Using wood species like cherry, alder, maple, European steamed beech and red oak water based finishes to the cabinet boxes is one of the best option. They protect indoor air quality as they emit very less or no volatile organic compounds. The pure colors help in giving a promising quality and beauty of the finished look.
NAUF wood
It is good to opt for NAUF (no added urea formaldehyde) wood materials for refacing the cabinets. They are easily available in great varieties and ranges at the market. It is also necessary to opt for NAUF MDF for painted refacing materials.
Veneered doors
Veneer is actually cut from log made into sheets in unreliable thickness as thin as 1/40 inch thick. You can install veneered doors escorting with environment friendly MDF or NAUF core. It will help to offer a solid wood shine. RTF is a melamine based eco friendly product, which is also used for coating the front part of the cabinet boxes.
Use new materials for drawers
Other than using same common materials pine, maple, or oak to reface your old-wood box or drawers, you can also use new materials that are affordable, popular, and environmentally friendly.
Bamboo: This is a highly eco friendly option used in alternative to customary woods. Bamboo is a sustainable material that benefits from cutting. Moreover, it holds a unique honey appearance, which offers a great look to modular/modern kitchen cabinets.
Melamine: Melamine veneer is an extra low-cost option, which is made from resins and wood particles. Melamine is heat-resistant, durable and is available in wide range of colors and styles.
Aluminum: One of the popular choices in recent days is coating glass cabinets with aluminum panes. It offers a smooth stainless steel look at a minimal price.
Thermo foil: Cabinets are redesigned using thermo foil, which is actually a flexible vinyl applied to wood creating a strong exterior. This is also one of the cost-effective eco friendly options.
Lyptus: It is another sustainable option in which the wood strength is equal to maple. This material is produced in Brazil from the eucalyptus hybrid tree. There is no possibility for deforestation as it is a sustainable material.
Conclusion
Refacing is totally an eco friendly option in which you can prevent cutting down of trees to create new cabinet boxes. It keeps away the mess of tearing out and saves time. It is done in 3-5 days by the owner himself or you can also opt for professional cabinet refacing experts to handle the process. Setting the new custom cabinetry is quite expensive, whereas refacing process involves just half the cost of new kitchen cabinets. Moreover, it offers long life quality to your remodeled kitchen.