We have seen plenty of art works and installations that have baffled us, enthralled us and even transformed us into a different world with their unique nature. But few have ever bordered on 'completely eerie' and even a bit crazy like this 'Cut Paper' performance from Japanese artist Sachiko Abe. The artist just sits for hours together cutting paper with a pair of scissors to create these apparently mystique paper art.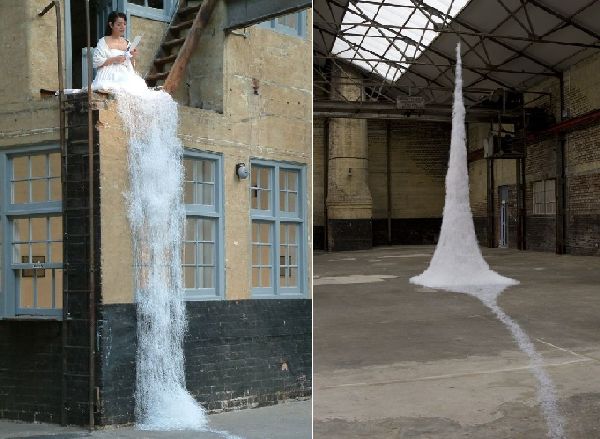 Sachiko Abe sits in a pristine white dress and starts shredding paper into 0.5mm wide ultra thin strips and this goes on for several hours. You are free to walk in and take a look at the exhibit and you can even listen to the constant sound of scissors on paper, thanks to a speaker that amplifies the shredding noise. There is also a giant pillar that is made from this fine cut paper that hangs about like a stalagmite, which is inverted, so that an illusion of walking on the ceiling is created.
According to the artist, the idea of the art installation is to explore 'repeatability, duration and constraints' .She wishes to continue cutting paper with scissors for so long as possible, despite the fact that consistently shredding thin strips is pretty tough. But, at the end of the day, when you see a spectacular sight, you know the effort was worthy of it all.
Via: Mymodernmet