The structure
Located amidst breathtaking scenery, this house has been designed to be situated on a hilltop terrace overlooking the Golden coast and the deep blue sea. There is a shaded canopy right outside the front entrance that accommodates a seating area. On the outside, lies a well-manicured lawn with potted trough containers nearby. The two storey abode also has a spacious terrace. On the ground level, at the backside of the house, there is a green wall that helps in keeping the temperature down. Also, there is a shelter right behind the house. Storage space inside the house has been chalked out cleverly by building shelves and racks near the stairways.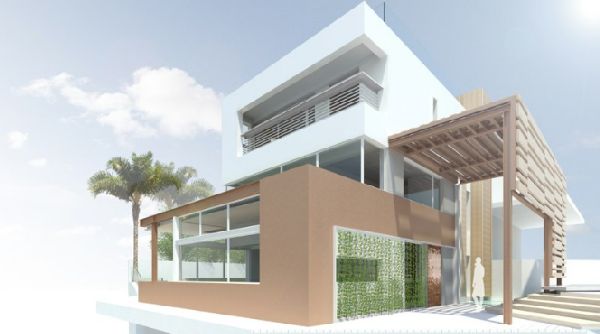 The clean straight lines, neutral shades and copious vegetation around the house render it a fresh and contemporary look. Nomad Office Architects have designed this house from scratch, building the foundation, planning out the landscape and even designing the interiors. The architects are renowned for their organic, rational and economically sustainable designs.
Green quotient
The house accommodates a number of green features. Many smart and eco friendly technologies have been provided in this abode. The air quality is monitored and even the humidity levels are regulated. There is heat pump air conditioning and also a stack effect that ventilates the house naturally. Several solar shades are provided and the it also features a rigid foam insulated shell. The place even boasts of a green roof.
Hi-tech provisions
A mechanized and automated abode, a number of security and home automation provisions have been made available in here. The cutting edge technology incorporated therein, gives the house a progressive and sensual appeal. It really goes to show that green living does not mean giving up modern day comforts.
Via: NO Architects