Home decor does not necessarily mean that you have to invest money to buy stuff. Just by using what you have at home, you can be creative and make something new. Decorating our homes is one of the most common things that we do a lot of times. It can mean rearranging stuff to bring in a change or even using old things and converting them into new items. This is not only ecofriendly but also a perfect way to have the home of your dream in a pocket friendly manner. Here are a few ideas that you can use to make your house look different and stylish in an effective way.
A designer dressing table or photo frame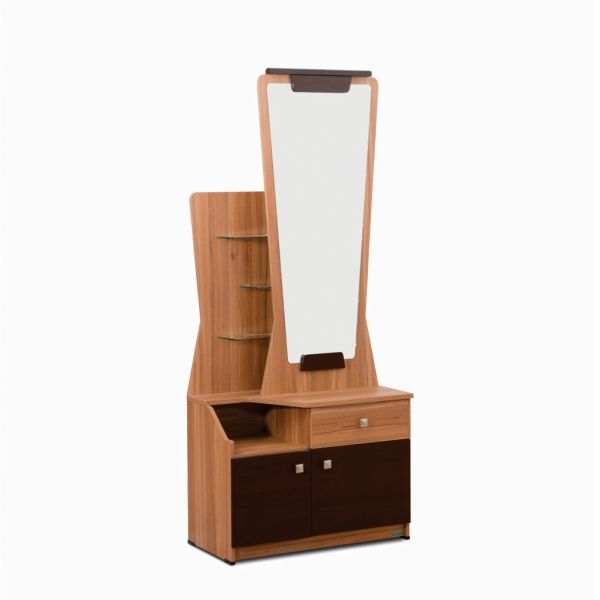 Do you have an old mirror that you don't use anymore? Well, now you can tweak your old mirror and make it look like a new one by giving it a different touch. If it has a nice wooden frame, you can either paint it or even consider decorating it with some nice craft materials. To give it a perfect finish, you can use transparent nail polish and make it shine. Apart from that, the frame of the mirror will also make a perfect photo frame. Just stick a few of your favorite photos inside it and place it inside your room.
Old books to shelf racks or a center table
Got a collection of books that you no longer read? Now your old books can surely come in handy with this idea. You can use the books to create the high and low effect of your shelves.  Another perfect idea would be to use your old books to make a base for your center table.
Wondering how you can do it? Well, it's simple, place your books to form the legs of the table and put a wooden plank or plastic sheet above them and you have a new table for your home. If you want to take it a step above, you can also create a side table by sticking the covers of the books together. When creating the table, make sure that you place the books well so that the surface evens out.
Decorative bottles for your flowers and photos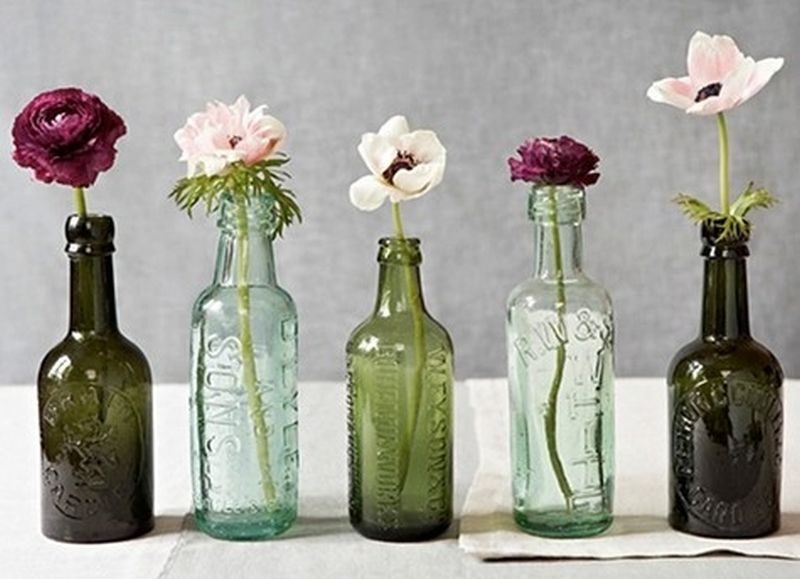 Mason jars and old bottles can always come into great use. You can either use them as a flower vase or if you want, or you can paint them and store chocolates or cookies inside them. For the bottles, you can create some nice art by using different colored sand, some pebbles or shells and other such cute stuff and make your own decor. One more perfect idea would be to convert a mason jar into a photo frame. For this all you have to do is stick your favorite photographs on the inside of the jar and you have a handy photo frame, which also become a penholder.
Color me Green
If green is your favorite color, then this idea will be just right for you. A very simple and neat idea, all you have to do is take your old bed sheets (preferably white) and differently sized leaves. Then using the various shades of greens, you can paint them and leave the imprint on your cloth. This can be used as a curtain or even as a tablecloth or a new bed sheet for your house.  To top it up and get the concept more real, you can add a nice fresh indoor plant and you are set for a nice green home.
Name your stairs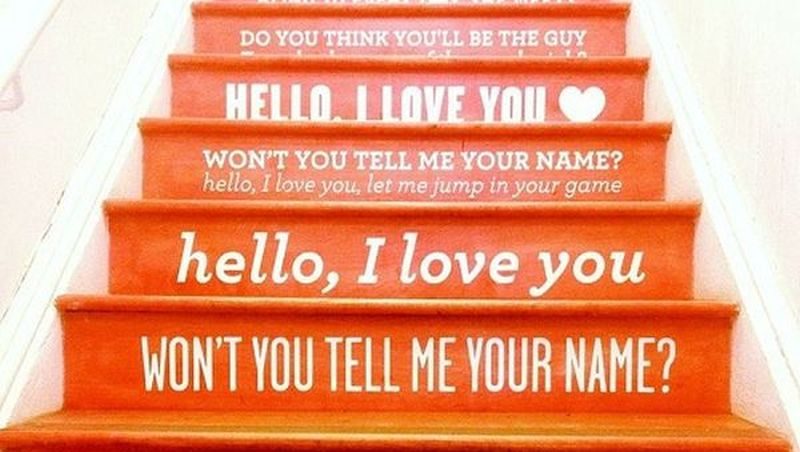 While having a staircase at home can be fun and adds a class and style to your house, you can make your staircase a perfect way to motivate your loved ones. You can either paint some positive quotes or even just give a one-word motivation for each stair. This will not only give your staircase some life, but it will also remind the people about the importance that you give to them.
A new magazine rack or accessory stand from an old ladder
Old ladders are generally thrown out or just kept in the corner, well now you can make something useful using your old ladder. You can either use the ladder to store your favorite magazines, or you can place it near your dressing table or use it to store your accessories like you chains, earrings etc.