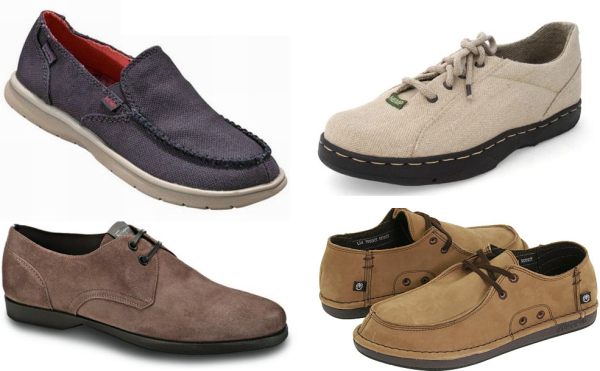 For those who want to reduce their ecological footprint and do their bit for the Mother Nature with every single step they take, what could be better than a pair of eco friendly shoes? Many companies in the market are now dealing in a range of stylish eco friendly footwear to make sure that the buyers do not sacrifice on comfort or style, while opting for green shoes. Taking into consideration the number of shoes made and worn throughout the world every year, you can well imagine the impact your choice will have on reducing carbon footprint.
Eco friendly shoes for men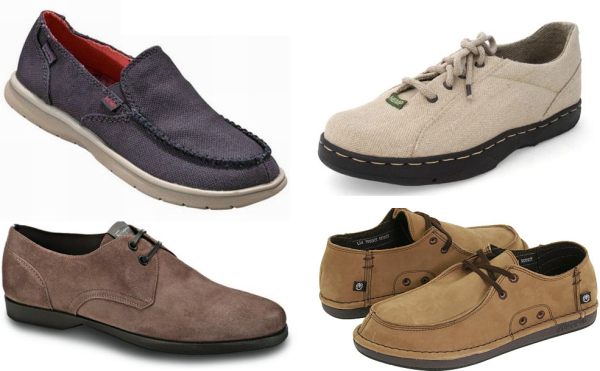 1. Vegan Hemp Shoe
This pair of unique and comfortable shoes for men from Ecolution is made from hemp, one of the oldest and most eco friendly fibers in the world. The high quality, eco friendly Vegan hemp shoes are waterproof and are available in natural color.
2. Timberland Earthkeepers
The Timberland Earthkeepers boat shoes are a perfect option to reduce your ecological footprint, as they are 90 percent recyclable after they become obsolete. These eco friendly shoes can be disassembled into parts that are completely recyclable. The sole of Timberland Earthkeepers is made from 42 percent recycled green rubber and has a 100 percent organic cotton body.
3. Oat Shoes
Here is yet another pair of eco shoes that will make your every move greener. Once you are done wearing the Oat shoes, you can compost or bury them, as they are created from biodegradable materials. Last year, the stylish Oat shoes grabbed the 2nd prize at the Green Fashion Awards at Amsterdam International Fashion Week.
4. Ocean Minded Uppers Beach Shoes
With appealing looks, the eco friendly Ocean Minded Uppers Beach Shoes feature an odor resistant footbed, hemp shoelace, bamboo lining and outsole created from recycled car tires. Priced at $65, these shoes come in walnut, black and tan.
5. Salvatore Ferragamo eco friendly Shoes
Made by Italian firm Salvatore Ferragamo, the main highlight of these shoes is their sole made from bio degradable material. A portion of proceeds from the sale of these shoes was given to charity.
Eco friendly shoes for women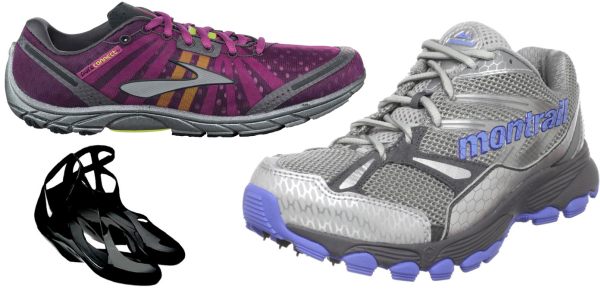 1. Eco friendly shoes by Melissa
Brazil based plastic shoemaker Melissa is quite famous for its eco friendly footwear, which is 100 percent recyclable and processed in a sustainable way. "Meflex," a special mono material is the base material required to make the recyclable plastic shoes. There is almost zero waste production in the factory. The negligible waste and water produced in the factory is further recycled. Collaborating with popular designers like the Campana Brothers and Vivienne Westwood, Melissa aims to make her shoes comfortable, stylish and eco friendly.
2. Brooks Women's PureConnect
The PureConnect shoes for women are lightweight and flexible, and were voted as the "Best Debut" in the December issue of Runner's World's Winter 2012 Shoe Guide. The shoes employ lesser materials and BioMoGo DNA Midsole technology for construction. The lightweight engineering used to create the pair makes them more durable and comfortable to wear.
3. Naya Shoes
Naya is a new brand of footwear that tangles with the production of eco friendly footwear like wedges, heels and flats. Vegetable tanned leather, organic fabrics, bamboo heels, cork footbeds and biodegradable latex foam cushioning are some of the salient eco credentials of the shoes made by Naya.
4. Kailia's over the knee boot
It may appear like an over the knee leather boot, but the shoe actually is constructed from lightly stretch PU faux leather with nappa grain. Kailia's over the knee boot also features organic linen and cotton lining with vegetable dye. The faux leather used in the boot gives a buttery soft touch and the other eco materials included in the construction makes it comfortably green.
5. Montrail Women's Badrock Trail Runner
Montrail is best known for manufacturing shoes for hikers, athletes and runners. Its range of footwear features multi directional outsole, Vapor-Responseâ, midsole material and Gryptoniteâ. To bring in the green factor, they use outsoles dubbed as Recyclonite, which are created from 30 percent recycled rubber content. The shoes come in a box made of 80 percent post consumer waste.
Eco friendly shoes for boys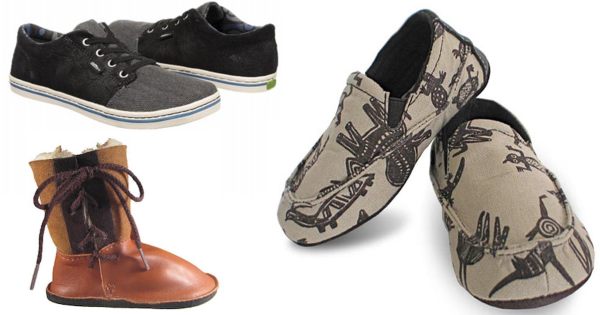 1. Nathan Baby Boy Wingtip Shoe
The Nathan baby shoes are entirely handmade. Fashionable gray herringbone wool and Black Hand tooled faux leather is used to create this smart pair of footwear for your kid. The shoes are warm, comfortable and light weight as they are lined with white eco friendly felt. With hand detailed embroidery on the leather of the toe area and strap, the shoe is finished with charming buttons on strap.
2. Simple Kids' Carport Elastic
The Simple Kids' Carport Elastic sneakers are simple, comfortable and eco friendly. The upper portion of the round toed shoe is made from eco certified suede and wool. The lining is done with organic cotton while the insides are cushioned with recycled paper. The rubber outsole is made from recycled car tires.
3. Hemp Slip on Shoes
Shoemakers Spunky Sprout and Sweet Shoes has brought a limited edition of eco friendly shoes called, Sweet & Spunk LE. These shoes are made of sustainably harvested hemp, recycled leather and non toxic dyes. The shoes flaunt African inspired print and are entirely handcrafted using eco materials.
4. Kid's Moccasin Boot
The cuddly boot known as the Kid's Moccasin boot is made from USA tanned full grain leather and other locally sourced materials combined with a flexible rubber sole.
5. Rubber Leather Toddler Baby Boy Shoes
These Rubber Leather Toddler Baby Boy Shoes are manufactured using the softest leather with flexible rubber sole to let your baby feel comfortable while taking each step.
Eco friendly shoes for Girls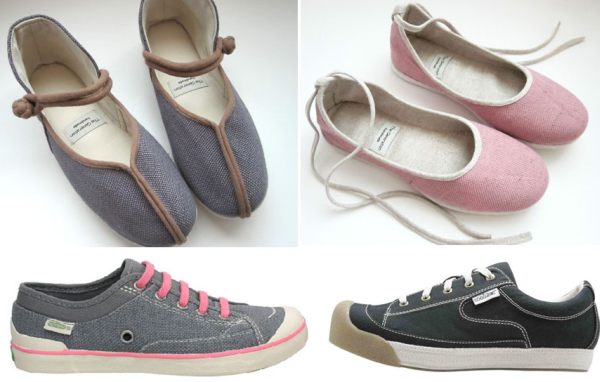 1. Zoe & Zac Eco Friendly Shoes
With the eco friendly Zoe & Zac shoes, the fashion conscious girls will not have to sacrifice on style. These shoes are made from green materials like organic fabrics, jute, finest hemp, recycled rubber and water based glues.
2. Oriental Chic Vegan Mary Jane
The good looking Oriental Chic Vegan Mary Jane shoes are handmade with eco fabrics. For the soles, they have used over 25 layers of organic cotton fabric, and the sticking has been done with hemp threads. No chemical glues were used in the making of this beautiful pair of Mary Jane shoes.
3. KEEN Coronado High Top Sneaker
A great green option for girls, the KEEN Coronado High Top sneakers have been crafted with recycled aluminum eyelets. The trendy and durable pair of shoes features dual elastic panels and a non marking rubber outsole.
4. Handmade Pink Natural Linen Vegan Ballet Flats
Comfortable and stylish, these handmade Pink Natural Linen Vegan Ballet flats are made with organic cotton hemp and fabricated satin. Environmentally friendly cotton fabrics and hemp threads have been used to create the sole of these shoes, which are comfortable to be worn both indoors and outdoors.
5. Simple Girls Satire Elastic
Featuring hemp and organic cotton uppers, the Simple Girls Satire Elastic shoes offer utmost comfort, as the footbed is created from polyurethane foam and recycled rubber. While the shoe bottom is made from recycled car tire; recycled paper has been used for the shoe box, making the entire package eco friendly.