Many of us, who opt for living a sustainable life, often tend to make mistakes. We imagine that it only the big decisions that need to be eco-friendly. Therefore, we don't go farther than opting for green gadgets, following green construction practices, doing recycling, etc.  Although these big decisions have an impact, you can be truly environmentally friendly unless you pay attention to small decisions as well. There are plenty of products like eco-friendly mortars and pestles in the market that deserve our attention. Since such products are indispensable in most of the households, it is necessary that we make green choices while buying them.
Reminiscent of Grandma's cooking and an indispensable part of one's kitchen, mortars and pestles take us down the memory lane when spices and herbs were ground in it. Replacing Grandma's era of metal mortars and pestles, these must-haves of every kitchen have undergone many a change in a greenway. The eco-friendly mortars and pestles mentioned below ensure that we have happy and safe cooking without worrying about consuming toxins emanating from the metal counterparts.
7 – Eco-friendly mortars and pestles
1. Kuhn Rikon Mortar and Pestle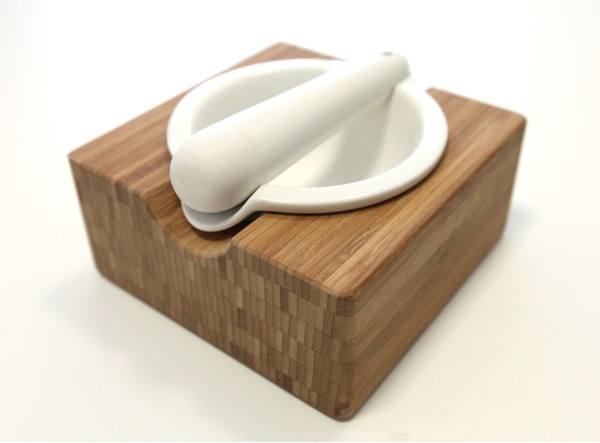 A beautiful dual functionality mortar and pestle designed by Swiss designer and Chef Philipp Beyeler, Kuhn Rikon Mortar & Pestle is a stunning multipurpose masterpiece that is made of eco friendly porcelain and bamboo. A two-piece mortar and pestle, it has a bamboo mortar as a base with a porcelain mortar nestled inside the bamboo base. While bamboo ideally crushes grains and nuts, porcelain on the other hand crushes herbs and spices. Its porcelain pestle with a teardrop-shaped hole in it is not just for aesthetic purposes, but is a tool for defoliating stems. The ecological choice of the future, bamboo is most sustainable, anti-fungal, and anti-bacterial. It absorbs carbon dioxide and gives out oxygen. Porcelain on the other hand is made from natural materials like clay, flint, silica, etc. and is fired in a kiln.
Price: $33.63
Buy here: Amazon
2. Orb Mortar and Pestle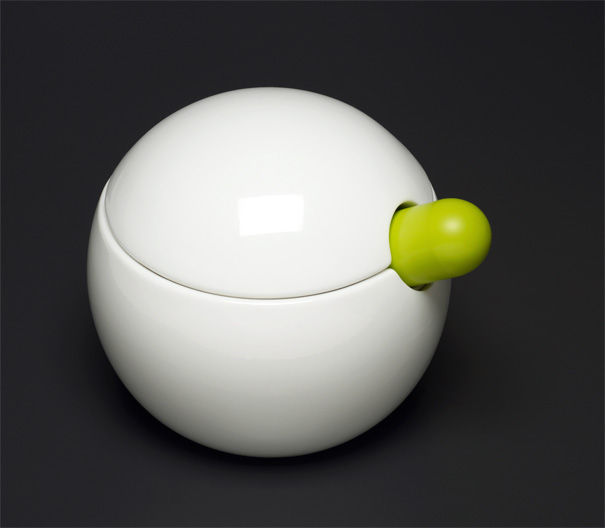 Glamorous, practical, unique, futuristic style and contemporary are just the words to describe the Orb mortar and pestle. Designed by Joseph Joseph, it is the new age answer to the ancient pestle and mortar. A three-piece set, it has two receptacles, i.e. two separate bowls. The larger bowl is used for crushing and grinding larger amounts of ingredients. Its lid can inverted which then becomes a neat and smaller mortar bowl that can be hand held and is ideal for grinding smaller amounts of herbs and spices. This stylish and pride of every kitchen, it is made from non-absorbent porcelain, which is a natural and eco friendly material made from clay, flint, etc. Its lime green pestle is perfectly weighted with rubberized handle for soft and excellent grip.
Price: $27.44
Buy here: Amazon
3. Sawan Wooden Mortar and Pestle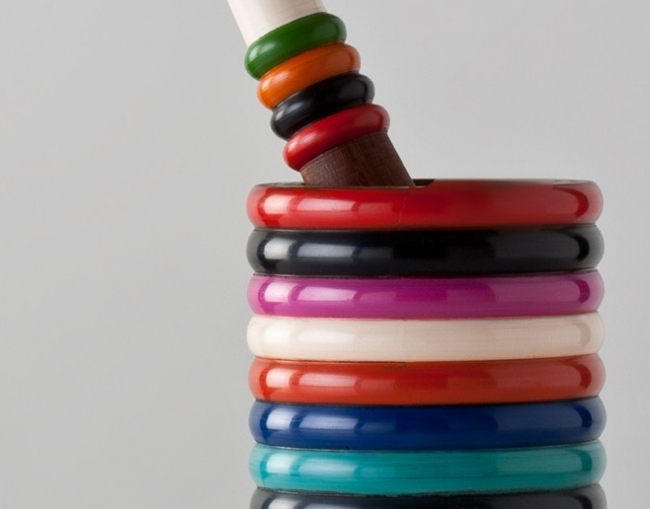 Designed by Pakistan born and Toronto based Tahir Mahmood, this large brightly colored mortar and pestle is made from the Dalbergia Sissoo wood (also known as Shisham or Indian Rosewood). Sure to prep the kitchen with its dazzling colors, this mortar and pestle is further made eco friendly by painting it with lac, which comes from cedar and jujube trees and date-tree sticks, and is further sealed and glossed by using date leaf. Completely organic in nature, it has been handcrafted in Pakistan by using the ancient technique of lathe turning.
Price: $150
Buy here: Quintessentiallygifts
4. Itaim Bibi Mortar and Pestle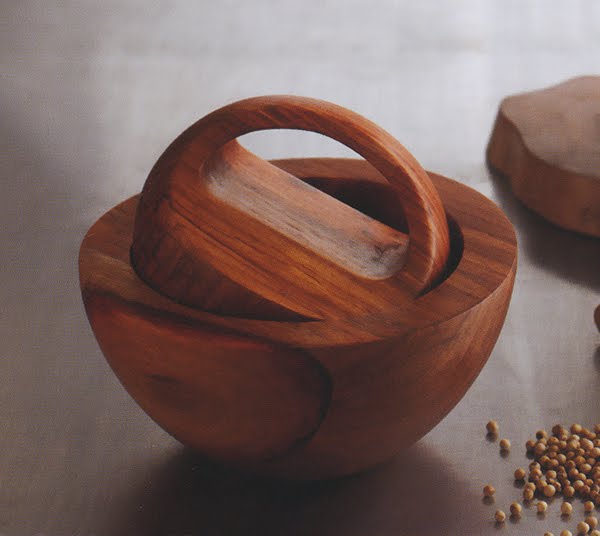 A perfect modern kitchen accessory, it has been expertly crafted and sculpted by master artisans. Made from acacia wood, its round pestle has a comfortable handle that is fun to hold and efficient to work, thanks to its ergonomic design. Perfect for crushing and grinding spices, herbs etc, it is a great alternative to stone, ceramic and porcelain mortars and pestles as acacia wood is quite eco friendly. It is food safe and contains no dyes and coloring.
Price: $89.99
Buy here: Nova68
5. Beech Wood Mortar and Pestle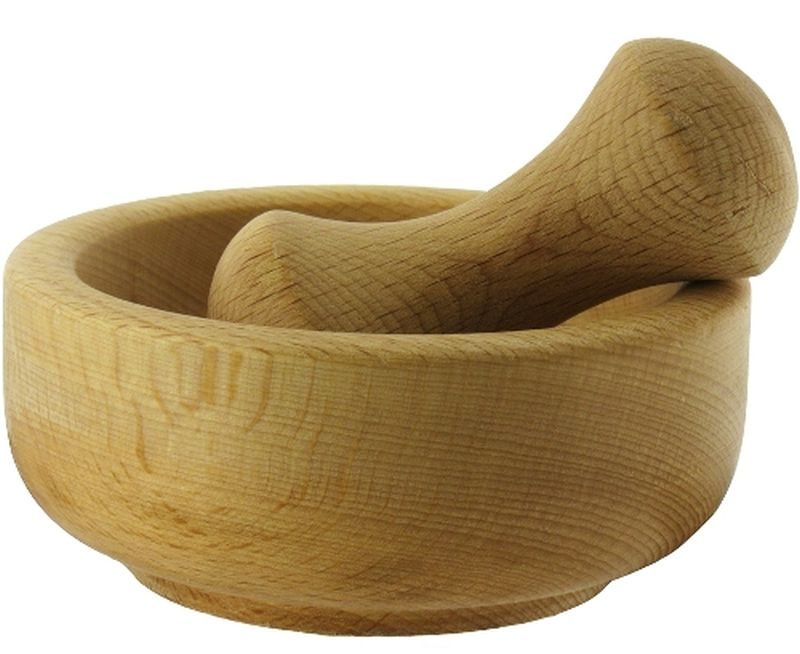 There is nothing like finely grinding up the spices with ease. This mortar and pestle set is made from beech wood; an eco friendly material helps in doing just that. A surface that is smooth and natural to feel and touch, the pestle is an eye candy as such it fits easily into a hand as it has in a nice hourglass shape.
Price: $15
Buy here: Bigkitchen
6. Provenance Mortar and Pestle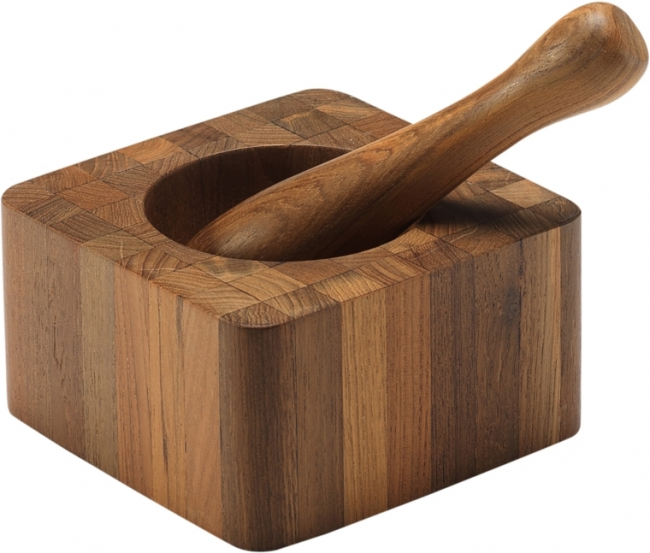 Designed by John Lewis, this is a 100-percent recycled teak wood mortar and pestle. Pre-finished with anti-bacterial and ecoli resistant oil, one can now crush and grind herbs and spices without a care in the world. A hard wearing and high quality pestle and mortar, it has a stain resistant surface that is easy to maintain and clean.
Price: $25
Buy here: Shopwiki
7. Le Creuset Mortar and Pestle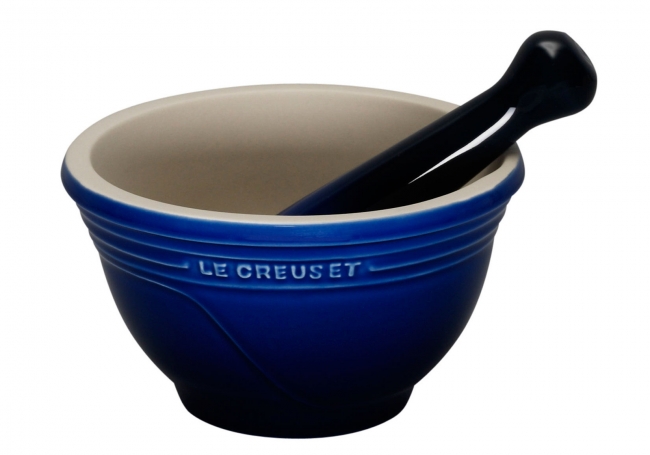 Bold, bright, and classic is probably the best way to describe this mortar and pestle set. Matching the proficiency of a food processor, this set has a generous space for crushing, grinding and stirring the ingredients. A true charm, it is non-porous i.e. made with a unique clay mixture. This ensures non-absorption of odors and flavors, resistance to staining, and prevention of cracking and chipping. It also has an unglazed interior and pestle tip that creates the perfectly efficient surface as well as high-quality enamel on the exterior, which protects the set against metal marks.
Price: $23.95
Buy here: Great-news
If you want more than just eco-friendly mortars and pestles, here are some green kitchen products that you can opt for.
Some more green products for an eco-friendly kitchen
1. Zanussi FU628W01 freezer

Zanussi has launched a new freezer called the Zanussi FU628W01 freezer and it is 20% more efficient in comparison to similarly-sized freezers. This freezer has unique features such as a high-temperature warning sign and fast freeze. The controls of the freezer are located on the outside. This 275L freezer has a good storage capacity along with transparent drawers so that you can access the food easily.
2. Kitchen Wall Extractor – Ravenna by Futuro

The kitchen wall extractor called the Futuro Futuro Ravenna is quite similar to the Falmec Rialto ventilation hood. This eco-friendly kitchen wall extractor features two LED lights that have high illumination as well as two long-life fluorescent lights on the wall that perfectly brighten up the kitchen working area and add to the elegance of the ventilation hood. Made from the highest grade of stainless steel and a gleaming satin front and back, this wall extractor also features touch-sensitive 4-speed controls, electronic reset, delayed shut off, a lit control panel, boost mode, filter cleaning indicator and a washable stainless steel filter.
3. S2 One Touch by Severin

The S2 One Touch is an amazing coffee machine by Severin and is completely automatic. Now the avid coffee lovers can simply sit and watch their cuppa being brewed to perfection in this compact machine. The Severin S2 One Touch makes a delicious cup of latte macchiato with just a single touch of the button. This coffee machine features a patented ceramic grinder, two high efficient heaters and two high-performance pumps for making good quality coffee. It comes with an innovative hygienic mechanism that reduces possibilities of contamination. The various parts of the S2 are removable as well as dishwasher safe.
4. Baumatic steam oven

The Baumatic steam oven is a compact design from Premium Line. It has a 31L capacity and features six functions. These include regeneration, hot air, steam, low temperature, and hot air + steam. This green oven is energy efficient with an 'A' rating. This oven also comes with 50 preset recipes, so that you can cook with the single touch of a button.
5. Compact integrated dishwasher from Gorenje

Some people are of the belief that a dishwasher is indispensable, whereas others have quite the opposite view. However, either way, a dishwasher should provide the user optimum satisfaction in terms of performance and with the GIC 63140AX compact dishwasher from Gorenje Exclusive collection, you are sure to have no complaints.