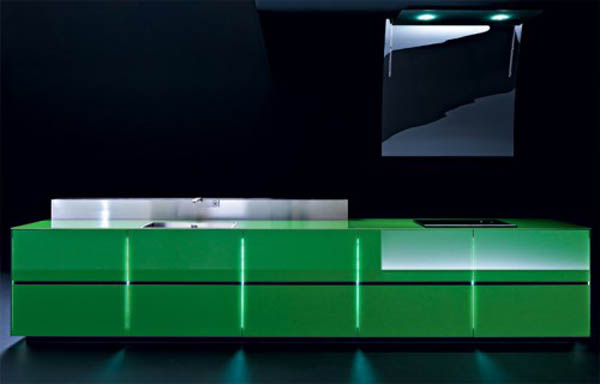 We see more and more people around us, who are switching to eco friendly materials for renovating their homes including, their kitchens. If you're renovating your kitchen in an eco friendly manner, it is important that you take into consideration a few factors. The kitchen atmosphere must have a good air quality and you should avoid use of formaldehyde glues and other toxic finishes. Kitchen cabinets essentially have an important role to play in the kitchen and you cannot go green if you do not replace them with an eco friendly version.
Invitrum eco friendly kitchen cabinets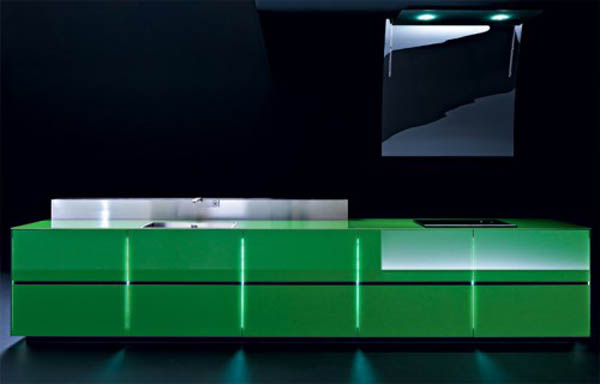 Italian kitchen makers, Valcucine have introduced the world's first eco sustainable kitchen made completely from aluminum and glass. Designed to use less raw materials and consume lower energy, the Invitrum base units' system has a single 10mm thick glass side panel that eliminates the use of two 36mm chipboard sides, thereby saving a total amount of around 73percent on raw materials.
Expected to last at least 15 years, Valcucine has combined fine textured, strong, carbon finish runners to match the aluminum profiles as well as the glass bottom panel for the Invitrum kitchen cabinets. As a result, the use of glass and secondary aluminum will ensure total recyclability of the kitchen. Besides this, using secondary aluminum will result in the consumption of just one twentieth of the total energy required to obtain primary aluminum.
St. Charles super modern green cabinets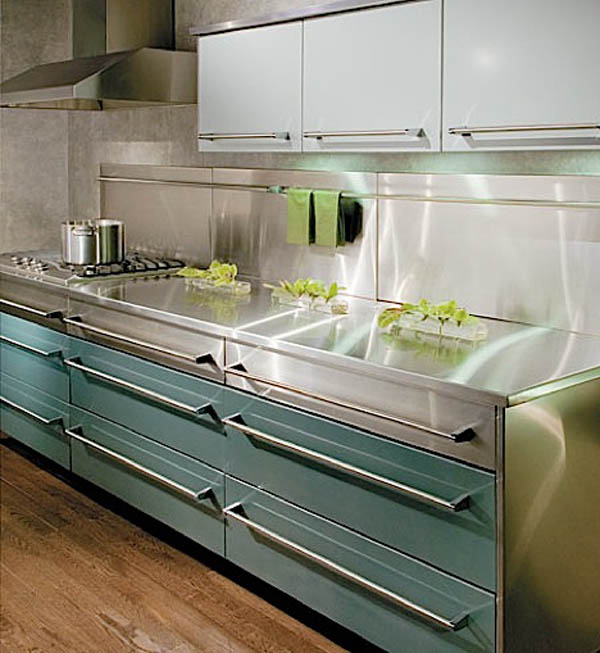 For a durable green kitchen made from stainless steel and powder coated products, you could opt for St. Charles modern green cabinets. The kitchen cabinets are available in 23 colors and are 98 percent recyclable. Moreover, approximately 70 percent of all contents of St. Charles cabinets are recycled. Cabinets from St. Charles are stylish and sleek and are perfect for anyone who prefers a clean and uncluttered kitchen.
Bamboo kitchen cabinets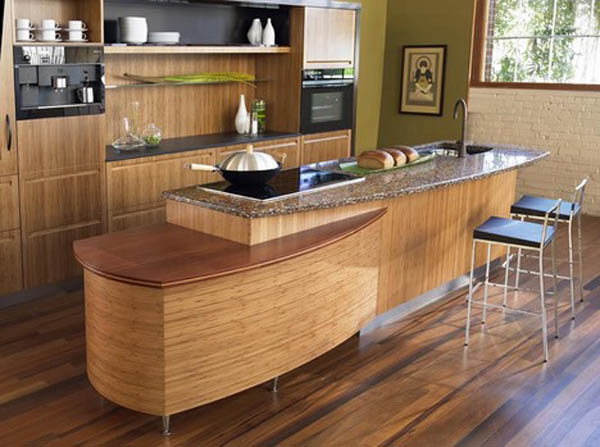 One of the best eco friendly materials to use for any purpose is bamboo. Bamboo is easy to harvest, grows at a rapid rate and can be cut within five years of plantation. Bamboo cabinets are strong and can withstand heavy weights easily. Besides, bamboo kitchen cabinets look attractive and are available in a variety of shades.
Upcycled wood crate kitchen cabinets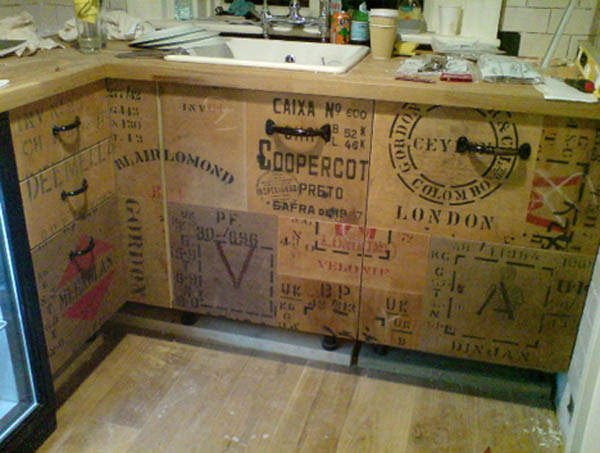 The use of wooden crates provides a rustic feel and adds style to your kitchen. Although simple in concept, these upcycled wood crate kitchen cabinets designed by Rupert Blanchard will add a touch of uniqueness to your kitchen while putting up with the environment. The wooden crate cabinets are made using antique metal hinges and decorative handles. So, for an eco friendly vintage look for your kitchen, you could consider setting up upcycled wood crate cabinets.
C & M Wilkins and Fieldstone Cabinetry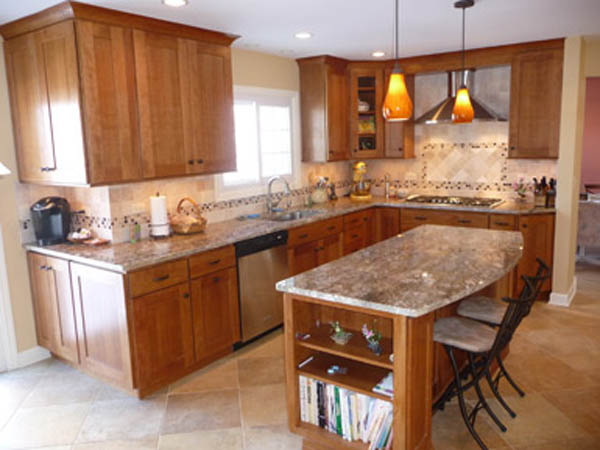 Fieldstone Cabinetry from C & M Wilkins offers a "different" range of kitchen cabinets that include three door styles available in bamboo, rosewood and wengewood that have been certified with the 'no added urea formaldehyde' (NAUF). This means that endangered trees are not touched to build any of C & M Wilkins' products. Fieldstone Cabinetry is built using woods including oak, maple, cherry, hickory and alder. C & M Wilkins kitchen cabinets are stylish, healthy and perfect for any family.
Neil Kelly kitchen cabinets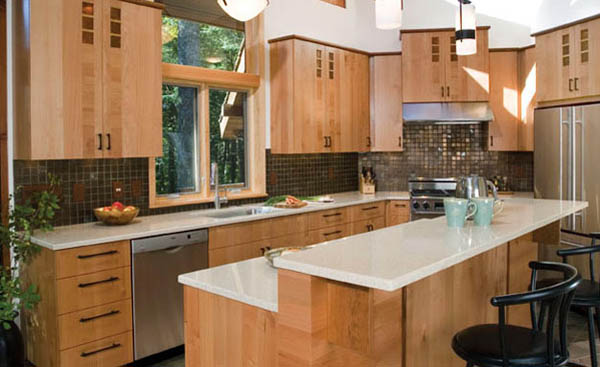 Emphasizing on the production of non toxic kitchen cabinets, Neil Kelly Cabinet Co. offers eco friendly cabinets for every family. Stylishly designed, Neil Kelly cabinets are made from no added formaldehyde agriboard case along with low VOC and no added formaldehyde glues, adhesives, drawer materials and finishes for an environmentally friendly atmosphere.
EcoHome Improvement eco friendly kitchen cabinetry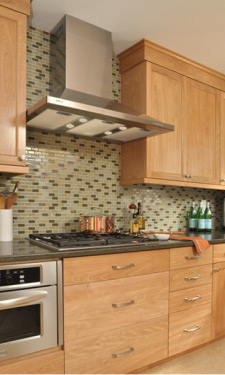 Executive Cabinetry has introduced an eco friendly line to meet the environmental criteria. The cabinet cases from Executive are structured using certified NAUF plywood. To maintain healthy indoor air quality, Executive's products do not contain volatile organic compounds, etc.. Executive's designs are stylish and include European style cases without frames and full overlay doors. Along with this they feature dovetail drawer construction and extended undermount glide hardware.
DIY Kitchen Cabinets Made from Wine Crates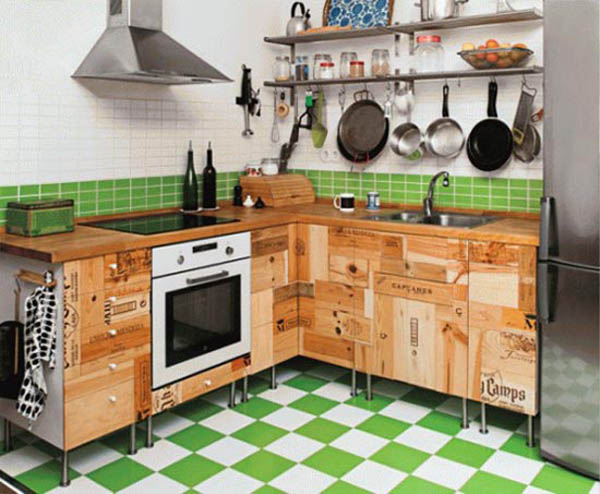 One could draw a lot of inspiration from Sergio Carratala and Petz Scholtus, who both turned their apartment around by using recycled materials to give it a unique look. The couple used wine crates to make their kitchen cabinets. Using crates that they collected over time, the couple designed the cabinet doors so that they open on a push system.
Eco Friendly Kitchen Cabinetry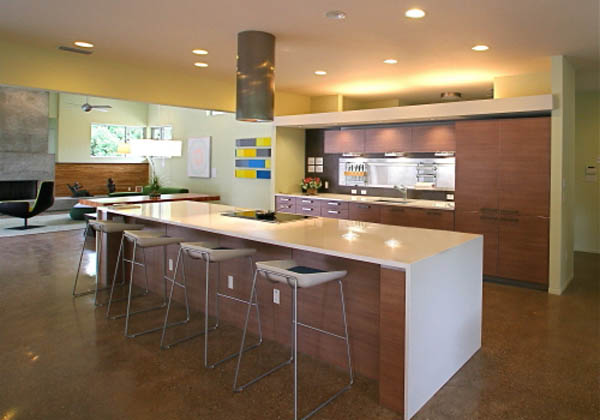 Using kitchen cabinetry made from re-wood or recycled wood from certified sources is a great way to keep your kitchen healthy and eco friendly. Apart from a cleaner environment, you can also add a lot of style and comfort to make your kitchen the perfect hang out place for you and your family. To limit greenhouse gases, you could also use paint with non toxic varieties.