The kitchen is the focal point for any home owner. It is the spine of any healthy home. Going green with the flooring you choose for your kitchen can be a great way to contribute toward a better environment and secured future. If you are thinking of adopting a greener lifetsyle, spend time to choose eco flooring for your kitchen too. Ensure that your choices have minimal negative impact on the natural environment.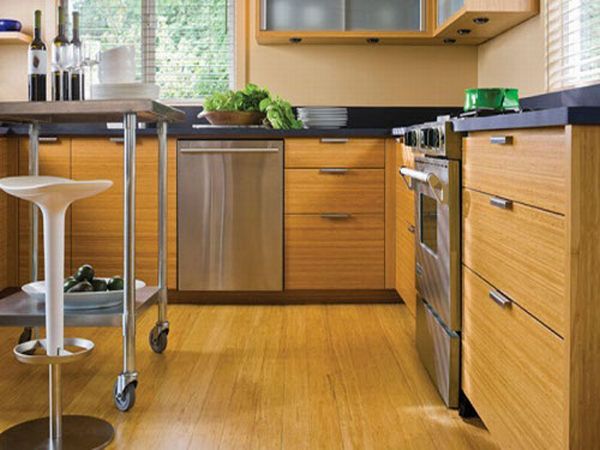 Bamboo flooring
Bamboo flooring is one the most eco friendly flooring option available in the market easily. It is manufactured from a rapid growing grass that requires no chemicals to flourish. This makes it highly renewable natural resource and a healthy option to pick. Offering its users a modern and an Asian inflected look, it releases comparatively higher amounts oxygen when compared with the same size trees. Bamboo flooring can be excellent for the hard wood lovers as it comes in form of planks that are three inches to six inches wide. Bamboo offers a finish that replicates exotic rainforest hardwoods. It can be bought at a price of $2 to $4/sq. ft.
Linoleum flooring
Linoleum flooring is produced from biodegradable and renewable materials; linseed oil, cork dust, ground limestone and some other such elements. Linoleum flooring is cost friendly and is available in varieties to suit your needs. Usually it comes with a coating of a protective layer making it scratch resistant and stain resistant. Linoleum flooring is easy to clean and requires minimum maintenance. It is moisture and dirt resistant. It possesses anti bacterial properties thereby prohibiting any form of health hazards to patients with respiratory allergies and ailments. It's durability make it an apt choice for kitchen flooring.
Cork flooring
Cork is made from the bark of the cork oak tree. It is collected during harvest and proves to be a completely natural and renewable resource, which is available in abundance. The bark of this tree can be harvested about once in nine years without any environmental damages. Cork flooring is soft cushiony material and it has the ability to absorb liquids without losing its original shape. Therefore it is scratch and break resistant. Cork flooring is primarily filled with air as it is made of a cellular air sac structure. This also makes it a natural insulator and sound absorber. These properties make it the most ideal eco friendly flooring material. However if choosing cork flooring, note that the color of flooring may lose its sheen over time if exposed to direct sunlight.
Recycled rubber flooring
Recycled rubber flooring if placed in a kitchen can offer a soft touch to your worn out feet after a long tiring day. It is made by recycling post consumer rubber content, which helps save landfill and environment from hazardous effects of producing rubber. Rubber floor covering is shock and sound absorbent. It also possesses anti bacterial and water and slip proof properties; another reason why it is an ideal eco friendly kitchen flooring material. Rubber is a renewable resource and this flooring is easy to clean and maintain.
Recycled Metal Flooring
Recycled metal flooring can give an ultra modern feel to your kitchen area. Usage of recycled metal flooring helps to cut greenhouse gases and energy consumption. It is reprocessed form of flooring offering environmental and economic benefits to its users. This type of flooring is long lasting as metal flooring can be salvaged again at the end of its life. This form of eco friendly flooring is available in varied variety of shades and sizes along with multiple finishing designs. Recycled metal flooring is easy to clean too.
Recycled Tile Flooring
Recycled tile flooring is durable and long lasting. This type of kitchen flooring is available in different varieties to suit your needs. Recycled tile flooring is a hot pick amongst home owners who want to maintain an urbane look in their kitchen area. Tile flooring is known to reflect light, thereby helping the kitchen lovers to spruce up the dark areas of their kitchen. Recycled tile flooring is processed and made from post consumer recycled glass or postindustrial recycled ceramic/porcelain.