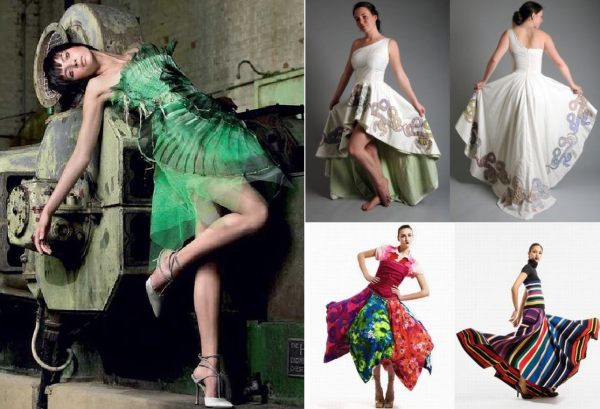 With eco fashion on the rise, eco conscious designers and fashion houses from around the world are focusing more on eco friendly fabrics to create stylish and modern clothing. Eco fashion is no more just about the hemp T-shirts and hippy trousers. Instead, there is a range of stylish and innovative clothing designs on the shelves today for the fashionistas who care for the environment. After the jump are some of the best examples of eco friendly clothing for eco conscious fashionistas.
Recycled clothes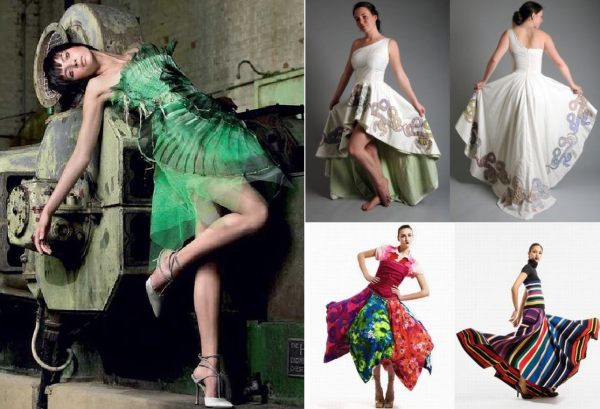 1. Recycled plastic clothing
This stunning clothing range from Sainsbury, one of the UK's major supermarket chains, is fabricated from recycled plastic. The collection consists of pants, skirts, trousers and shirts, which have been designed by making use of recycled plastic accumulated from used plastic bottles and plastic packaging. This recycled plastic fashion was intended to be sold in 250 stores across the country.
2. Computer dress
Tina Sparkles designed this splendid dress called "Systems Supernova" for Keep Austin Beautiful recycled fashion show. She has innovatively converted the electronic waste of computer ribbon wire into a fashionable dress that won appreciation of many people at the event and Mother Nature as well.
3. Recycled Cassette Tapes clothes
Called Sonic Fabric, this attire by sound and visual artist Alyce Santoro is made with a blend of pre-recorded, recycled cassette tape and other fibres like cotton. The fabric used is durable and washable, and has given a new direction to recycling in the fashion world.
4. Recycled dresses by Gary Harvey
Eco conscious designer Gary Harvey has given a new life to the thrown away clothes and waste materials that end up in landfills and scathe the environment. He has created vivacious and colourful dresses from discarded jeans, old laundry bags, old army jackets, old newspapers, used Hawaiian skirts, bottle tops, cardboard boxes and cans.
5. Rachel wrights recycled clothing
The clothing range by Rachel Wright takes recycling and repurposing to a whole new level. This eco aware designer has created fashionable and classy attire like "Serpent Circle Dress 100 percent Recycled fabric", "Feather Side Cowl Dress" and the "Scapular Art Dress" entirely with hands. The material used for her creations included recycled bed sheets, thin packing foam, and polyethylene foam, recycled sari and discarded men's shirts.
Energy generating clothes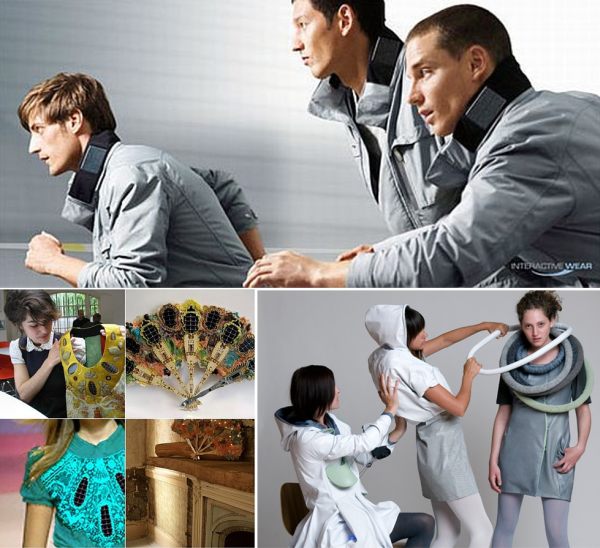 1. Wearable solar garments
This rare set of garments by Elena Corchera was introduced as part of a collection called "We Will Become Silhouettes", which comprises of fashionable clothing that collects charge by harnessing the energy of sun. She makes use of PV panels in her textile art that include flowery collars and parasols. The organic solar cells are directly merged into the fabric that gets charged during the day and transmutes to a gorgeous lighting display.
2. Zegna Solar-JKT
The Solar-JKT by Zegna comes with a detachable collar that features a built-in solar panel. This solar panel soaks up the sun's energy during the day and converts it into electrical charge, which can provide enough juice for small gadgets like iPod, mobile phone and PDA by a USB battery integrated in the jacket.
3. Solar powered necktie
The geeky solar powered necktie developed by the researchers at the Iowa State University can charge your gadgets on the go. Moreover, the Solar Powered Tie also comes with a pocket, which you can use to keep your gadgets like mobile phones.
4. Day for night solar powered dress
This innovative dress called Day-For-Night Solar Dress is the brainchild of Despina Papadopoulos, an interaction designer and design strategist. This mini white dress boasts 448 white circuit board tiles, which incorporates RGB LEDs. The solar cells are represented by black tiles that accumulate solar energy for power transmission through a control board. It also communicates with a computer through radio frequency.
5. Human-Powered Dresses
The unique clothing collection called 'Captain Electric and Battery Boy' by XS Lab features three dresses that generate electricity by human motion. The dresses named as Sticky, Stiff and Itchy use the movements created by the wearer to produce little power to lighten up LEDs or even activate an MP3 player integrated onto the dresses.
Clothes made from eco friendly textiles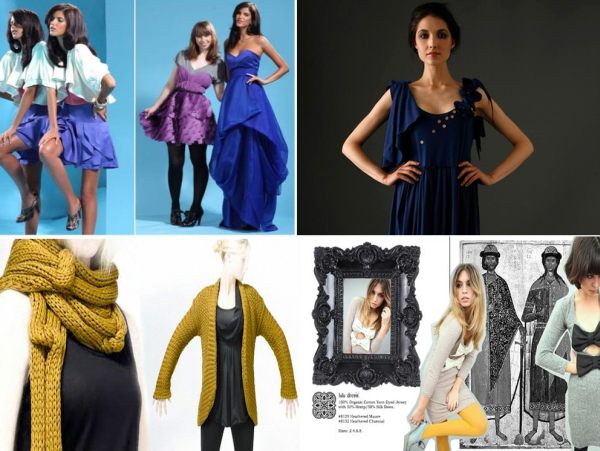 1. Clothing fibers made from milk and seaweed
German company Two Square Meter produces a line of gorgeous knitwear that includes sweaters, scarves, bottoms and tops made from an eco friendly yarn. This yarn is made from milk protein fibres and sea weed fibres. These pretty clothes possess nourishing and healing properties for the skin due to the fibres used.
2. Bluefly
Designed by Leanne Marshall for Bluefly, this eco friendly range of clothing includes nine pieces of women attires in hues of pink, purple and violet. Her eco friendly collection consists of frocks, gowns, tops and jackets made from organic linen, tencel and bamboo.
3. Beautiful Herb-Infused Organic Clothing for Fall
Taking Ayurvastra, a branch of Ayurveda, into consideration, New Jersey based firm, A.D.O. Clothing founded by Anjelika Krishna has used herb-infused organic cotton and natural dies to create beautiful and modern clothing that not only make you look trendy but also cure man diseases like diabetes, eczema, rheumatism, and arthritis.
4. H&M's New Organic Cotton Collection
The Organic Cotton Collection by H&M includes environment friendly clothes for women, teens, kids and babies. These designer clothes are made from organic cotton and are very soothing and comfortable to wear.
5. Velvet Leaf Classically Tailored Organic Dresses for Fall
Designer sisters, Laura and Becky Carter of Velvet leaf, have created fabulous and stunning dresses keeping the environment in mind. Inspired by the women fashion of the '50s and '60s, they have made beautiful use of organic cotton to design these sustainable modern dresses.
Organic clothing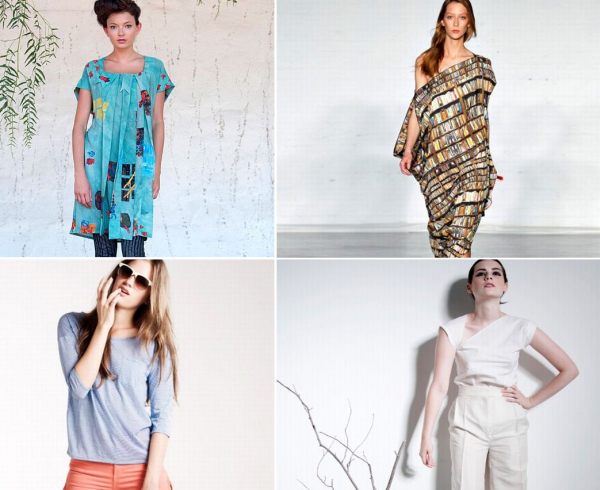 1. Chinti and Parker
London based eco designers Chinti and Parker create eco friendly clothes using organic cotton as the fabric. They create simple yet trendy garments, especially tees, on a range of colors. The design duo offers 100% organic cotton jerseys in three weights – Light, midweight and heavy.
2. Titania inglis spring summer
Brooklyn based designer Titania Inglis has designed a range of clothes by making use of eco-friendly materials. Her collection comprises of organic-cotton shirting, denim skirt and blouse. Zero- waste concept has been kept in mind and nothing is left over in order to keep the surroundings greener.
3. Feral childe spring summer
The bi‐coastal design duo, Moriah Carlson of New York and Alice Wu of California, have designed the Tarquinia collection that includes dresses, leggings, blouses and tops. The vivid and colourful garments have artful designs and symbols inspired from the ancient Roman City. All clothes are made from eco friendly materials like hemp, organic cotton and other natural things.
4. Audio tapes clothes
This interesting attire by Maria Cornejo has been made entirely out of discarded tapes. This new fabric is named as 'Sonic'. Along with this 100 percent recycled fabric, she makes use of vegetable dye to give different hues to the fabric and makes the dresses look vibrant and beautiful.
5. Summer collection by Steward and Brown
Californian designer duo Karen Stewart and Howard Brown show their respect and love to nature through their 100 percent organic clothes collection. Their sustainable eco collection includes modern designer garments, which are comfortable for everyday wear.