Clay roof tiles have been preferred over other roof materials from time immemorial due to their durability and sturdy properties. They can last you a lifetime providing you with the much needed cool comfort and pleasant surrounding at your home or workplace. Due to this very quality, clay tiles have become a first choice for roofs even to this date and are now being considered as superior eco friendly building product of the future. Clay roof tiles are considered as great construction material due to their innumerable attributes. Here we point out some of the good properties of clay tiles: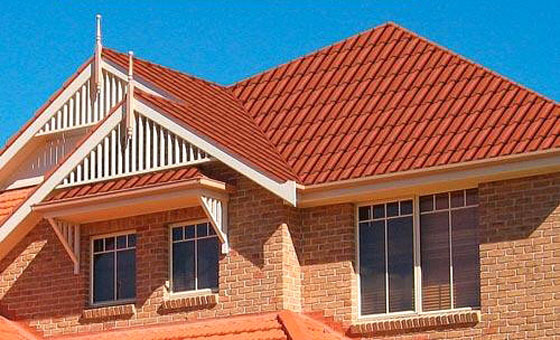 Color lasts for life
Since clay roof tiles are fired at very high temperatures, the color that they possess does not fade over the years. This cuts on painting costs as the tiles do not require regular touch up every now and then. Simple washing with regular water ensures that the clay tiles retain their original look throughout their lifetime.
Safe even during heavy rains
Since clay is a natural substance, it is capable enough to withstand the onslaught of heavy rains without much wear and tear. Moreover, the sloped roof tiles enable easy sliding of the downpour, keeping them fresh and clean.
Natural insulator for summer and winter
Clay tiles prove to be very useful in the summer since they keep the heat out and also in winter when they keep the cold out. This is attributed to their natural property as a thermal insulator that is both cost effective and eco friendly. In addition to this, clay tiles also succeed in providing sound insulation.
Weather resistant
Clay roof tiles provide great protection from bad weather during windy times. This is due to their interlocking system that helps in a secure roof with hardly any loopholes. It also provides security as it is difficult to displace any of these tiles due to the strong interlocking system.
Increases resale value of the house
Clay roof tiles are any day preferred due to their long lasting properties. This makes a house having clay roof tiles more valuable and has a better resale value.
Wind and heat resistant
Clay roof tiles are both wind resistant as well as heat resistant. This prevents any damage to the roof tops even in extreme conditions such as scorching summer or windy cyclones.
Eco friendly
Clay roof tiles are eco friendly and can be recycled into new tiles and bricks. They do not produce any harmful green house gases during manufacture. That is why clay roof tiles are rapidly finding their place in environment friendly homes.
Contributes to environmental sustainability
Clay tiles do not require any artificial painting and are very easy to maintain. There is no green gas emission during their manufacture. This qualifies them as one of the most sustainable building products that are apt for environment protection. The thermal mass of clay tiles can help decrease energy dependency. In this way clay tiles play an important role in environment sustainability.
Ethnic heritage look
Clay roof tiles have now become a style statement as they give an aura of royalty and class. You also feel you are living in a Victorian palatial home of your own. The vintage look adds to the overall elevation of a home exterior.
In a nutshell
From centuries natural clay has been widely used a s a roof top material due to its inherent beauty, excellent durability, easy maintenance and worldwide availability. This natural substance has been complimented by recent advances in technology to result in a fantastic building product that has become the number one choice for roof tops all over the world. In fact, environmentalists are touting clay roof tiles as one of the most environment friendly products that is being used in the construction industry. Therefore, if you want to combine an eco friendly product with durability and a touch of class, then clay roof tiles should be your obvious choice.