Not only are fossil fuels becoming more expensive day by day, but they are also disappearing from this planet. Once lost, we would never get them back. Furthermore, they even lead to very high carbon emission. Therefore, it is a modern necessity that we switch to some better alternative. This alternative should be renewable and emission-free. However, provided that our electricity comes from renewable sources, electricity could be this alternative and since vehicles are amongst the major sources of carbon emissions, we should first employ it there. Nevertheless, we already have many zero-emission cars like 1933 hot rod in the market that perfectly satisfy the necessity.
Factory Five's electric 1933 hot rod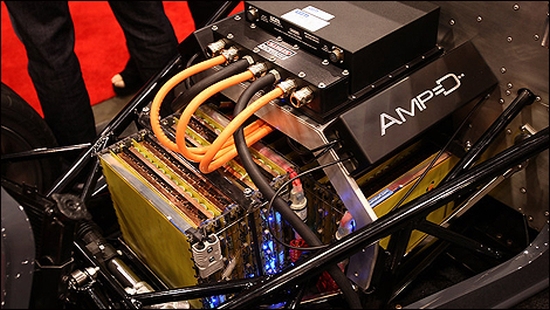 Eco Factor: Zero-emission car designed to be powered by an electric engine.
Massachusetts-based Factory Five, the world's leading designer and seller of kit cars, has showcased an all-electric version of a 1933 hot rod that according to the company can reach a speed of 100kph in under 4 seconds and has a range of about 160km.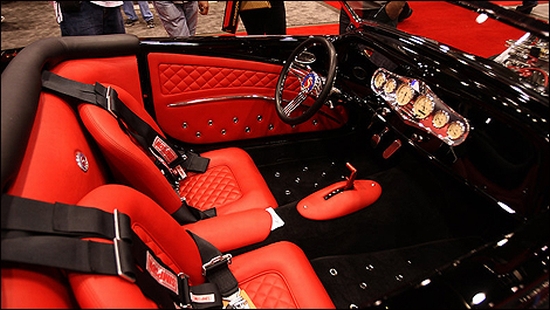 The 2200lb car utilizes A123 lithium-ion batteries. This battery generates a total output of 300hp and no less than 660lb-ft of torque. However, the vehicle's ecofriendly credentials don't come cheap. The designers believe that the electric motor costs about $40,000, and the batteries require high-voltage charger that cost thousands of dollars.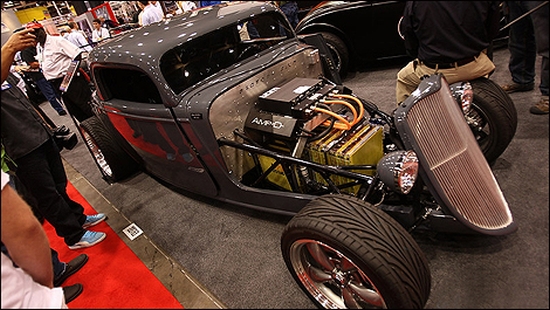 Via: Auto123
More zero-emission cars like 1933 hot rod
1. Ssangyong's KEV2 Concept Car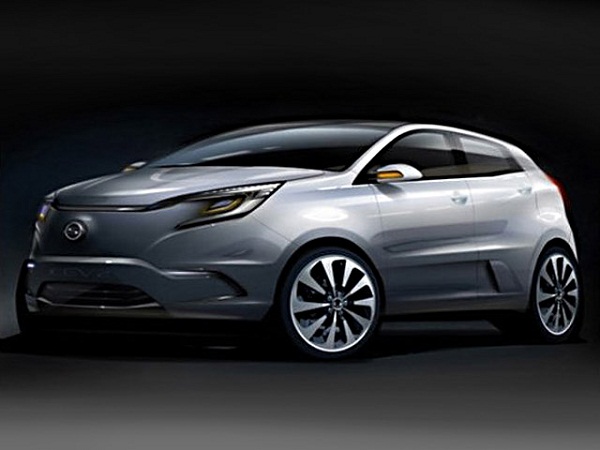 The main driving force behind the zero-emission figures of Ssangyong KEV2 is its capability to burn much less gas per mile as compared to a conventional car. The concept car runs on electric motor instead of a gasoline engine. Aside from these green features, the Ssangyong KEV2 concept has new LED headlights, no (usual)front radiator grille, a modern, luxury interior boasting a Samsung Galaxy tab as the user interface.
2. Chevrolet Miray Concept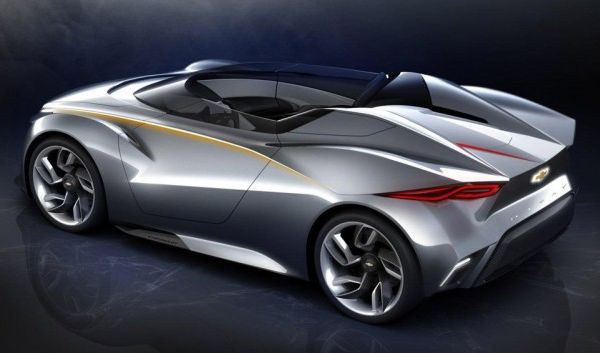 Miray by Chevrolet has dual 15-kW electric motors, ensuring quick acceleration while reducing emissions to zero. Furthermore, the car also utilizes a lot of kinetic energy, which it products when the car is in motion. The car converts this to potential energy when brakes are applied. In addition, this sporty car smartly uses this energy during braking to charge itself. Miray runs on a 1.6kWh lithium-ion battery. The car is equipped with a 1.5 liter 4-cylinder turbo charged engine.
3. Kia Naimo electric crossover concept car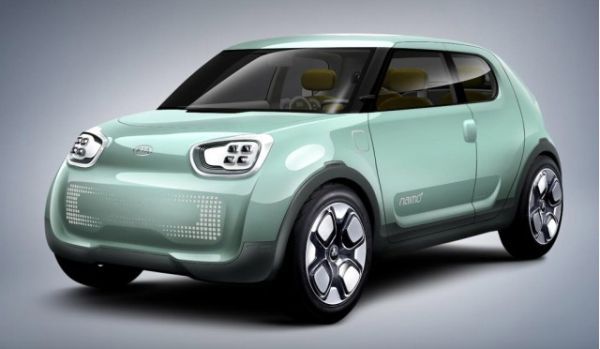 The Kia Naimo is the third in the series of concept cars by Kia. The Naimo runs on a 27kWh battery, reaches a top speed of 93 mph and covers a nice 124 Miles on a single charge of 5 hours. The permanent magnet synchronous motor generates an impressive 110hp, and the Lithium-ion-polymer battery, tucked under the hood, can be charged at home without any special connections.
4. Hyundai Blue2 concept car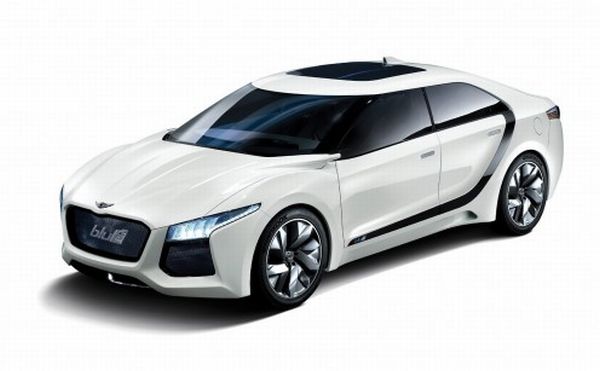 The Hyundai Blue 2 is based on a power-packed Hydrogen fuel cell stack, with fuel economy touching 82 mpg of Hydrogen supported by with alloy wheels and low resistant tires to crank up the fuel efficiency. Hyundai Blue 2 offers a great luxury sedan look, streamlined body and the exteriors have a great aesthetic appeal including LED screen panels. The interiors complete the futuristic concept wherein the car knows when the driver is near and opens the doors for him! What more, the car's interior has a state-of-the-art ionizing system for fresh air while the side mirrors are cameras, making the driver feel like James Bond, 007.
5. Rinspeed's spectacular zero emission amphibious concept car

This electric aqua car moves no less than a fish in water up to the depth of 33 feet at an amazing speed of 120 kph. Frank M. Rinderknecht along with a team of concept magicians at Rinspeed and Esoro has successfully replaced the combustion engine with series of motors run by electricity. This car is as light as 920kgs and it offers a superb performance with highest speed of 120km/hr.
6. Kia Pop Zero Emission Concept Car

POP, is a next-generation compact electric car from Kia. This bubbly looking concept vehicle accommodates two commuters. Furthermore, it includes a single massive piece of the windscreen which stretches back to make a transparent roof. In addition, this car is widely popular for its classy interiors and design.
7. Opel Flow concept car

Miika Heikkinen designed this car for representing Opel in 2049. This single seater zero emission car will include clear solar panels and will be made using light weight materials. Apart from recharging the batteries from solar power it also gathers energy from movement
8. Touch Down Concept

This zero emission car which runs on batteries charged by solar power plants is a brainchild of Guo Ke. Its rear is fitted with a battery pack containing six high capacity batteries which can be charged renewable solar energy.
9. Volkswagen solar-powered supercar

This concept zero-emission car has an electric engine fueled by hydrogen fuel cells. The upper external surface has integrated photovoltaic cells which produce solar energy. Furthermore, being a luxury supercar it is designed to be manufactured in a limited number.
10. Solar Coco Concept EV

Jin Yuanbiao, Gang Tang as well as Su Sha have designed this futuristic car. The unique features of this futuristic concept electric vehicle include rounded surfaces with an array of solar panels to recharge the onboard battery pack.
11. Mio FCC III concept cars

This car from Fiat focuses on revealing the sustainable face of technology. Its potential green design will feature a zero emission electric drive-train.
12. Renault Twizy Z.E.

Frankfurt Motor Show came out with this electric concept car in the year 2009. This electric powered concept car from Renault features a tandem seating layout.
13. Bug electric car

This zero emission car which will use polymers in a combination of vegetable fibers. Moreover, even the power source is a clear revelation of deviation from the conventionally used materials and that too at an affordable price.
14. Nissan New Mobility Concept

The two-seater concept car offers compact mobility for various needs and occasions. The small size of the vehicle also enables anyone to drive and park easily, while offering a safe ride. The company will also study the use of the vehicle for a variety of services such as "seamless mobility service" and a 2-mode EV car sharing service.
15. Sampdesign Neo Zero-Emission concept

The three wheeler electric vehicle with exteriors surrounded by LED lighting offers a sustainable and safe ride on the cramped city roads during night. Made of biodegradable plastic, this car is environmentally-friendly altogether. This magnificent car is a brainchild of Maurício Sampaio. Moreover, the car is powered with the aid of three engines that are embedded in each wheel.
16. AXA Zero-Emission Concept

Auto designer Marian came up with this car and designed it to run on electricity. Meant for busy urbanities of future, it focuses more on energy efficiency by using solar panels and regenerative braking.
17. Zero Emission Cars to Run on Electromagnetic Wheels

This environmentally-friendly zero emission vehicle gets its energy from lithium-ion batteriesthat are mounted on the chassis. However, the concept is different as it has been designed to run on four electromagnetic wheels.
18. Be On

This zero emission car can be easily folded to avoid parking woes. Developed with the aid of fuel cell technology. Furthermore, it emits no tailpipe contaminants and pollutants, this car could be your dream ride in the future.
19. Honda Air Lightweight Concept Car propelled by compressed air

The Air Concept Car from Honda weighs less than 1000lbs and can carry four people. The vehicle has been desigend to run on compressed air and is appropriate for people with aggressive lifestyle.