The marketing is oozing with bikes that aren't just unique and stylish, but eco-friendly as well. In fact, some bikes like the Pannon Rider, don't require anything except sunlight to work on. How more environmentally friendly can you expect a vehicle to be? The other bikes mostly run on electricity, which, if renewable sources of energy like solar energy go mainstream, would definitely become much more sustainable. In addition, even our fossil fuel reserves are limited. Therefore, one day or the other, you would have to make the switch. So why not today? Take a look at all these eco-friendly bikes in this article. We are sure that you would definitely find one that suits your need.
Pannon Rider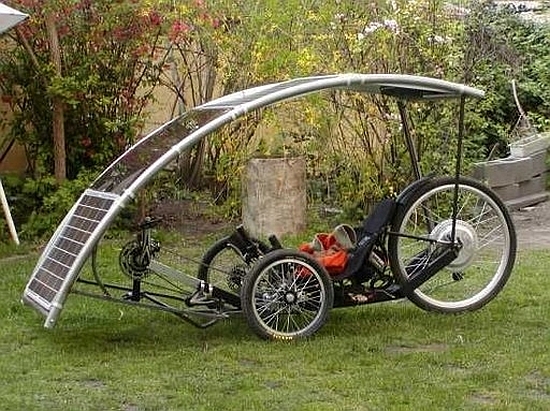 Eco Factor: Electric bike powered by solar energy.
We've been regular in showcasing the latest electric bikes on the market. While most of them do pack the most recent in technology, they fail when performance and speed are a major consideration. Pannon Rider, a prototype bike developed by Garbor Hangay, could end all the drawbacks associated with biking with the use of solar energy.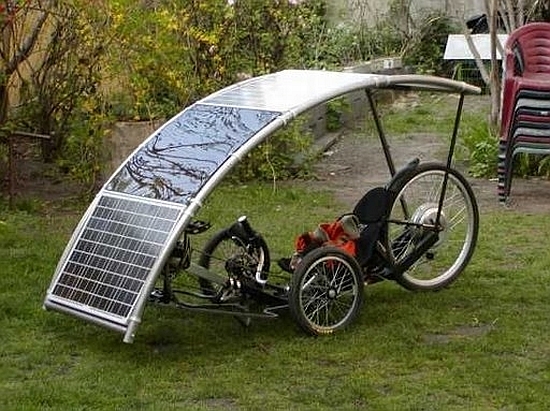 The bike is powered by a hybrid electric/manual drive system. During sunny days the bike depends on solar panels mounted atop the canopy that not only generate electricity for the motors, but also protect you from UV rays and rain. The solar panels directly feed the in-wheel motors when the bike is in use, and when it's idle the generated energy is used to recharge a battery for days when the sun isn't shining.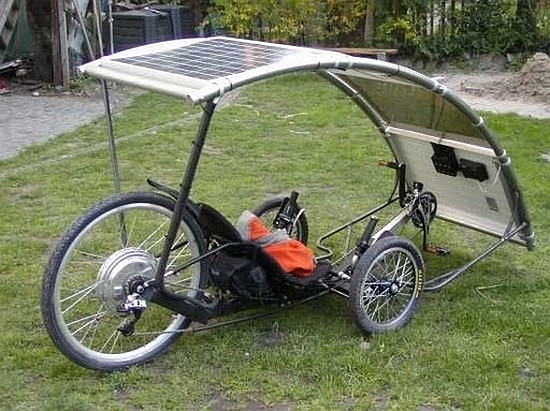 Running on batteries alone, the bike is expected to reach a top speed of 23 mph and a maximum operating range of about 16 miles. During sunny days there is no upper limit to the operating range. And for times when the batteries are out of juice and the sun isn't shining, you can always trust your muscles to take you back home.
The Dark Side:
The bike is still a prototype and the developer doesn't make a statement on when the bike will actually hit the shelves.
Some more unique eco-friendly bikes like Pannon Rider
For all environment lovers who ogle at trendy looking bikes, there is a range of drop-dead gorgeous bikes which will blow your mind away. If you liked Pannon Rider, but want more on style, then here are ten fastest and trendiest eco-bikes which can match any normal designer bike in speed and looks.
1. Neiman Marcus Mission One

The Neiman Marcus Mission One is a limited edition eco super bike which runs on electricity. It is capable of reaching speeds of 150 mph with a top range up to 150 miles. It costs a whopping $73000 and will feature exclusive anthracite and gloss black color scheme with Marchesini gold wheels.
2. KillaCycle

The Killacycle is arguably the world's fastest bike with eco-friendly technology. Introduced in the year 2010, it has potentially achieved zero to 60 mph in one second and a top speed of 176 mph. Though it is breaking all sorts of records, the ultimate aim of the manufacturers is to achieve top speed in excess of 350 mph in a couple of year's time.
3. Electric Motorcycle Smashes World Speed Record

This bike shattered the world speed record for electric bikes at Utah's Bonneville Salt Flats. It has consistently reached speeds of 150 mph. It has been designed in collaboration with Fuse project and was inaugurated by Yves Béhar earlier this year.
4. Roehr's American Electric Motorcycles

Roehr motorcycle is launching two new eco-superbikes – the eSuper bike and the eSupersport. As is the case with all showcase bikes from the Roehr stable, these bikes also deliver seamless functions, combined with raw power from eco-friendly lithium-iron phosphate large-format cylindrical cells.
Most of its parts are assembled from mass manufactured components which are fully tested for their reliability. The eSupersport can reach a top speed of 100 mph while the eSuperbike can reach a top speed of nearly 150 mph.
5. Mission R Electric Motorcycle

Mission Motor has launched a new eco-friendly electric motorcycle called the Mission R. Its gorgeous looks make it all the more appealing.
One of its most notable features is a 600cc motor which delivers in excess of 140hp. It is capable of reaching a top speed of 160 mph on a single gear. It has a liquid-cooled 3-phase AC Induction motor which generates 115 ft-lbs of torque at the crank from 0 to 6400 RPM.
6. Italian-Made Electric Motorcycle

Though famous for their drop dead gorgeous looking cars, the Italians have not been far behind in developing emission free environment friendly bikes. From the stable of CRP which has specialized in parts for Formula one car, comes the eCRP bike.
The engine of the bike gives an amazing 124 mph with powerful batteries that can recharge in just three hours. The bike will face its litmus test when it races other eco-friendly bikes in the TTXGP or the eGrandPrix. It costs about 40000 Euros with motors which can reach a top speed of more than 120 mph, even though it weights just around 350 lbs.
7. Electric Motorcycle Breaks Speed Record

This bike has the distinction of breaking the speed record for a quarter mile for an electric powered bike. It passed the quarter mile mark in just 9 seconds and reached more than 155 mph. The technology behind the bike depends on the eco-friendly yet powerful lithium ion batteries developed by A123 systems.
8. The long running Electric Motorcycle

For bikes which are built to last the distance, there can be no better model than the Sora. It has been built by the Canadian manufacturing company, Lito Green Motion.
Its unique feature is its high density lithium battery which is built for the life of the bike. The battery charge enables the bike to run up to 300 kms on a single charge. It is excellent on the speed department as well with a top speed of 200 kph. In fact, any energy lost while braking is used to further recharge the batteries, giving this bike more mileage than any other bike in its class.
9. New line of fast electric bikes from Roehr

These bikes appeal to those who have a flair for having trendy bikes with concern for the environment. Made by the American bike manufacturer Roehr, these bikes are powered by Lithium Iron Phosphate large format cylindrical battery cells. It comes in three models – the eSupersport, the eSuperBike and the eSuperBike RR. They weigh between 395 to 500 pounds and can reach top speeds between 1oo to 135 mph.
10. Solomoto's Motoczysz E1pc riding impression

Built like a shark, with pure driving pleasure. The Motoczysz E1Pc looks quite like the famed predator of the deep seas and gives unmatched performance like its namesake. It has an electric cooled motor which is fed by five lithium-polymer batteries.
It weighs 238 kgs and gives a top speed of more than 260 kmph, while delivering an awesome 125 horsepower. Its sporty look with high foot pegs and low bars completes the picture, with almost no noise or vibration. Its weighs a whopping 238 kgs and can sap the rider's energy at top speeds. YEt it gives unmatched performance unlike any other bike in its class.