Ever increasing traffic and air pollution are the primary concerns associated with vehicles these days. A multitude of approaches are suggested every now and then as just the solution one needs. Some concepts are too impractical to be used for real. A few that happen to be tested seriously end up being extremely costly solutions for the people in general to even consider. Even with that price tag these happen to be noisy and do not quite do justice to the costs incurred. Amidst all this the situation continues to deteriorate. iO personal portable urban propulsion proposes a solution that seems to do away with all these issues.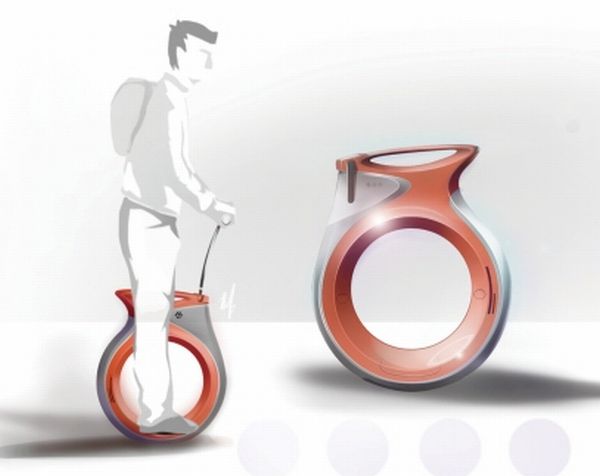 The structure
This vehicle meant for use by one person at a time works on electricity. The base is formed by a circular loop. On either side of this loop, the structure has been extended sideways so as to allow for the rider to stand astride the circular bottom half. The upper portion of the vehicle provides for a mechanism to steer the vehicle. It also serves as the support you can hold on to while you move about. The self balancing nature of this concept vehicle adds to its convenience factor. Its small size makes the navigation as easy as it gets.
Advantages
This concepts gets appreciation for its simplicity. For a ride to a place in the vicinity, be it the market or an eatery, it comes across as a convenient and non-polluting mode of transport. It is as compact as a bike but runs on electricity. It saves you from an ever increasing fuel bill and helps you reduce your carbon footprint. This needs to be seen as the simplest way for you to contribute towards reducing pollution. The problem of pollution is a nemesis that is acquiring mammoth proportions by the day. Countries are working towards a better approach for the industrial sector to reduce the amount of harmful gases it lets out in the atmosphere. If each individual contributes by using vehicles that work on electricity, that indeed amounts to a lot in real terms.
Congestion is a problem with more vehicles taking to the roads each passing day. Perhaps it mirrors the prosperity of the people in a society but its ugly side raises its head in the form of a high vehicular density on the roads. Portable urban propulsion offers people an alternative to escape the traffic jams and to move about with complete freedom. Imagine the ecstasy of traveling knowing very well that howsoever congested the roads be you will surely find your way out.
For a single seater, the product is a marvel in its property of being self balancing. This works in its favor considering how difficult it would be to balance such a small vehicle when managing the balance of even the two wheelers turns problematic for people. People can thus freely enjoy their ride in town. This vehicle is likely to appeal to the people who prefer bikes as well as those who drive around in cars. The reduced congestion on roads and the pollution free lifestyle it promises is sure to find takers.

Via: Coroflot