The advantages of earth-sheltered homes are numerous. They are examples of sustainable architecture which are built using earth as a chief element. They can help to reduce heat loss and thus help in maintaining a steady indoor temperature, in all climates. This can help in lowering your energy bills and save you a ton of money. They also provide protection against storms and tornadoes. Earth-sheltered homes have the added advantage of being sound proof, as earth greatly reduces noise pollution. These homes maintain your privacy and are usually quite beautiful.
Types of earth-sheltered homes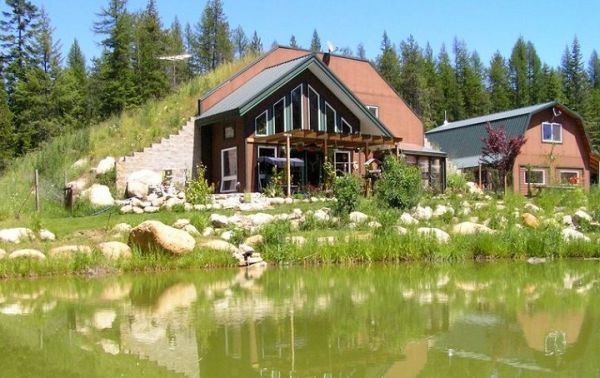 There are three methods of constructing an earth-sheltered home.
In this method, the earth is piled on the exterior walls of the house, sloping away from the house. The roof may or may not be covered with earth and the house may have windows on one or more walls.
The house is set into a slope or hillside and it has one exposed wall and all other walls are embedded into the slope.
Underground / fully recessed construction
The ground is excavated and the house is set in below, completely underground. You could build a home in underground caves, old mines and abandoned missile silos too.
Advantages of earth-sheltered homes
The advantages of earth-sheltered homes are numerous. It is commonly assumed that earth-sheltered homes are dark and buried in and would be extremely unpleasant. But the truth is, earth-sheltered homes are surprisingly peaceful dwellings, sanctuaries from the noise of the outside world. Other advantages are: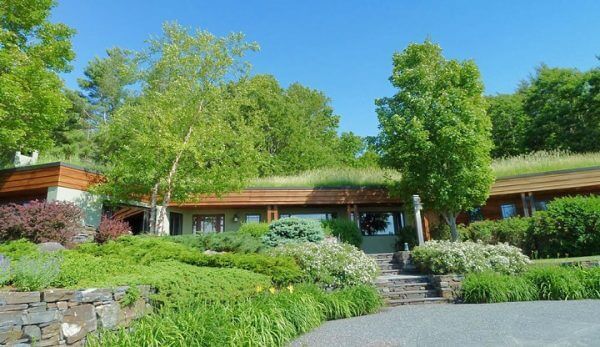 Due to the geothermal heat of the earth, the temperature of these homes which are constructed using eco-friendly architecture methods, is maintained at a comfortable 50 F throughout the year. The earth's mass retains and absorbs heat and this heat is released to surrounding areas, such as earth-sheltered homes. But this process of earth's temperature change happens very gradually, known as 'thermal lag'. The earth provides a very stable temperature to these homes due to 'thermal lag' even though the external temperatures may fluctuate greatly. The use of passive solar techniques, diminished chance of air infiltration (warm air cannot escape and cold air cannot penetrate) in earth-sheltered homes ensures homeowners saving thousands of dollars in energy bills and reducing carbon emissions, due to the minimal use of extra heating and cooling devices.
Earth-sheltered homes have to extra sturdy and they are usually made out of sturdy materials like brick and concrete. These materials ensure the house stays strong for a 100 years and as there is no traditional roofing involved either, your maintenance costs due to the passage of time and weather conditions are almost nil. There is no painting or siding costs that you have to bear as 90-100% of the house is covered by earth. You can use this money saved for a nice vacation instead! 
Tornadoes and hurricanes and torrential rain have no effect on an earth-sheltered home. All this happens above ground, while you are safely inside your home underground. Fires too cannot harm such houses and lightning will not strike a house that is level with the ground.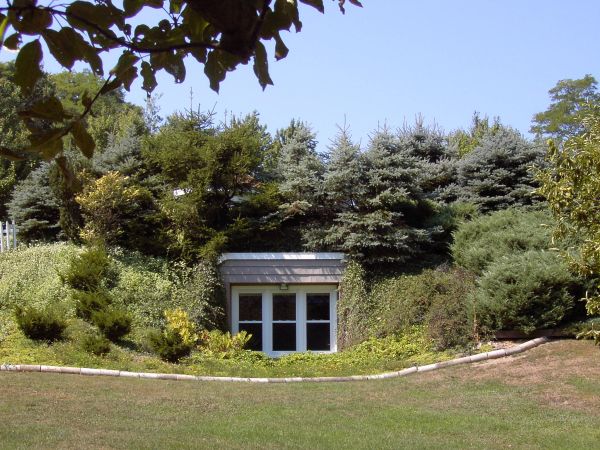 The earth efficiently blocks out all outside noise. This is a relief as you no longer have to listen to traffic noises, or undergo the pain of listening to construction noise nor the sounds of neighbors fighting. These houses are perfect for those living near airports, as they will no longer be bothered by the constant sound of planes landing and flying overhead. The natural sound proof of an earth-sheltered home provides a much needed peaceful and relaxed environment within the home. You no longer have to rush to the mountains to enjoy the sounds of silence.
Earth-sheltered homes are usually extremely pretty on the inside and outside. The earth covered roof and walls can be used to plant beautiful flowers or have a nice lawn. The front façade can be decorated to suit your style and taste.
The benefits of an earth-sheltered home are many. It is a sensible choice for someone looking to reduce their carbon footprint, as well as saving a good amount of money down the line.