Necessity of eco friendly vehicle: Nature conservative vehicles have very high demands nowadays. That is why the use of the fluorocarbons, leaded petroleum and other polluting substances uses in engines are being reduced. Not only the road vehicles spread the pollutions, but also the water way vehicle and the aircrafts spread pollution. This kind of pollution is very harmful for our environment and also one of the major reasons for global warming. So, the world demands today a pollution free environment. But today's life style is very fast. People can't abandon the vehicles for the sake of nature for sure. So, the only way to do mutuality with nature is to produce some vehicles which will be much less harmful to the environment. Dreamliner aircrafts is one of these kinds of vehicle. Eco vehicles are good for the environment around us as it spreads less pollution.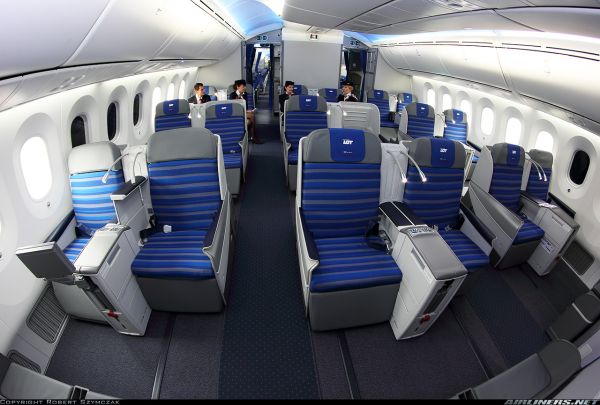 Specification: Dreamliners aircraft is developed by the Boeing Commercial Airplanes. According to Boeings statement it is the company's most fuel efficient aircraft so far and they are the world's first major airliner to use composite materials as the primary material in the construction of its airframe. Less use of fuel produces less carbon dioxide or carbon monoxide and also reduces the heat which radiates into the air. Actually it is claimed that the carbon-fiber built 787 was to be 20% more fuel efficient than the other flying objects of its own like. Usually transporting around 250 passengers, it is around half the dimension of the Airbus A380. Its minor working costs included long haul routes – shuttling from London to Houston – became commercially more feasible than in the earlier period.
Features: Some other eco friendly features about this are like as follows-
The 787 consists of two engines. These engines uses bleed less system. They eliminate the superheated conduits normally used for aircraft power, de-icing and some other functions as well. It consists of some noise reduction technologies also. This is made of some sound absorbing or noise reducing materials which are designed to get rid of the over heat of the atmosphere i.e. air pollution and noise pollution respectively. As sound energy also reproduce heat energy, so, sound reduction also helps to control the air from being heated gradually.
Operators: It has some operator as follows-
All Nippon Airways – first service October 26,, 2011
Japan Airlines – first service on May 1, 2012
Ethiopian Airlines – first service on August 16, 2012
Air India – first service on September 19, 2012
LAN Airlines – first service on October 1, 2012
United Airlines – first service on November 4, 2012
Qatar Airways – first service on November 20, 2012
LOT Polish Airlines – first service on December 14, 2012
China Southern Airlines – first service on June 7, 2013
Thomson Airways – first service on June 21, 2013
Norwegian Air shuttle – first service on July 4, 2012
Hainan Airlines – first service first service on July 8, 2013
Troubled history: This so much discussed aircraft has a troubled history also. This could not have even a test flight also before a year of its service 2008 due some problems. All the airlines which paid for this were really in suffering at that time. Some days earlier a United Airlines flight to Houston was cancelled due to an unexpected indication in the cockpit.
Conclusion: Though some trouble introduced somehow many of the national and international airlines chose this and invest money on this as it is the most eco friendly aircraft in the world introduced so far.