A sound mind is showcased by a sound collection of books. The shelf that holds these books for you should have an aesthetic appeal with durability and eco-friendliness as added advantages. Shelves of good designs, high quality, ample storage space, and security come in various styles and capacity. You can choose from closed or open units or even customize the storage options by attaching accessories. Library shelving can be a challenge especially if it needs to suit your needs and library ambience. Library shelves are available in wood, plastic (heavy duty), chrome wire, and steel. The same can be used for your office shelving purpose. The accessories collection for shelves includes label holders, particleboard, adjustable shelf dividers, add-ons, and wire decking. It is important to have your library measured before choosing the shelves. Shelves come in different colors to suit your venue requirements. Here are some good green ideas that help you strike a balance between appearance, durability, and eco-friendliness.
Woody goodies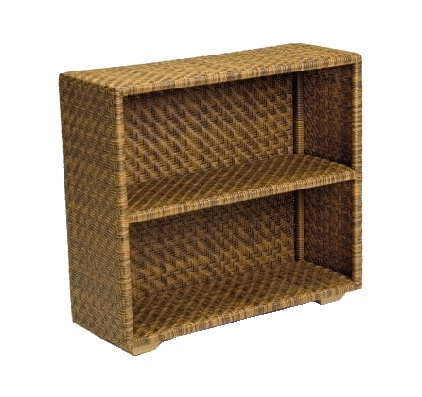 Usage of wood for shelving gives good appearance and durability. By carefully choosing the kind of wood to be used your need to go green can be gratified. Bamboo is one of the fastest growing plants along with Redwood and Cedar. These not only give a look of elegance and style but are good nature friends too. Shelf makers will cater to your needs by suggesting designs and carving them as per your desired size. Well, you can also design your shelf if you have that "Kraft Quotient" in you. Shielding it with a waterproof sealant will add to its longevity. Two kinds of Bamboo shelves can be sought based on your preference: the solid bamboo or the woven bamboo. These materials are commonly used for flooring and can easily be repurposed as shelves. The solid bamboo is highly durable and cannot be attacked by termites; the woven bamboo has a better texture but is more expensive than the solid bamboo. Woven bamboo is made of shredded bamboo mixed with resin and compressed to form solid blocks. While bamboo is aesthetically pleasing, shelves can also be made using wicker. Wicker shelves are durable, resistant to termite attack, and cheaper than hardwood. They are also much lighter than hardwood, plywood, or boxwood. Heywood-Wakefield is one of the best-known manufacturers of wicker furniture in the USA.
Steel deal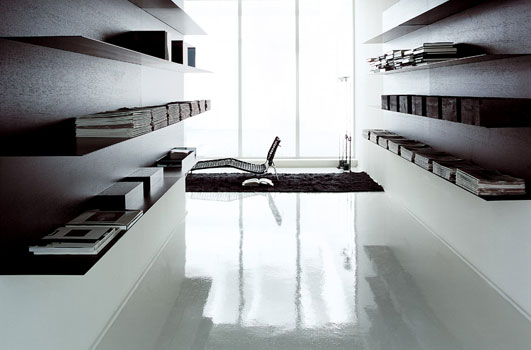 Steel stands out as the most widely used metal due to its intrinsic property that is its strength. It can withstand any amount of stress and it cannot be easily bent. Another major advantage of having library shelving in steel is because of its toughness. Steel shelving is the absolute way to enjoy a termite free office or library. You can also boast of your office or library being eco friendly as steel is recyclable. This type of shelving is easier to maintain and looks attractive on the premises. Assembling these shelves is very simple. Steel shelving will help you store supplies, inventory, tools, parts, or even packages. If you have many materials to archive, these shelves come in handy as they could be placed in a warehouse, library or for stocking your office materials.
Aluminum all the way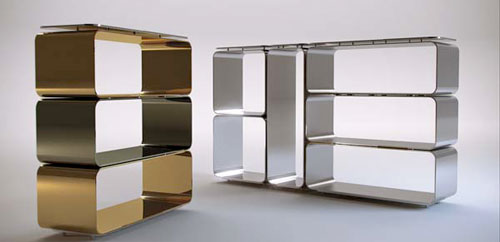 Aluminum is the third most abundant element on earth after silicon and oxygen and it is the most abundant metal constituting 8 percent of earth's weight. This metal has a low density and is resistant to corrosion. Besides, aluminum is the only metal that is 100 percent recyclable making it environmentally the most friendly metal. Aluminum is very light and can easily be crafted. If you are looking for art deco style furniture, aluminum products are one of the best. Many interior designers prefer aluminum as finishing aluminum is easier and the lightweight makes it very attractive. Many manufacturers in the USA provide custom-made aluminum furniture.
Conclusion
If you are looking for the most eco-friendly and stylized shelves for your library, all you have to do is implement some of the design models highlighted above. These materials can be made to look good and at the same time give a low carbon-foot print. This is your little bit of contribution to the ecosystem. Try some creative add-ons to this like keeping a note-pad made of recycled paper, thick drawing sheets made from bagasse (sugarcane leftovers) and making it a little more creative and green and you can be doubly sure that it will make a laudable personal library.