Among all the cars of the world, one name stands out for being uber expensive, fast and luxurious: the Bugatti Veyron. This super car sits on the top of the list for many automobile enthusiasts owing to its ability to take you to speeds exceeding 260 mph. Alas, the gorgeous vehicle isn't for everyone as a single unit will set you back by over a million bucks. With his love for Veyrons unrealized, a fan named Taras Lesko decided to build one for himself. Out of paper.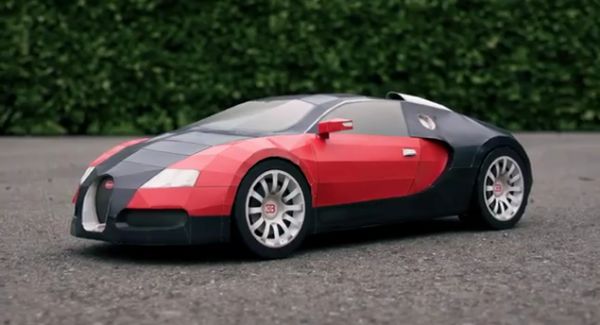 Costing him nothing more than plenty of time, scissors, paper and a printer, Lesko set about building the car of his dreams by taking a bit of help from pal Danillo, of Brazil's Nadask Projects to get the proportions right.
Lesko's scale project has earned him accolades ever since he posted a video on YouTube. A member even remarked if the designer was 'human' to which he replied 'yes'. The Veyron was crafted out of 159 parts of cut paper. Lesko used 44 pages of paper, meticulously folding them together to create the finished product.
A close look at the project reveals the rims, door handles and even the fuel cap. The two tone super car could probably be mistaken for the real thing if it was large and looked at from afar. To maintain rigidity, Lesko advises using 110 lb cardstock paper. He also cautions against magnifying the project too much else the car won't sit well. To cut the paper, he made use of two desktop plotters/cutters called Silhouette SD. For the design, he used a software called Pepakura Viewer.
There's no word on whether Lesko will be creating another papercraft car though we hope so. Considering his work on the Veyron, we can be sure that he'll design his next project based on an equally famous car.
Via: MSN