This holiday, when everyone is busy preparing their Christmas trees, a Vietnamese company has thought to wish our mother Earth, Merry Christmas in a majestic manner. How? Well, Westcom Electronics has built up a Christmas tree using some 2500 cellphones which would otherwise have been an addition to an ever increasing e-waste.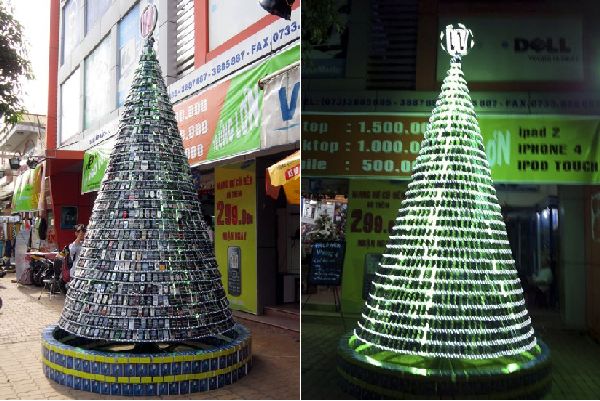 As many as 10 employees of this Southeast Asian company toiled for two weeks to come up with the 15 foot long Christmas tree. The conical tree is available for viewing for around two weeks and the company plans to auction it the coming year. The proceeds generated by the sale of the tree will be used for charity purposes.
According to some reports, around 800 people come to the store just to view the special Christmas tree. Steps such are these have now become inevitable in order to raise the ever increasing environmental problems. And, among these problems, the problem of e-waste is highly dangerous to our planet.
Westcom hopes to contribute its share in the making greener planet, given the nature of its business. Come next year, the company has even better and ambitious plans to build a taller tree using cellphones, which it is collecting on a regular basis. Westcom has been successful in addressing the problem of urban e-waste. However, it has yet to deal with a problem, a legal one.
The Vietnamese law states that businesses cannot use hazardous materials for other purposes, such as the one Westcom has done. We hope that the company fights this and emerges a winner, as good steps such as these always result in good outcomes. So we wish Westcom all the very best this Christmas and congratulate them for their generous measure towards our mother earth.
Go catch a glimpse of this scintillating Christmas tree in My Tho, located in southern Tien Giang province!
Via: Yahoonews