The best way to eliminate waste materials is to keep them under circulation. Taking a cue from this idea, Danish architects have designed an experimental conference center and hotel which depends on renewable energy for power and is completely made from recyclable materials. Named as Green Solution House, the conference center will be constructed at the Bornholm island in Denmark. Many innovative eco friendly measures incorporated for this building makes it one of a kind in the world and, the architects claim that it will set a benchmark for sustainable construction in the future.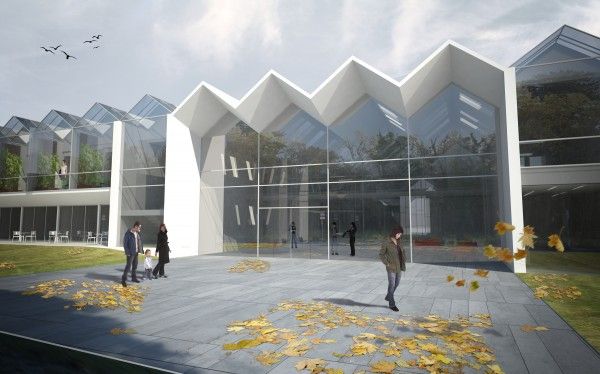 The Green Solution House has been conceptualized by 3XN architects. The design features solar power plant for electricity generation and a rainwater harvesting unit which will store and clean the rainwater for reuse. Integrated green houses will be erected to produce organic fruits and vegetables. The design also incorporates many dynamic features that will continue to provide an inspirational experience to the visitors for a long time. These features will make the building a live showroom displaying the most cutting edge technologies for a sustainable living.
Construction industry is one of the largest producer of waste materials. According to the architects, about 30 percent of the total waste materials in Denmark is produced by the construction of new buildings, refurbishing and demolition of the old ones. A significant contribution is also made by roads, railways, tunnels and other mega structures which are rapidly filling up the urban landscape. The data is more alarming for other countries.
According to the 2009 Sustainability report, United Kingdom (UK) produces over 100 million tons of construction waste every year. 40 percent of this waste ends up in land fills. Another data provided by the United States Environment Protection Agency (EPA) says about 330 million ton of construction waste is produced in the country every year. The massive amount of construction wastes not only produce environmental problems but also create huge financial burden for the government. A very large amount of taxpayers money is spent every year for disposing these wastes in landfill. In UK alone, disposing construction wastes would require about £8 per tonne per year until 2013.
However, the new building, discussed here, will prove that construction wastes are not a problem but could be a solution for the future. It will be constructed with recycled materials. There are also provisions for recycling or composting the daily wastes produced at the center. The architects say the Green Solution House is a 'building in continuous development'. Its dynamic nature will enhance the reputation of Bornholm island which is already famous as a popular travel destination among professional conference organizers. It will help attain the island's vision of transforming in to one of the most ambitious European community complexes that promote sustainable living.
Via: Evolo