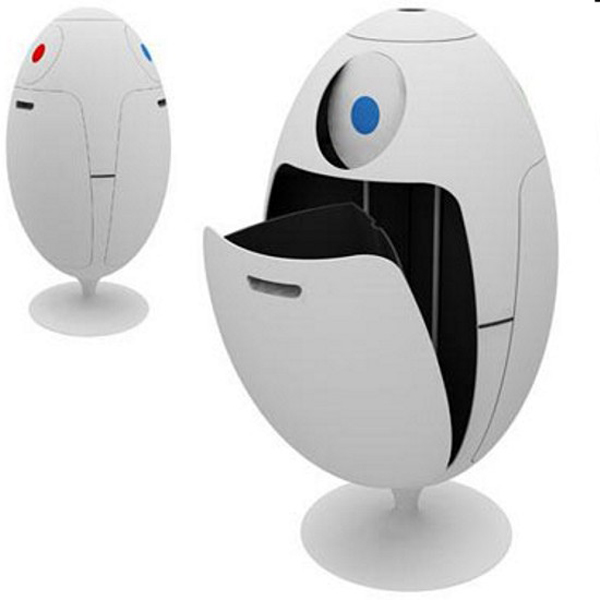 Managing waste is one of annoying things in our lives. Those who live in congested cities and apartments are often troubled without having enough waste management systems. Most of the time, they will have to depend on the municipal waste trucks to dump their garbage. Waste is not a household issue alone. It is regularly produced by various industries, cities, restaurants and many others. Here we talk about ten recycling bins, which are eco-friendlier and are designed creatively. Because of their imaginative form and design, they are apt for home, city and office uses.
Ovetto recycling bin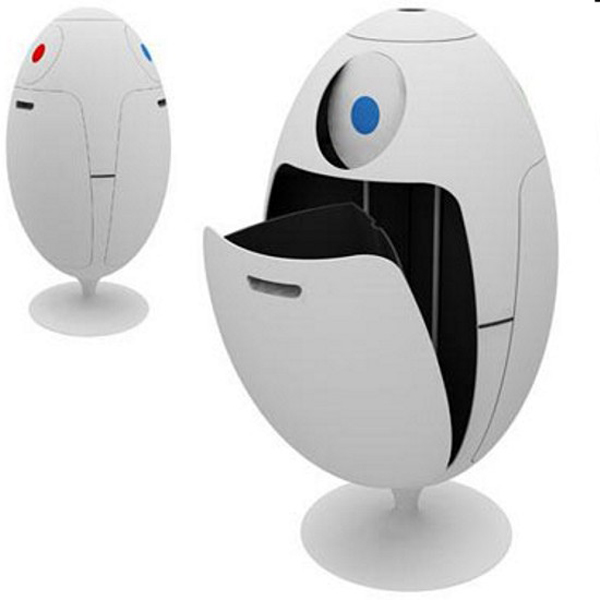 Ovetto is a stylish egg-shaped recycling bin concept exclusively for urban use. Designed by Gianluca Solid, this recycling bin is a perfect fit for urban environs. Along with collecting waste, it will add into the aesthetics of the city. Ovetto will have a capacity of 15 to 17 liters of biodegradable waste and it might be priced about $250. People will be more excited in disposing of their waste in these kinds of advanced and gorgeous recycling bins.
Eco-friendly Ecomod rubbish bin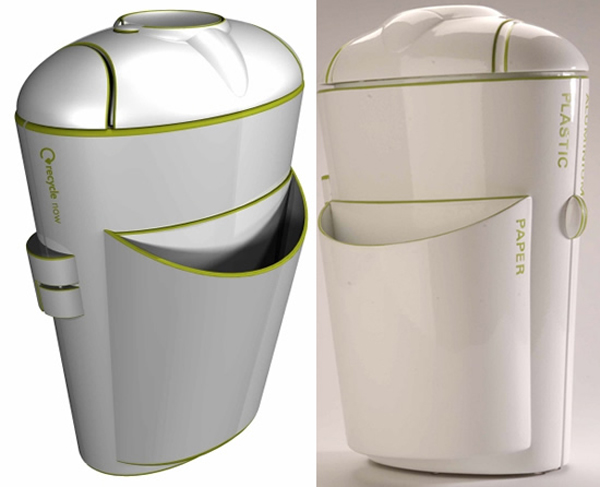 The Ecomod recycling bin is a brainchild of the U.K-based designer Robert Welby. It is an eco-friendly rubbish bin design that segregates and stores plastic, aluminum and paper in various compartments. When the waste mounts up, the bin will proceed to crush the separated waste into a small bulk thus people can dispose of more waste. Well, the cool thing with the Ecomod waste bin is that it automatically creates space for more new waste. The ergonomically designed Ecomod looks quite nice, however.
e-Bin: Solar powered electronic recycling bin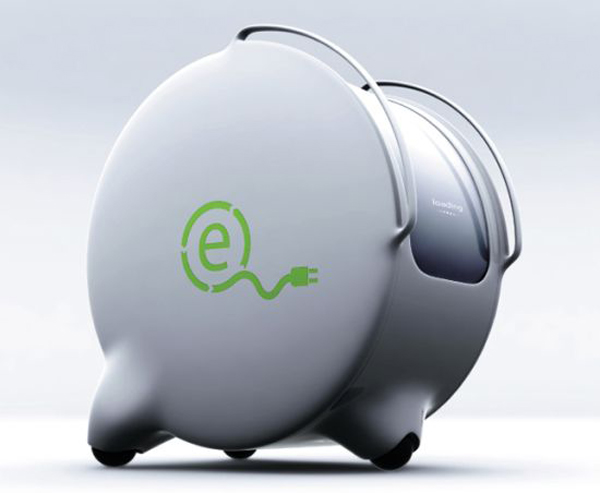 The e-Bin, as its name indicates, is an electronic recycling bin with a smart and versatile design and a solar-powered touchscreen. The waste bin, designed by the London designer Baharash Bagherian, is smart enough that it can interact with the user and the recycling company. It will warn the user if he/she disposes of any non- recyclable stuff into it. As well, with its touchscreen display, the bin will tell users if it is not empty to receive more garbage and also it will inform the recycling company to clear the waste.
i[do]recycle recycling bin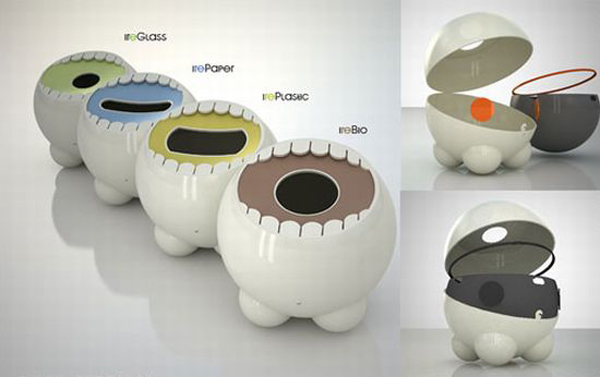 Designer Simona Racaite has developed this stunning 'i[do]recycle' recycle bin with an aim to help kids learn the importance of recycling. It is a tiny and cute recycle bin, which can teach your kids of recycling lessons better. Merging communication with the current policy systems, the bin helps your kids make out a green idea with practical experience. It will ultimately benefit the planet Earth from getting dumped with lots of unnecessary waste, the designer thinks.
Neo Smart recycle bin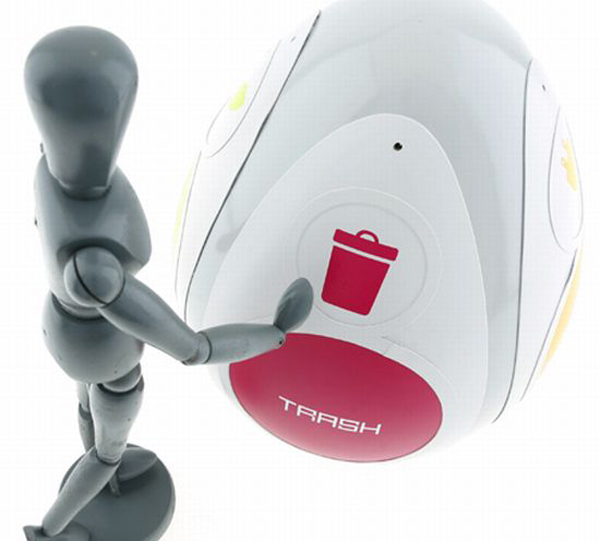 Neo is a smart and intuitive recycling bin concept. Designed by Ingrid Njono, this trash bin can segregate waste as electronics, recyclable or worth-composting stuffs. This way, the bin turns away any infection arising from the waste. Neo features smart icons, sensors and color codes to let users dump trashes at ease. The built-in sensors will assist users to deposit trashes in their respective containers. The turntable feature at its bottom makes Neo accessible from all corners.
Eco-Bin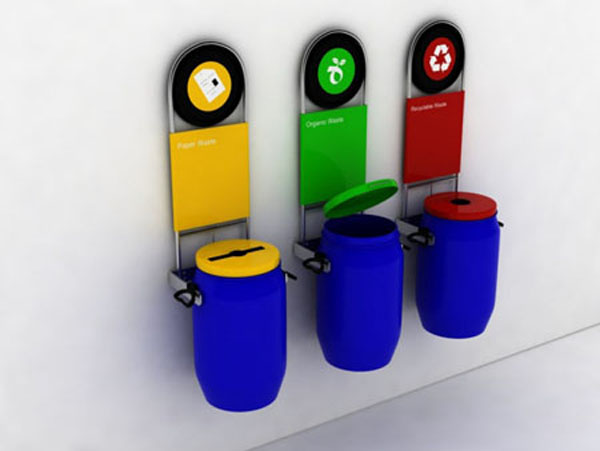 Eco-Bin is a set of three waste bins with different color lids. These color changes identify various types of trashes. The green is for organic waste, the yellow is for paper waste and the red is for recyclable ones. Indian designer Aditya Malaker has conceived the idea of applying various colors to recognize trash types. Indeed, it will be a bit funny to deal with the waste and its segregation since they have attractive colors.
Ribe recycling bins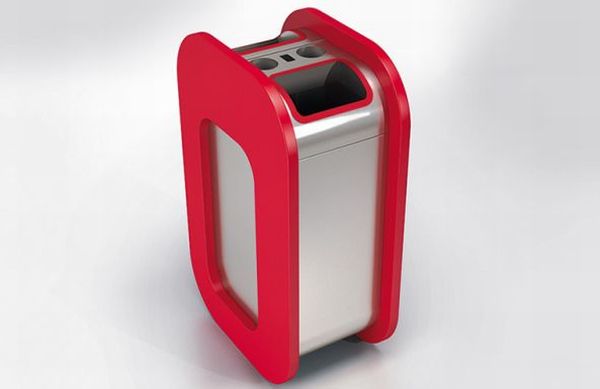 Ribe recycling bin has a Sixties-style design. It comes with a pair of bent-wood sides that hold two containers for waste segregation; a stick slot and two cup slots. The Ribe recycle bin is a perfect product for the middle of a room. Users from around the room can depend on the bin to deposit waste into this free-standing waste box.
Braun Envi recycling bin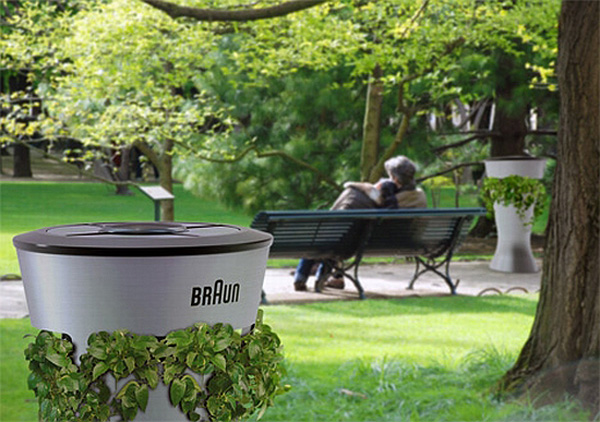 Braun Envi is an eco-friendly recycle bin that converts organic waste to useful compost using bio-reactive substances. Industrial designers Johnny Chen, Cecilia Jia and Julien Bergignat have designed this great urban dustbin. Braun Envi also features the capability to remove odors from the garbage. Indeed, this bin can be placed in public places, where waste can be managed quite superbly and without any bad smell.
City Compost recycling bin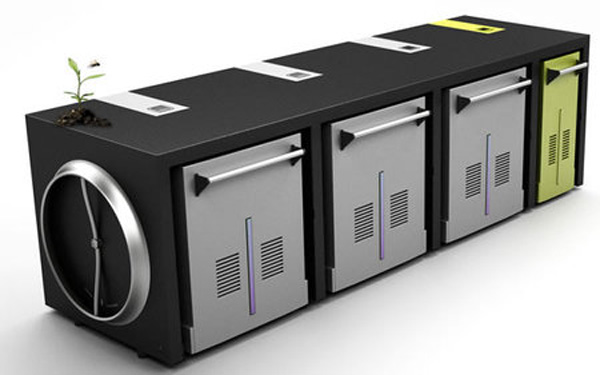 City Compost recycling bin is yet another compost producing waste box. Designer Mathieu Azema has realized this product with an aim to take in compost from the garbage. Well, City Compost is an aesthetically pleasing method to manage waste as well as to get compost as a bonus. This advanced waste bin technology can recycle various types of organic waste. It should be an ideal product for home and urban use alike.
Biopod recycling bin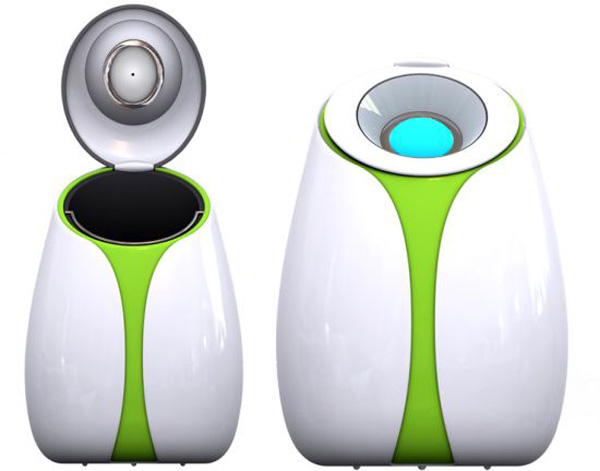 Designer Jonathan Fenton's Biopod recycling bin is basically a bacteria killing can. You may know that functioning of bacteria in garbage causes all the dangers. So Biopod, which sterilizes trash using a process called vacuum ionization, is a blessing for people, who live in jam-packed areas and apartments. Most often, these people fail to find better places for dumping waste. Biopod can turn their waste into non-dangerous stuffs in a matter of time.