Coda Sedan is finally ready for its customers and has been rolled off the assembly line in Benicia, California. The car is an all electric mid size car that is available in two versions. One with a 201 kilometer range and the other with a 241 kilometer range. Imported from China, the car is re-engineered in the US and given a different front and rear.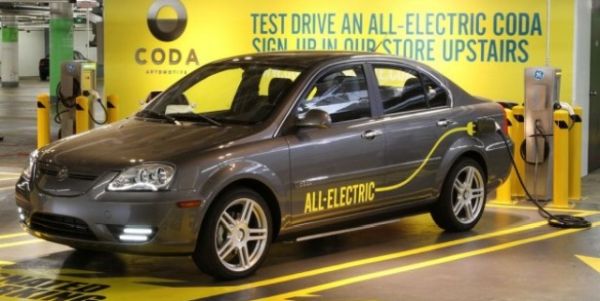 Coda is a zero emission car, which is equipped with a super all electric battery with a long range, self regulating and fast charging system. The car is integrated with an active thermal management system that keeps the battery temperatures under control, all the time.
It features a lithium ion phosphate battery. This battery is powered by an electric motor that can produce 100Kw of power. For a top speed of 137km/h, the motor can produce a 300Nm. Charging the battery is a rather simple task. All you have to do is plug it in a 200 volt wall plug for six hours, and you it will be fully charged.
As far as the design of the car is concerned; it has plain lines and simple looks. It features LED daytime lights and LED tail lights; and an Alpine satellite navigation, audio and video with a 7 inch touch screen.
Talking about power transfer to the wheels, this is done with the help of a Borg-Warner eGearDrive single-speed transmission. The benefits of this transmission are many; it claims lower noise and vibrations and also delivers high torque capacity.
The manufacturer suggested retail price of Coda is estimated to be $38,145, but the company claims that the car is most likely to enjoy tax incentives added with lower maintenance cost and fuel savings, which can bring down the price to an approximate $28,172.
Via: Caradvice