The trend to bring all electric cars to auto events is definitely on the up and many believe that this is just a PR exercise that is taken up by the manufacturers to draw attention toward their latest gasoline models that are also simultaneously unveiled. The problem stems from the fact that most cars that are all electric and on display at an auto event take plenty of time before they actually make it to the streets. While this is understandable and can be attributed to the newness of the concept; consumers would surely like to see more EVs on the road.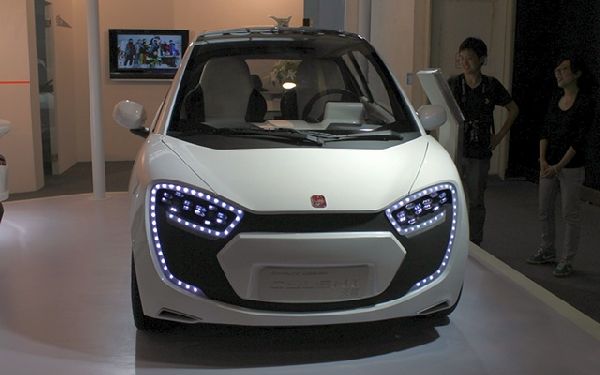 CH Auto is among those, who have debuted an all electric vehicle along with their Lithia Sports Coupe. And while some might focus on the Sports Coupe, we are obviously more concerned about what the urban electric car brings to the table. Dubbed as the 'Cylent', this is a compact urban commuting vehicle that can race from 0 to 60km/hr in just 15 seconds and has a range of about 100 km on full charge. Being a purely commuting vehicle, you anyway do not expect it to sizzle with speed and the range seems descent enough, especially if you use it primarily to get to work and back home.
But, what makes the Cylent really attractive is the fact that it takes about just 2 hours to charge up fully and that means, that you can drive for 100km charge by hooking it up for just a couple of hours. That seems like a pretty descent proposition to us. Another cool addition to the Cylent is the boomerang shaped 4G LTE antenna on top that allows you to stay connected all the time and offers a chance to get real time traffic data. There is no word from CH Auto on what its top speed is and when it would be available, but we are hoping that it is not relegated just to the display section for a long time.
Via: Chinacartimes