For BMW, the i8 is nothing less than a big leap forward in the world of concept cars. It combines the electrifying performance of a sports car with benchmark efficiency and will be available as a plug in hybrid with pop up doors and wing like rear spoilers. The rear features a small internal combustion engine with three cylinders and an electric power plant on the front side.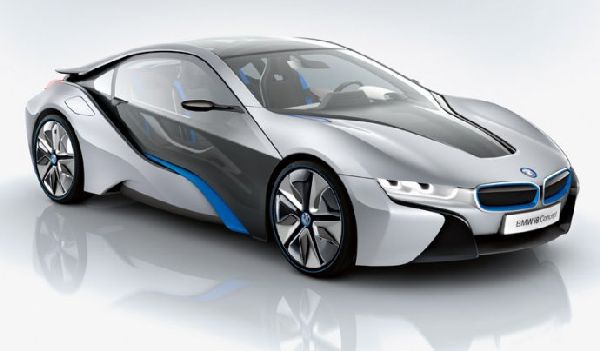 To get a clear picture on what exactly BMW has wished to do, let us consider some figures. Firstly we know there are two motors that have been used for enhancing its performance. It can tread from a zero to 63mph in less than five seconds and has an electronically limited top speed of 155mph. It uses just one liter of fuel for every 100km and surely nothing could be more impressive than this.
The one aspect where hybrid cars fail us is the distance they travel between two refills. But, here again the i8 makes a mark. The 1.5 liter three cylinder engine it is integrated with, gives you a good range. The only consideration is that when it goes electric, you can't expect anything above 20 miles or 35km with every charge.
The looks of the car have been designed on BMW's philosophy of LifeDrive, which means that the body is made out of carbon fiber and the chassis is made of aluminum. Both engines are placed over the axels and a special tunnel in the middle of the car houses the battery for maximum distribution of weight, which ultimately leads to great handling.
You will have to shell slightly more than $ 130,000 for this striking BMW car. The 21st century aggressive looks of the car and the impressive use of glass, all make it the car for the future.
Via: Carmagazine