A cheery sunroom design is the most comfortable place of a beautiful house. This is the place of respite where you can spend long winters enjoying the outdoors without experiencing any winter chill; or as the most cheering spot to have a cup of coffee, reading the day's newspaper. A sunroom can also be called Sunspace as it provides the real sun experience of the outside. Sunroom is excellent for all seasons and performs the dual functions of an inside room and an outdoor room. The room is ideal for all seasons whether spring, summer or winter. You can set this room to be a comfortable dining room, a pleasant reading room or a sit-out. It can also be counted as a great place for growing food plants.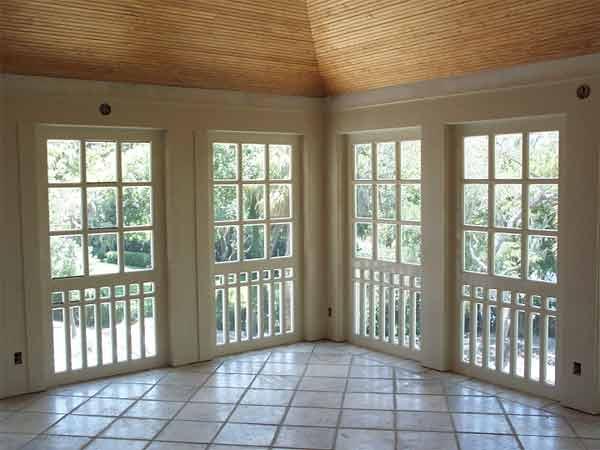 This productive living space is unique in its own way. The windows are a looking glass to give a panoramic view of the outside nature. A beautiful landscaping surrounding the sunroom will definitely please the eyes. One can have a sunny feeling being inside the house. The ambiance it offers is great and exotic.
What makes the Sunroom
There are six basic principles that you have to follow to make the best sunroom. They are the passive solar design, orientation, glazing, thermal mass, insulation and ventilation. These six elements are a must to maintain the ideal temperature of a sunspace without using a heater or air conditioner.
How to plan for a best Eco-friendly sunroom
Sunroom is a part of passive solar design. It traps the bright light during summer and gives a cooling effect. If you are intending to keep your complete house warm, a way has to be created to circulate the trapped heat throughout the house. A duct system works to provide this function to the house. It draws the trapped heat and circulates all over the house. A sunroom should be usually oriented to the true South. How can one find where is true South? True South is a few degrees off the magnetic South. When a magnetic needle is suspended, the opposite direction of the needle is the magnetic South. By knowing the magnetic variation of the place, one can easily calculate the True South. The solar gain can be simmered down by 4-5%, by placing solar windows, 20º off True South.
Glazing for sunroom
Glass is the best glazing for a sunroom. It has the capacity of trapping heat energy better than the plastics. Many other materials can be used but may not be very effective. Clear, uncoated glass is suggested as the others have proved to have many disadvantages. New low-E-glass reduces solar spectrum; reflective glazing glasses do not provide the dual gazing; polycarbonates can scratch and yellow after long usage and films are just too delicate for houses.
Flooring for the sunrooms
Sunrooms are not like any other interior rooms. They have to be set apart from the normal interior rooms with décor, design and ambiance. Specialness of the room can be maintained by using flooring different from that of other rooms. Stone flowing can be tried because of the coolness it offers and solid structure it provides. Tiles can be considered as one other option. Whatever material you choose, that should definitely give an outlook similar to the outdoors. It should also enhance the beauty of the room. Materials, normally used for terrace and patios' flooring can be considered as they give a transformed look of the outdoors.
Walls and ceilings
A normal painted drywall may not give a look needed for an ideal sunroom. Rather than the whitewashed or a painted wall, tongue and grooved wood board walls and ceiling create an ambiance of a porch. Overall, after the walls and ceilings are done up, one should get a sensation that he/she has stepped into a beautiful outdoor atmosphere.
Planning for windows
While planning for windows, go for tall open French windows that do not interfere in landscape viewing. Vinyl frame windows and doors with glass options like insulated glass, Low-E glass, argon glass and glass tint are available. With these options, choose high quality windows with proper insulation and double- or triple-paned glass. Sunroom design has to include skylights to bring in overhead lights.
An apt sunroom design gives an open space to your house that cheers up your spirits and gives a zinging energy. The room can be furnished with small dining table and chairs plus two comfy chairs where you can enjoy your breakfast or sip a cup of coffee. This room can give you a satisfying experience and can turn into a favorite place where you spend most of your time.