Tablets are the rage right now. Everybody is buying one and getting hooked to it. The power players of the tech gadget world like Samsung, Apple, LG and Lenovo all have been busy churning out different types of tablets of different range with spectacular features. Tablets are meant to be carried around. They have the capability of a laptop but unlike bulky laptops you can hold them like a thin paperback in your hands. The problem with tablets is that they need to be charged ever so often. Without charging your tablet you cannot use them freely. While on the move you should keep a portable solar powered tablet case handy. Power cuts due to power shortage or natural calamities have become quite the order of the day. So, if you want to stay connected with the rest of the world may it be sunny or rainy you have to buy the best solar powered tablet chargers.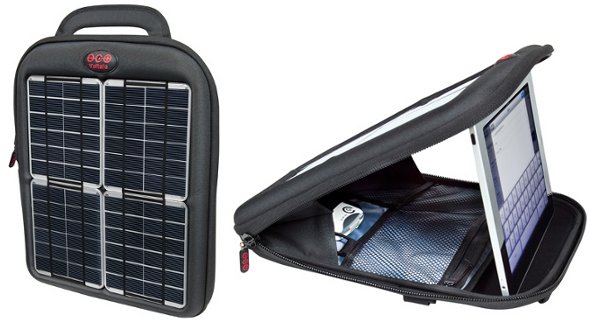 Spark Tablet Case         
Your iPad or tablet is safe in the care of the Spark Tablet Case.  It gives you 8 watts of energy and comes in two colors-silver and charcoal. Not only your android or iOS tablets but you can also charge your cell phones, iPods and digital cameras. The battery that comes with this tablet charging case is powerful enough to store enough power to charge a tablet fully once. Under the sun the tablets will get charged in some 10 hours easily. It is padded and doesn't let your tablets get damaged. Carrying your iPad or android tablet in this case will keep it both protected and charged.
Solar Kudo Case
This is an ultra modern tablet case that is not there just for protection but also for some serious charging. The solar ink technology equipped Solar Kudo Case can charge your iPad and android tablets through sunlight and indoor lights. The in-built magnets help you turn on and off the tablet anytime you want. HDMI port supports media browsing while you are away from home. It looks stylish and gives you the worth of your money.
Element 5 Mini L
Made in Switzerland, the Element 5 Mini L is a great portable tablet charger. It has been built with great care and an eMicro battery that is the latest invention in the arena of gadget recharging. In three hours your tablet will be 50% charged. Even in the dark days when the sun hides behind the clouds your tablet will get sufficient charging through the eMicro battery for staying charged for 5 hours.
SolaPad
Solawerks have marketed this unique and powerful tab case cum charger. It can be charged by sunlight and direct electricity. You can use it at all conditions. It costs only $ 89.99.