Countertops are among the most important places in the house where the home maker works. They have to be beautiful and at the same time be easy on earth. When we particularly refer to eco friendly countertops, we need to look for specific attributes like healthy, recycled, sustainable, abundant and local. Every countertop material might not feature them all and be 100 percent green, but they will make an environmental difference.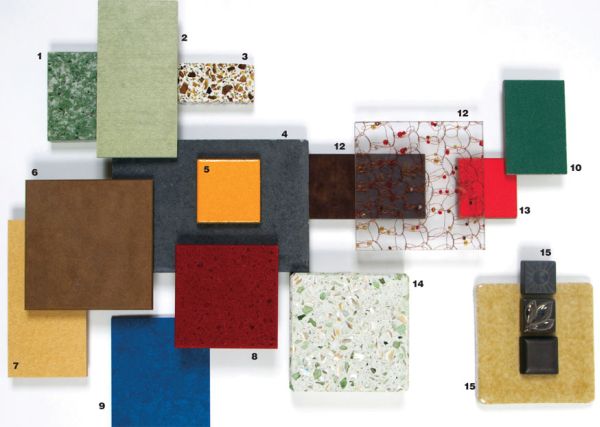 Aluminium tile countertops
Aluminium tile countertops are all purpose countertops that can be used for kitchens, vanities and tables, backsplashes, for bathrooms and anywhere in the house, where you want a countertop. There are many options available that have almost 80 to 85 percent recycled content. They come with a smooth, polished finish and sometimes powder coated with non toxic, stain proof and heat resistant finishing. Their layout flexibility gives consumers a whole lot of options for accenting them with any sort of interiors.
Recycled glass tiles countertops
Glass countertops are among the all time favourite of designers and luckily they can be part of green constructions as well. Recycled in nature, they are inexpensive and more durable. From up to 75 percent to 100 percent, they consist of recycled materials obtained from post consumer and industrial waste materials. Most often these tiles contain no colorants or oxides and manufacturers play around with the natural colours of glass.
There is an under side to the use of glass tiles; their installation involves the use of acrylic bonding agents and other chemicals that are not good for the environment.
Reclaimed wood tiles
Everything old is not useless and this is the case with reclaimed wood too. There are many manufacturers, who are recycling wood from old mills, barns, swamps and river bottoms to make and offer their consumers affordable, yet elegant countertop solutions. Most popularly wood used is the barn red oak and American chestnut. Wooden countertops are certainly warm and beautiful, but in comparison, they demand more maintenance as they can get damaged from water stains, etc. Regularly oiling and sealing scratches is also another added hassle, if you don't have sufficient time to lend to cleaning.
Soapstone countertop tiles
Although most people believe that since soapstone is mined from under the ground, it is not much eco friendly, but under some given circumstances, its mining may not impact the environment that heavily. In fact its use in local surroundings can save heavy transportation costs and its installation use lesser VOC sealant. It rich deep colours makes it stain resistant and it requires minimal maintenance as opposed to other countertop tiles like glass and aluminium. The historic feel of the stone attracts most buyers to make use of it for various parts of the house.
Concrete Countertop tiles
What will make these tiles eco friendly is the aggregate mixture recycled of cement and water. Also they can be made easier on the environment, if your chose low VOC sealers for installations. The best part about these countertops is that they are rough and tough, heat and scratch resistant and can be moulded into tiles of various shapes and sizes to suit your requirements. The one inherent concern that underlies the use of concrete tiles is that they are most likely to be porous in nature, but again this can be dealt with stiff sealing.
Recycled ceramic tiles
Unless the ceramic tiles consist of high percentage of recycled content, including, old light bulbs, bottles and even porcelain, it cannot be attributed as highly eco friendly, despite it being a biodegradable product. The tiles are durable and easy to maintain. They are available in a wide variety of colours and textures and also they can be availed within a wide range of prices, from extremely economical to highly expensive. They can at times be uneven and can chip off easily and also become stained, therefore, it becomes imperative to be cautious while using them.
Conclusion
Reading the above account does give you all a picture of the various options available to you for choosing green countertops for your sustainable homes. The degree of green of these tiles, along with their durability and maintenance, tells about how to distinguish for better options even among eco friendly tile varieties. You can install them without giving up on our aesthetic choices. From various colours, patterns and textures, you'll get it all at the price you desire. Another important aspect to consider is that it is not always the final product that has to be good to environment, it is important for it to be made using an equally environmentally friendly product. It is therefore that material like granite are not considered, since it is a non renewable in nature.