Global warming is the main concern for most of the people around the world. Thus, people are opting for an eco friendly environment to stay in. French doors are the best option for this purpose. The origin of French doors started in 17th century. These doors not only give a good appeal to the building but also deliver the natural light inside the house. They can also be used as room partitions. Wood, steel, aluminum, or PVC can be used as a construction material for these doors. Glass is used as the main component in exterior French doors. French doors are used as replacement options for old and repaired doors and as garden and patio entries also. Here is a description of the best eco friendly French door designs for you.
1. Bi-fold French doors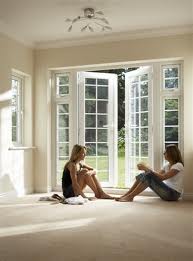 Bi-fold doors consist of two or four sections that can be folded in pairs. Their width is less than 6 feet and can be opened from any side. They are used as closets in laundry rooms, flight hangars, and room dividers. The doors are generally suspended and thus they consume considerably little space. Bi-fold doors are made up of stainless steel and aluminum frames. They can be designed according to the available space, which can be up to 3 meters high and 6 meters wide. Double glazed laminated glass can be used which is tough and can withstand severe weather conditions. These doors are eco friendly, as recycled aluminum and glass are used in their production process. They improve global sensitivity, as this aluminum scrap can also be recycled. The doors are manufactured with less threshold lines.
2. Multi-fold French doors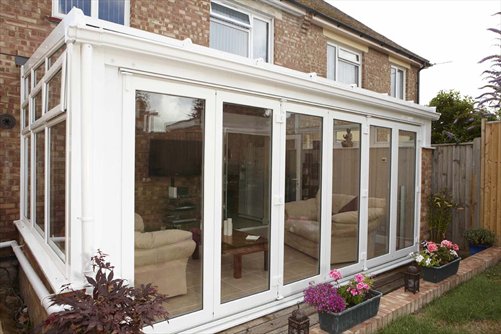 Multi-fold doors contain more than four glass panes. They are divided with the help of vertical and horizontal constructive supports known as mullions and transforms respectively. Mullions and transforms combined together form the frame of a multi-fold French door. These multi-fold doors are used as hall dividers and in garden and patios. These doors are stylish and energy-efficient. Multi-fold doors consume very less space as they are prehung. They have good thermal properties and there is no need to use any heaters or radiators, as they allow light to penetrate inside the house. Thus, multi-fold French doors are energy efficient.
3. Pocket French doors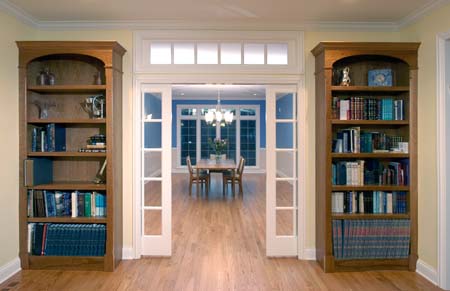 Pocket doors are used in situations where there is no or limited space for the swinging caused by a hinged door. They give easy accessibility in between two rooms. They slide inside the compartment of the wall to which they have been attached. Many architects insist to use these pocket doors as they save around ten square feet of the floor area when compared to the hinged doors. They can be effectively used in hotel ballrooms, utility rooms, bathrooms, and small offices. Only drawback of these doors is that if there is any repair, it is difficult to get access to the hidden hardware in the walls. Pocket French doors are made up of recycled wood and aluminum, which are eco friendly. These doors are energy efficient as well.
4. Interior French doors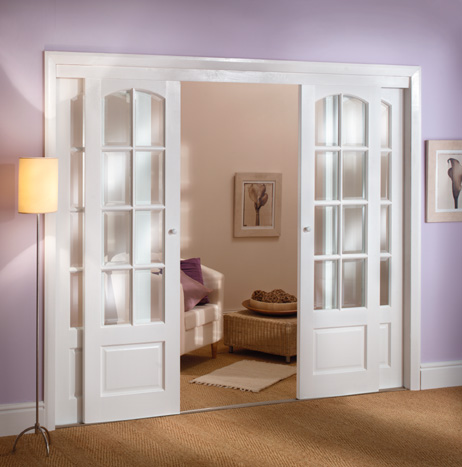 Interior French doors are used to separate two adjoining interior rooms. They give a stylish appeal to the house. Their specialty lies in the variety of glass panels used which give a clear view. They help in reducing the outside noise. Interior doors are made up of a wide range of wood, which include red cedar, oak, and pine. Pine is an eco friendly material. Red cedar is a form of timber, which generates considerably lesser amount of air and water pollution. Red cedar produces lesser carbon dioxide. These doors are found in most of large homes having ample amount of space. However, before installing these doors one must check for a crack less glass.
5. Exterior French doors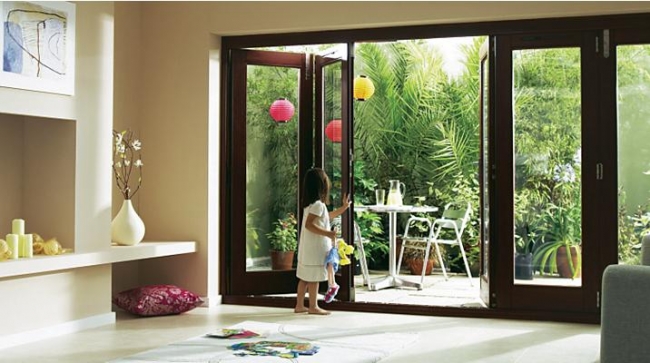 Exterior French doors are mostly made up of opaque glass, which are most secure. Most of these doors are manufactured using tempered glass. This glass is much more durable and sustainable when compared to the one used in interior doors. Decorative grills are fixed in middle of the glass panes in some of these designs while few have superimposed grills on a single panel glass. When compared to normal wooden doors these exterior French doors are split and crack resistant. Exterior French doors are made up of eco friendly materials such as pine, mahogany, and oak. Pine is an organic matter, which can be decomposed and recycled. Thus, it is environmentally friendly.
6. Sliding French doors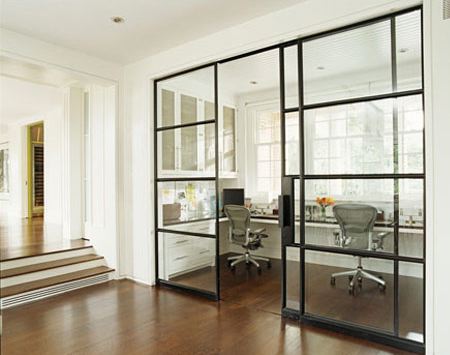 Sliding French doors are mainly used in balconies. They are used as screen, wardrobe, and shower doors. These doors can be either suspended from an overhead track or mounted over. They may have two or more sections, which can slide on any direction. These doors overlap with each other, which helps not to have any visibility from outside. They also have a high security feature. They are used as entrance for backyards. These doors are provided with vents, which provide enough air to let in. Thus, it is safe enough if children or pet are alone in the room. Most of the sliding French doors are made up of wood, fiberglass, and high-grade vinyl. Fiberglass is energy efficient. Common salt, a natural renewable resource is the main component in the formation of vinyl. Vinyl can be recycled and used as scrap. Thus, all these are eco friendly materials, which are used to manufacture sliding French doors.