Many countries, particularly Asian countries, have been trying very hard for developing their economies to stay in today's competitive world. Their economic condition is improving very fast but it's also leading to the destruction of the environment. Now is the time to reassess the worth of natural resources. One of the most obtainable natural resources is bamboo. Bamboo grows swiftly and is found all over the planet. There is no qualm that the proficient usage of bamboo will lead to an improved environment around the globe. Best example can be seen in the form of Vietnamese bamboo wing, an architectural marvel made from bamboo in the northern province of Vinh Phuc, which has won the International Architecture Award of the Chicago Athenaeum Museum in the US.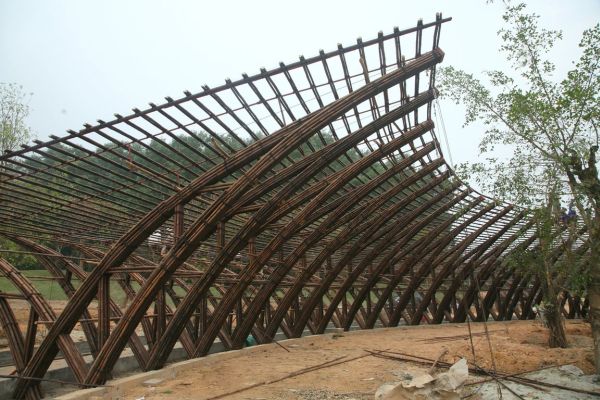 The main goal of this design is to explore the opportunities in the field of structural design with bamboo only. The site is surrounded by natural world, pond and vegetation. It is situated near Hanoi in Vietnam. Here, bamboo is used not only as a finishing material, but also as a structural substance. This is the pure bamboo construction. No steel or other wooden materials have been used in the structure.
This exceptional structure, flying over the sky as bird's wings, makes it possible to understand the large free space with no column at all. This free space in this culture center will be used for fashion shows, musical programs, assemblies and seminars.
This project helps in introducing a new development with new resources available in the nature. The form of the cover as bird's wings is apt to take the air inside the building. It also helps in improving environmental conditions as it minimizes the usage of air conditioner. And its deep attic facilitates people inside to experience as if they are living in the nature.
Via: Bamboo wings