With the chimes of spatial efficiency ringing at all corners of our sustainable ambit, we are gradually seeing the rising importance of indoor gardens. In fact, hydroponics as a credible scientific endeavor has certainly expanded beyond some flashy conceptual scopes. In this regard, we have come across a conception that showcases the same level of progression of indoor gardens, albeit with a vivacious twist of its own.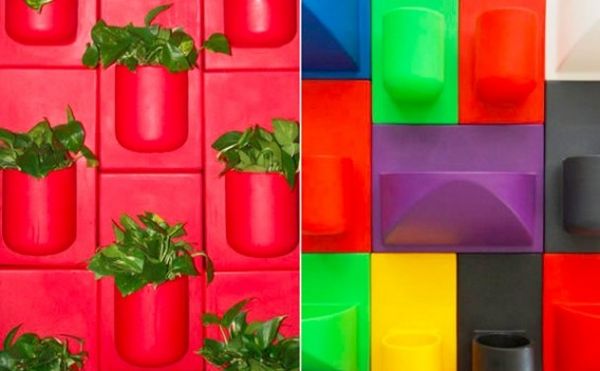 Christened as the Ballavaz, this commercial product line encompasses modular type of wall planters, designed by Kul Studios. Colorful in their essence, yet conveniently compact in their bearing, the planters can be used both for in the outdoor and the indoor.
According to the designers, the product is available in ten colors, with two different models of 24″x12″ and 24″x18″ size. Their affixing mechanism is quite easy to achieve with any kind of commercially available screw or hook. Moreover, to optimize user's convenience, the studio has also endowed inconspicuous openings to these planters. These would help in drip irrigation, thus improving upon the type of plants that can be grown, including herbs, vegetables and even flower plants.
However, it is the material used for the composition of the planters that has really tickled our fancies. The sources say it is HDPE plastic. Contrived from petroleum, HDPE or High-density polyethylene has long been known for its recyclable nature. In fact, its world wide production has touched 30 million tons, while its sustainable applicability is recognized in many fields, including as a chemical-resistant barrier in sanitary landfills.
Via: JetsOnGreen