Electric vehicles are gaining popularity due to their improved performance, style and the need to find greener modes of transportation. While EVs don't pack the power that conventional cars do, they serve as a non polluting means of commuting to and fro and are perfect for those who aren't looking to race the streets. The MonoTracer MTE-150 by a Swiss company, Peraves, had in 2010 won the Automotive X-Prize competition and now the two wheeler is entering mass production, much to the delight of green fans around the globe.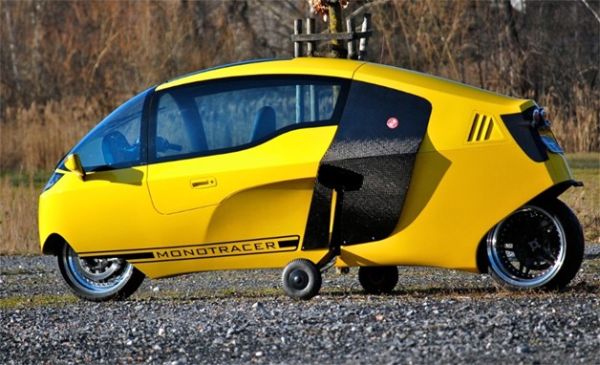 To meet the demands of the masses, Peraves upgraded the MonoTracer's drivetrain with a 3rd generation 200hp (150 kW) system from AC Propulsion. The Kevlar enclosed single tracer promises to deliver efficiency, returning a stunning 525 MPGe (where 33.7 kWh equals a gallon of fuel) if driven steadily at 45 mph. But, since maintaining a consistent speed isn't realistic, users can expect to get 350 MPGe. What that means for riders is a 200-mile range using a lithium polymer battery pack that holds a little over 20 kWh of energy. The trendy MonoTracer has an acceleration time of a very impressive 4.8 seconds during the 0 to 60mph run, giving speed thirsty individuals something to celebrate.
The cockpit offers riders ample space to stretch their legs while cruising the streets. A button on the left handlebar deploys the small wheels when needed as you can't put down your feet during traffic stops. A display at the front behind the handlebars shows you the speed, power that's being consumed or conserved and the charge status of the battery.
The MTE-150 also comes with a center console that makes use of an Oxygen multimedia system that can be accessed through an iPhone for music, navigation and other apps. The two seater electric cabin cycle also has luggage space though we aren't sure how many liters it can hold. All in all, we love what the MTE-150 has to offer, comfortable riding with very high efficiency.
Via: Autobloggreen