Wood can very well lay claim to being one of the most versatile materials to work with. Renewable and relatively inexpensive, it's long been used in furniture production, artwork and home décor. Unfortunately, excessive logging and deforestation have led to this once abundant resource becoming rather scarce. This in turn has led to the price of wood increasing, making it unfeasible to use it for purposes other than functional use. This scarcity and price rise, however, has given birth to the trend of using reclaimed wood for art and other purposes. So creative have designers become that artwork using reclaimed wood is becoming a successful niche market with art lovers commissioning designers to create unique pieces.
Galloping recycled art made from recycled drift wood

Artist Heather Jansch specializes in using recycled driftwood for her artwork. The British sculptor's pieces aren't just unique but extremely life like as well. Check out this galloping horse created out of drift wood that she collects and combines with bronze to give her creations a unique touch. The noted sculptor is known for her life size artwork revolving mainly around horses. Other than reclaimed drift wood, Jansch also makes use of cork.
Reclaimed wood art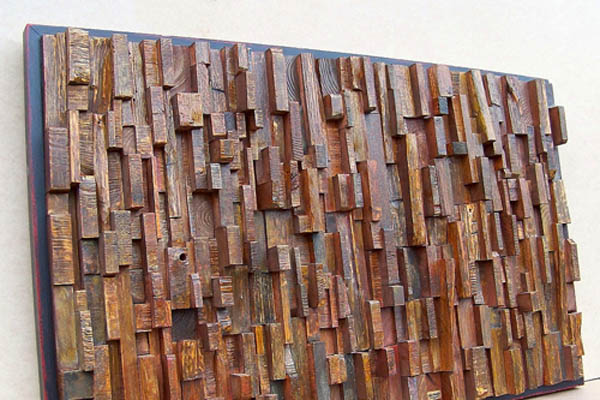 Olga Oreshyna is a Canadian artist who gives new life to reclaimed wood. Deeply passionate about woodworking, her pieces are perfect for adornment in commercial establishments like cafes and pubs as well as residential homes. The colorful pieces are Oreshyna's way of contributing to the environment by using reclaimed wood instead of cutting down trees for the material. The eco conscious artist creates pieces revolving around geometric themes, which have been exhibited in several art galleries.
Wall art made from reclaimed wood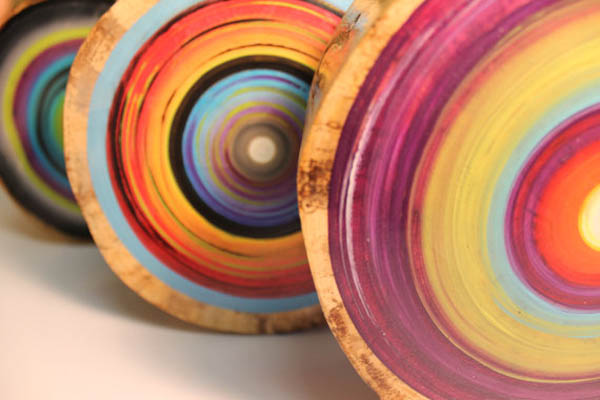 EarthArt is the brains behind these colorful reclaimed wood pieces. The designers cut wood from fallen trees and sand them to get a smooth finish. Soy paint, which is non toxic, is used to add vibrant color to the artwork, which can be hung above a bed or in the living room for a dramatic effect. What is unique is the inspiration drawn for the designs; the rings of the trees serve as the basis for the artists' color schemes and designs.
Artwork from yard waste and wood scraps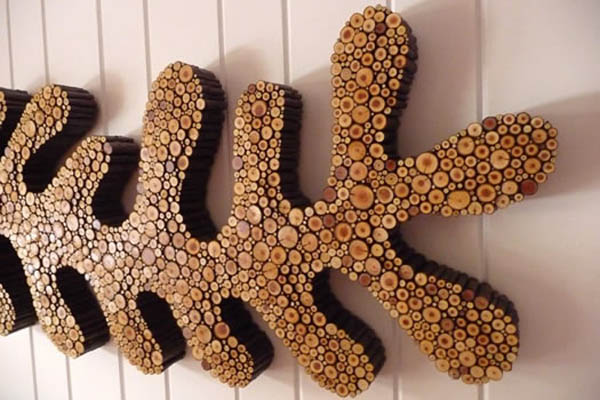 Art studio CDek uses reclaimed wood to design contemporary art pieces to suit modern art lovers. Yard debris and wood scrap is the source of the artists' inspiration, which translates into pieces that are unique and beautiful. The item pictured above has been made using 2,600 segments of chokecherry branches to create pretty circular patterns that make it hard to believe they're created out of waste wood.
Incredible sculptures out of old wood fences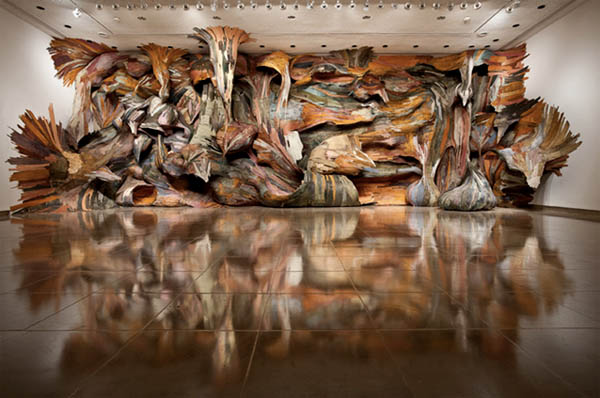 Brazilian artist Henrique Oliveira uses old wood fences to create amazing sculptures. The installation artist attempts to design 3D pieces of 2D works. The patterns and color depict motion to bring alive pieces that would otherwise have a flat appearance. Like his paintings, his woodworks feature plenty of movement, swirling shapes and colorful finishes.
Artist builds huge twisting structures using only recycled plywood shavings

Henrique Oliveira once again makes the list for his installation art depicting massive, swirling structures of reclaimed plywood. The pieces are reminiscent of huge roots bursting from the walls of the gallery to come alive. He drew inspiration for the twisting woodwork after chancing upon an old fence with peeling paint outside his studio in San Paulo. He then used layers of used plywood to create his large installation and painted them to give an illusion of smoothness.
Hugo Franca's work with reclaimed wood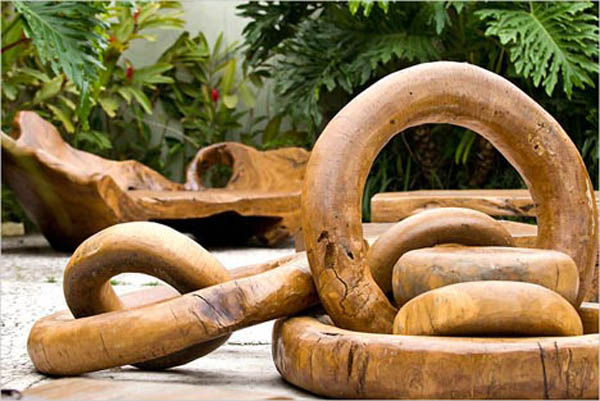 Hugo Franca is a former computer service employee, who decided to learn woodworking and spent 15 years honing his craft. The result is stunning furniture pieces made using leftover or burnt wood. He journeys to Bahia every 45 days in search of reclaimed wood from jungles. His works have been exhibited at fairs and adorn the homes of collectors and magnates alike. Franca's unique furniture pieces are indicative of how supposed waste can be transformed into functional and artistic pieces.
Diederick Kraaijeveld turns wood waste into fine art sculptures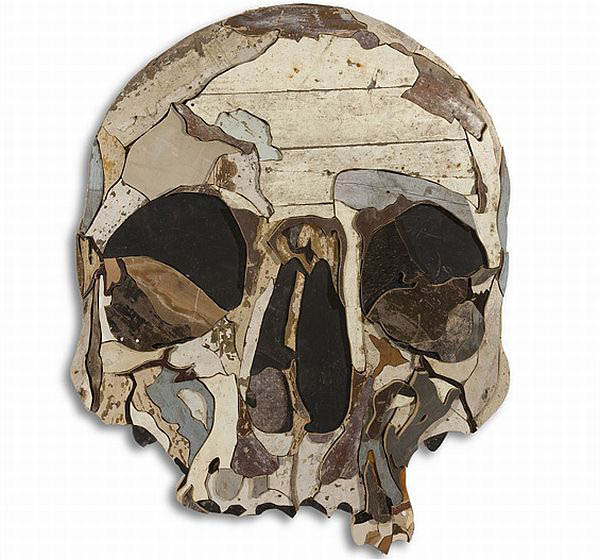 Diederick Kraaijeveld likes to dabble in all forms of woodwork, using reclaimed wood to create pieces like skulls, a wooden portrait and a pair of All Star Converse sneakers. Unlike other artists, Kraaijeveld doesn't always use paint to finish off his work; he relies on the wood's natural color instead. His pieces have been exhibited in countries like Switzerland, the UK and the UAE.
Beautiful 3D wooden sculptures made from discarded wood to stun you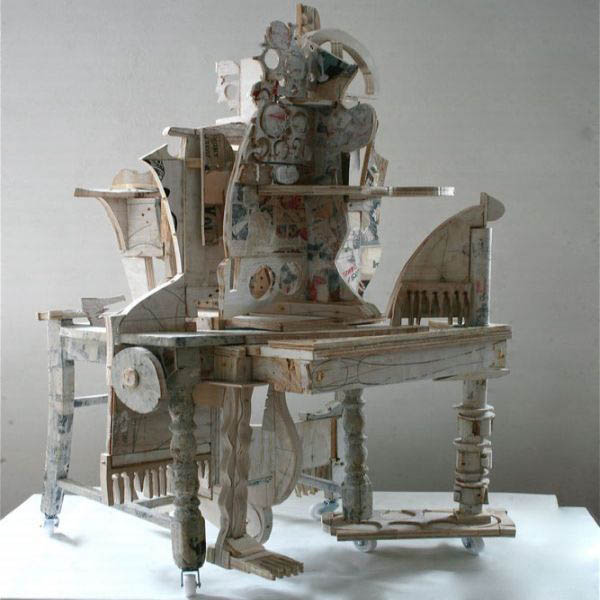 Mikhail Gubin creates stunning three dimensional artworks using old wooden toys, furniture parts and plywood. The Russian American artist's creations are almost whimsical in nature, reminding one of objects found in fantasy films. He brings alive two dimensional objects with his 3D woodwork and his visionary sculptures have been showcased at over 30 solo exhibitions.
Reclaimed wood rainbow trout

Beth Anderson's wooden rainbow trout is a pretty piece of artwork. Simple yet eye catching, the reclaimed wood that's used is cut into pieces and stained with non toxic milk paint. The various shades add a dash of color to the finished product, which has a rustic look that would be perfectly at home around the seaside.