Today's newspaper is tomorrow's trash for most, but for Italian ecologist, artist and sculptor Ivano Vitali it is the same newsprint that acts as raw material for his trendy, recycled and visually stunning products made completely from newspaper yarns.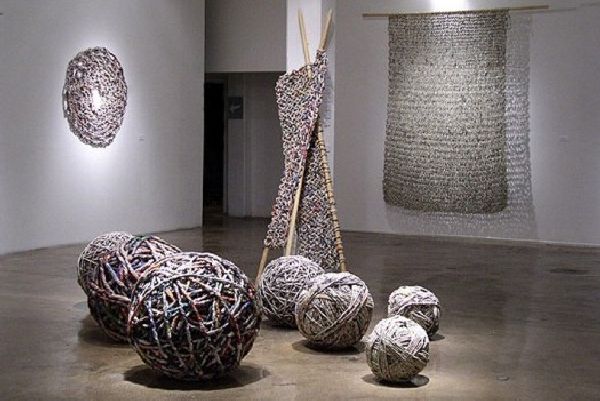 Dabbing into eco friendly ideas for decades, Vitali used many materials like aluminum foil, yellow pages etc. to create pieces that were artistic and truly revolutionary because of their unconventional composition. Over time newspapers have evolved to become his most preferred raw material that he enjoys playing around with.
Utilizing old newspapers, Vitali laboriously tears them into strips and spends hours sorting them according to colors, avoiding any form of dependence on dyes for getting the desired hues and colors for his creations.These are then twisted into balls of newspaper yarn. The next step is the metamorphosis of the words in print to fashionable shawls, dresses and trendy beach wear. Using customized wooded knitting needles and hooks, the yarn is crocheted to produce fabulous garments.
The most striking feature of the newspaper garments is that they embody feminism and are delicate, but not enough to shred away easily. Like any other stitched cloth, they easily contour to the body's shape and provide a good degree of comfort. Apart from being a unique way of recycling, what the artist has also succeeded in achieving is preserving the everyday history of Italy through the hundreds of photographs and news stories knitted in the garments.
As trees continue to be cut for making paper, Vitali's fashionable garments act as a great sustainable solution to tackle with the most common paper trash found in every home.These recycled and fashionable dresses surely are for those who wish to turn heads and remain eco conscious at the same time, giving the power of words an altogether different dimension.
Via: PSFK