Neighborhood planning has always remained a cornerstone for some of the well known large scale architectural designs. Beyond the confinement of a built structural scope, such imposing plans tend to encompass the site and its attributes as the defining features of their layout. And, what can be more imposing than a planned urban square in front of the Capitol Hill? Well, an ambitious collaborative project from Diller Scofidio + Renfro and Hood Design entails exactly that, by creating a 'Union Square', proposal for the national mall design competition held in Washington DC.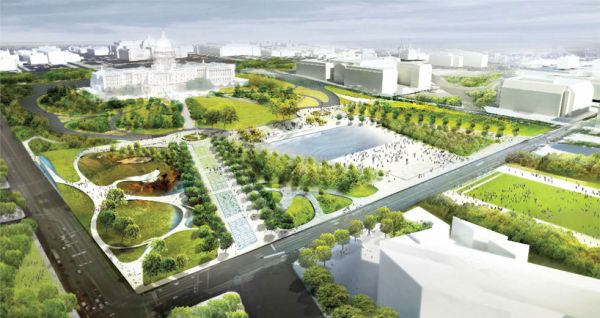 The expansive site is literally located on the crossroads of the major urban axes generated by the city's historic formal as well as informal plans. In fact, it is the symbolic interspersing of factors that the designers will aim to uphold, with their modernistic fusion of French Beaux Arts and English Pastoral styles.
Spatially, the gargantuan ambit of the design will comprise of a natural setting with lush gardens, historic marshland and the large monumental area of the Capitol Hill. All of these planar systems will juxtapose in volumes to form an expansive public recreational space.
Coming to its attributes, the artificially 'constructed' wetland will feature a specialized filtering system for run offs coming from the Capitol Hill. The whole process will be regulated and even showcased to the public for educational purposes. Moreover, the filtered water in turn would be efficiently utilized for the marshland, various plantations, native shrubs, ground cover and even a botanical garden situated at the edge of the site.
The final important feature of the square includes a reflecting pool, which would accentuate upon the presence of water bodies in the massive plan. In fact, the architects have envisaged an enticing ripple pattern on the water surface which would correspond to the high levels of sound generated by the surrounding public circulation.
Via: DesignBoom