The global trend
Communication networks have evolved into a complex grid. From the time of using pigeons to the world's first telephone to that of the invention of the radio and computers, communication has grown by leaps and bounds. With this growth, the world of entertainment too has progressed. Radio was the first electronic device that enabled people to listen to music, news and other broadcasts. Then came the television which paved the way for a list of other devices. The video recorder was next, followed by the personal computer. The latest to hit the market are iDevices which are smaller, high-end and aesthetically appealing.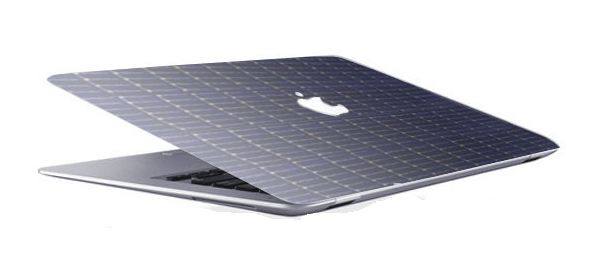 Like many consumer electronics companies, Apple too has come under flak for its use of non-recyclable materials and toxic chemicals. But, like those other companies, it has striven to earn itself some green points by altering its use of such materials. Its MacBook Pro now uses LED backlit LCD displays that are mercury-free wiht arsenic-free glass.
Companies like Logitech have taken big steps in designing electronic goods that use renewable energy. Recently, it launched a solar-powered keyboard to reduce the dependence on batteries. The device has two solar panels that trap light from the sun and use it to power the keyboard. Meanwhile, a well known Asian company Asus has announced that it will launch eco friendly notebooks made of bamboos. While the internal components will consist of the usual materials, the notebooks will be covered in the boxes made of bamboo.
How important is it
While technology has benefited us, there is no denying the fact that it has contributed to pollution. Since it isn't possible to roll back advances in technology, the only solution is to come up with ideas and designs that are eco friendly. Computer peripherals add to the garbage problem. Since most of the materials used consist of plastic which is non-biodegradable, the pile-up is constantly growing. And, because you cannot cap how many gadgets one person can own, the only way forward is to make sure that green materials are used. This will significantly reduce the problem.
Going green has never been more important than at present. As incomes increase and the desire to own various things grow, not setting green goals will only lead to a bleak future for the planet and its inhabitants. This is why it is so important for companies and consumers to make efforts to go green.
The future of iDevices
So, what does all this mean for the future of iDevices? Let's take a look at some of the innovative steps with which Apple is considering to reduce its impact on the environment, while still taking the lead in technological advances.
1. Apple MacBooks powered by fuel cells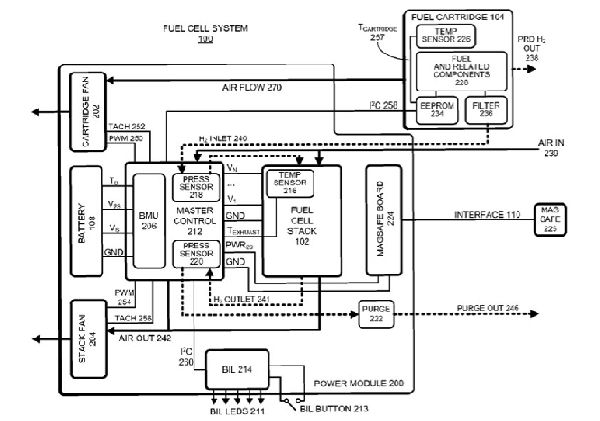 The proposal: Fuel cell technology
Ever since the first fuel cells were developed in 1839, they have been used in numerous applications. From NASA's space programs to powering automobiles, planes and submarines, the latest user to join the bandwagon is Apple. Currently, its MacBooks are powered by the usual batteries which require regular recharge from a conventional power source. To reduce dependence on energy, the company recently filed for two patents which will allow it to make use of fuel cells in its MacBooks.
What this means is that Apple's MacBooks will be able to go for weeks without needing to be recharged, hugely reducing dependence on conventional energy. However, there are a few issues that will be considered. To combat the usual problems that accompany concepts, Apple hopes to design a fuel cell system that will enable the cells to provide as well as receive power from rechargeable batteries. It is also looking to reduce the size of fuel cells to fit into a MacBook without compromising on performance. This, in turn, will reduce the cost of developing the fuel cell system.
2. Future Apple MacBooks could have screens backlit by the sun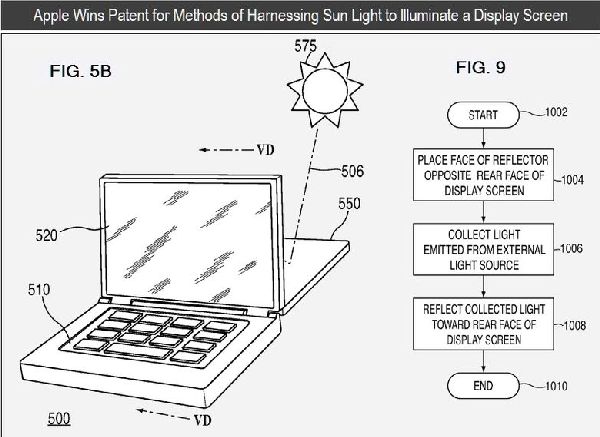 The proposal: Solar energy
The use of solar energy in applications isn't new, but Apple's patent application seeking to utilize it is for sure. According to the patent application filed, Apple proposes to make use of solar energy that will be able to power portable computers like MacBooks. Further, it said that the sun need not be the only energy source; accessory light bulbs could also do the job. Internal light sources in MacBooks are likely to increase conventional energy consumption, the company said, so external sources could offset the load.
3. Apple's method of assembling integrated circuits as in solar cells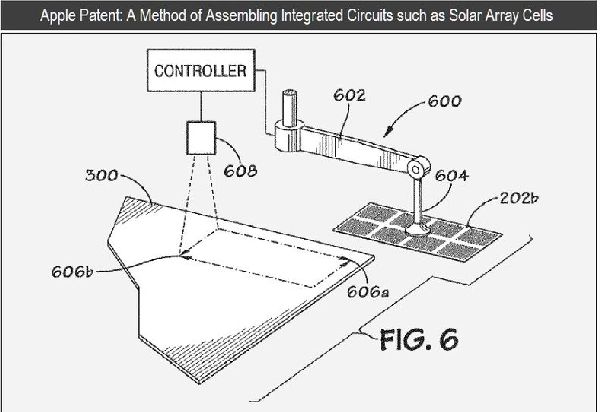 The proposal: Assembling integrated circuits like solar array cells
Continuing its efforts to make use of renewable energy, Apple has filed another patent for utilizing solar power. It proposes to assemble integrated circuits in portable computers like those done in solar cell arrays. This will capture energy from the sun to power MacBooks. If Apple's efforts take off, we will see less dependence on the use of conventional energy to drive these iDevices.
4. Apple considers Touch sensor integrated solar panels for all media players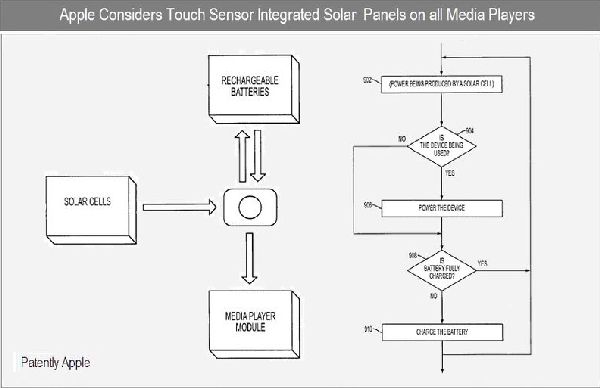 The proposal: Touch sensor integrated solar panels
Solar energy may see the light if Apple successfully implements this as a next patent. It proposes to integrate the use of solar cell technology for all its iDevices. Currently, gadgets like the iPod and iPad are heavily dependent on battery recharge. However, if Apple can pull off this new technology, we will see iDevices running for long hours using the sun's energy. Users need not worry about aesthetics.
The impact
While Apple's proposals may take time to materialize, there is no doubt that such steps will have a great impact on the environment. Harnessing the sun's power as well as making use of fuel cell technology will hopefully pave the way for other electronic companies to do the same. And, though the concepts are only in the patent stage, it is evident that Apple is seriously hoping to reduce its carbon footprints.