Boats were the conventional means of transport that is nowadays a great choice for the eco-conscious generation. Although you cannot deny the drawbacks of boats in comparison to the modern automobiles, if you are solely focused on the level of pollution imparted by the modern vehicles and that of boats, the latter always tops the list of most effective means of transport that causes almost no pollution.
Pedal-powered boats are bicycles of water. Not only they let you have a fun workout, but they also help in saving the environment. Compared to the popular fuel boats, these have a very less carbon footprint. If you live near a calm sea or a lake, and want a boat for non-commercial purpose, we would suggest you buy one such boat. These come at a fraction of a price of the popular fuel powered boats or electric boats and serve multiple purposes. Here is the list of some of the most amazing pedal powered boats that are making a difference for good.
6 – Most amazing pedal powered boats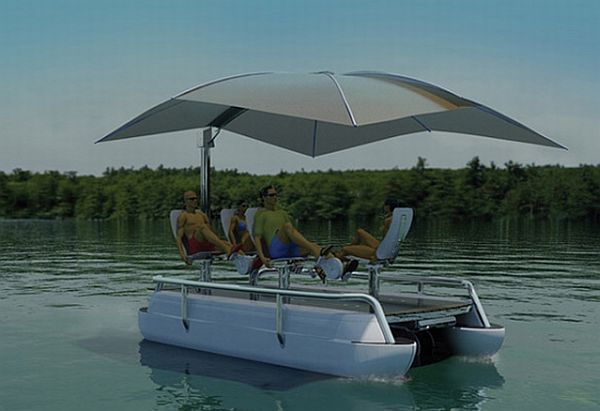 Boats are better regarded as human powered water vehicles that can be both human driven and motor driven. Not only this, boats also vary according to their construction, function and capacity. Thus, while on one hand simple and conventional boats, driven by two boatmen or a single boatman in there, pedal boats are also there on the other hand. Likewise submarines, hydrofoils, etc. are also there in the category of water crafts. Here are six boats that run on pedals and are unique in their own ways.
1. WiTHiN pedal powered boat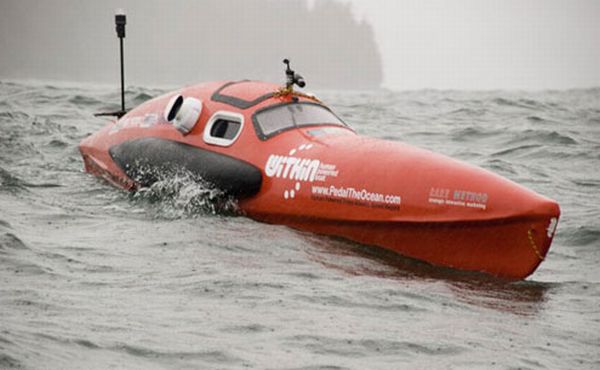 This is a boat that runs on human power and has the ability to stride across the ocean. This human powered boat, Ocean WiTHiN draws its inspiration from the water craft, WiTHiN. The body of this water vehicle is made from fiberglass which are in the form of flat carbon fiber panel that are stitched together to form the hull at the bottom. The base of the same comprises of a double kayak hull, which was donated to the designer of WiTHiN by Steve Schleicher of Nimbus Kayaks and sponsor and adviser of PedalTheOcean. The designers of this boat are Rick Willoughby and the award winning naval architect, Stuart Bloomfield.
2. Solar and Human Powered Concept Boat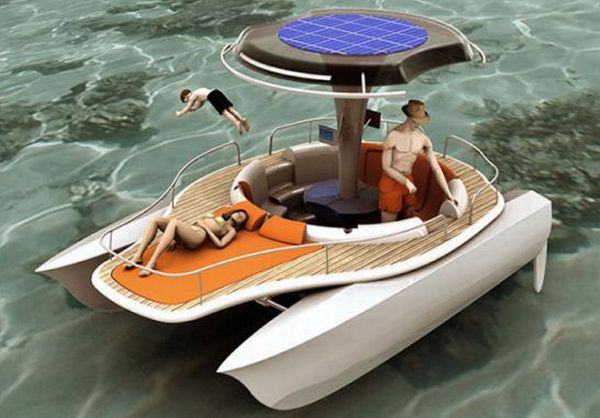 This boat has been designed by the French designer, Jonathan Mahieddine. This is solar powered boat that has the dual function of running on human power as well. The most notable feature of this boat is that unlike the conventional boats it targets at zero noise emission while floating on the water. The unique appearance of this boat has a wide deck that is a great option for relaxing amidst nature with your whole family, while having a wide view of the ocean. Moreover, you can also enjoy sunbathing while on boards. The human operated oars are also beneficial for exercising your hand muscles while floating in the ocean. But when you feel tired, switch over to the solar powered mode and let the boat sail by the energy it has accumulated in its solar cells throughout the day.
3. Torpedalo designed by Bentley engineers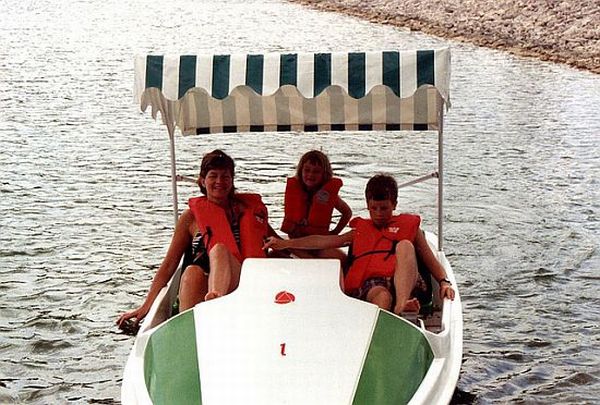 This boat is a combined creation of two engineers from Bentley, who have the aim of crossing the Atlantic this December in their self made boat, thereby covering more than 3000 miles in ocean and setting a world record. The designers of this boat are Mark Byass and Mike Sayer. They will have a competition with twenty five such racing boats in the world championship known as Woodvale Challenge Atlantic Rowing Race. The boat, Torpedalo, which they have made, features a fiber glass body, which is made from carbon fiber panels. It has a length of nine meters and is also equipped with solar panels for capturing green energy from the sun and using it to produce fresh water by desalinating ocean water and also to empower devices that they will carry on board, such as GPS, radar, satellite phone, etc.
4. Ilha by Alexandre Bellerose Zero-emission pedal-powered boat concept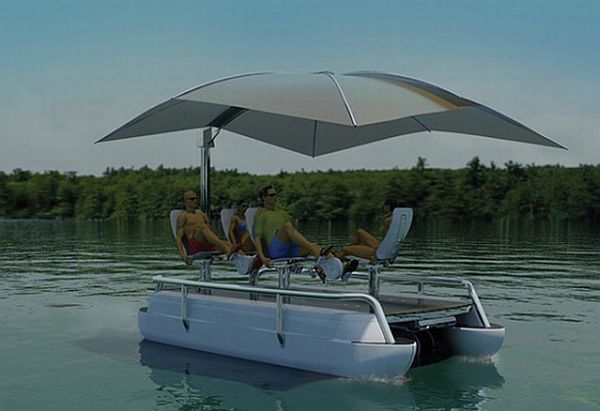 Now water rafting is going to be more fun with the help of the green boat that will not harm marine life as conventional water vehicles do by toxic emissions and awful noises. This boat has been designed by an eco conscious designer, named Alexandre Bellerose and is human powered. The passengers on board are supposed to pedal the boat and make it cut through the waters and move ahead. The extended feature of this boat are that it has a light weighted, folding foundation, which when stretched, becomes almost an small private island for those on board and provide them opportunities for various water activities. Together with it, water rafting in summers is also pleasant in this boat as it has a folding umbrella that collapses to become a fan so that the occupants can adjust the exposure to sun as per their choice.
5. Waterbug by Garry Hoyt and the Harken brothers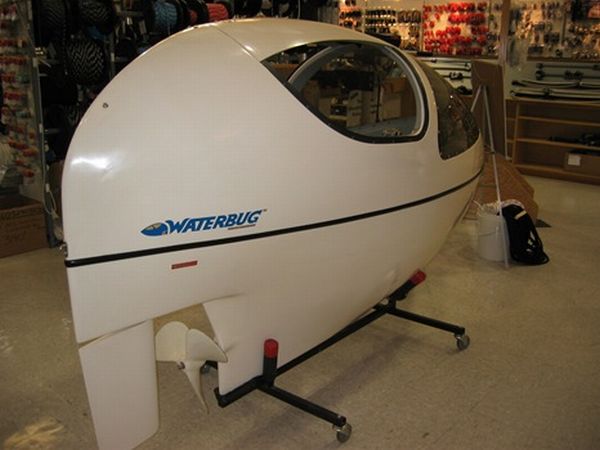 This is a strange looking boat, made by the nautical manufacturer, Fisheries Supply. It is an outcome of the joint venture of yacht designer and sailing innovator brothers, Garry Hoyt and Harken. The body of the boat is made from roto molded material and has a two seated option. It also features an electric propulsion package.
6. Solar and pedal powered boat by French designer Jonathan Mahieddin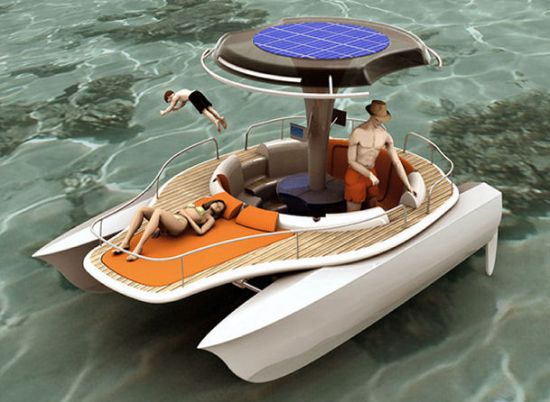 Anyone who knows me barely will know that I have always loved hanging out on a beach or even on the water on a wonderful boat. The most important thing about spending such time is that it gives you great tranquil relief. When you are on such a holiday, you want peace and quiet with some private space. My favorite hang out is the isolated coastline near my hometown which is nothing more than a small village of Fishermen. I have the best time while going in one of their wooden boats that is powered by nothing but their muscle and the sea.
The big and loud boats are more of a disturbance than help. Now here is an answer to some of those noise woes that we constantly face. French designer Jonathan Mahieddine has designed the Solar and Human Powered Concept Boat, which works both by pedaling and by the solar power offered by its panels. The designer has already developed defined concept boats and this new concept is nothing short of being the simplest green solution on the blue waves.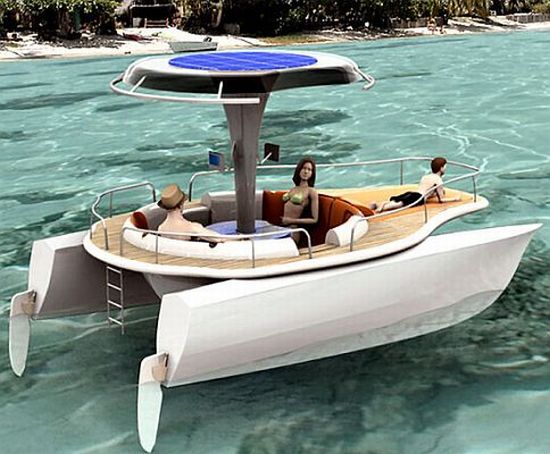 The boat has a wide deck wherein you can relax with your family and friends, and you can even take a sun bath. It is not huge, but is enough for a family to have a good time. The boat gives you both exercise and when done with that, you have the option of solar panel energy that can be used. The boat is nothing ground breaking but it offers a nice holiday to an entire family. Sometimes it is the simplest joys that are the best!