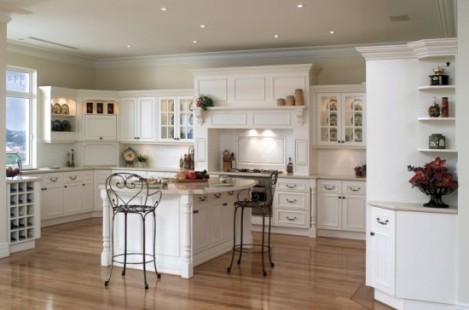 The home owners of today are increasingly choosing green products for remodeling purpose and to update the functionality and décor of their home interiors. Modifying your old kitchen cabinets with green touch is less expensive compared to installing completely new cabinets. Make up your mind to hire a professional for modifying your kitchen cabinets which plays an important role in remodeling your kitchen. Your installer or contractor would expend lesser energy and use a fewer materials. Below are some ways of modifying the old kitchen cabinets to green one.
1. Cabinet refacing
As cabinet re-facing helps in recycling your present cabinets, it has got wonderful recognition as an option for green remodeling from people who are conscious of their environment. Re-facing the cabinets of your kitchen includes covering frames that are exposed with thin veneer either of real wood or of plastic laminate. Fronts of doors and drawers are replaced for matching or complementing that new veneer. The transformation is completed by new hinges, pulls, knobs and molding.
Refacing – pros. The cost of it is half of total replacement of your kitchen cabinets. It is a green remodeling solution for your kitchen as old cabinets remain out of landfill and your kitchen will get a brand new look. There is very little disruption of your daily routine while the re-facing work is going on. You can carry on using your kitchen during re-facing process.
Refacing – cons. The options are pricey, such as exotic veneers and replacement hardware that are expensive. Re-facing materials cannot fix inefficient layout.
2. Various refacing options
Your choices are virtually limitless for giving your cabinets a finished look. Veneers available in wide range of colors, textures, grains, patterns and more can help you get a comparatively low-cost facelift for your kitchen.
Rigid thermofoil (RTF) doors, featuring long-lasting plastic coating on fiberboard, can be used instead of laminate doors or wood.
Veneers of real wood include plenty of standard species like cherry, oak and maple and you can also select from different stain colors. Wood veneers are most expensive. There should be careful sealing of wood as a protection against moisture.
Plastic laminates, available in numerous patterns and colors, are moisture-resistant and durable and are priced reasonably. You may pick contrasting or matching laminates for the drawer fronts and doors.
You can further update and customize your kitchen cabinet look with new hardware for kitchen cabinet.
3. Cabinet refinishing
Refinishing is cheaper than refacing your kitchen cabinets, while remodeling your kitchen. Refinishing requires little more involvement. It involves removing old stain or paint sometimes with the help of stripping product. The tough part of refinishing is not only to refinish or strip the drawers and cabinet doors but the whole inside plus outside of cabinets for achieving best look.
4. Cabinet repainting
Repainting your kitchen cabinets brings remarkable change in the look of your kitchen and this is one least costly option for kitchen remodeling. Choose a color complementing your wall. Choose a stain color or paint different from the original to have a fresh and new look. Paint inside of cabinets also with one complementary color. First do priming and then painting.
5. Paints with no VOC
Green remodeling is about improving the environment of your home. One fresh coat with color can entirely transform your room but traditional paints as well as stains release volatile organic compounds (VOCs) that cause respiratory problems, allergies and health problems of other kinds for you and your family members. You should not be inhaling the fumes of VOCs – the harmful chemical solvents. When buying the paint, choose one with no VOC or low VOC formula. These paints are gentle on environment for updating your home. Now big manufacturers of paint mostly offer latex paints which are very low in VOC content.
While choosing the colors of your kitchen cabinets, think of dark shades such as chocolate brown, red, green and even black. Coordinating these colors is easy and these are able to act as sophisticating force in your kitchen. Colors with black base and cream-colored upper cabinets give wonderful French bistro feel, when these are combined with beautiful decorative elements such as wood.
Therefore, for green remodeling of your kitchen, you may include restoration of cabinets rather than cabinet replacement. Old cabinet restoration causes lesser environmental problems in comparison with purchasing new kitchen cabinets and the new ones are not Eco-friendly as well. There is little to haul regarding landfill, lesser raw materials to harvest or none and very low manufacturing costs.