The popularity of folding bikes is increasing these days with many people opting for these easy to carry bikes in order to beat the traffic congestions. These folding bikes are lightweight and can be transported from one place to another in a carry bag as well. Many companies and innovative individuals are busy designing folding bikes in order to tap the rapidly expanding market of these bikes. Here is a list of eight best concept folding bikes which were unveiled this year.
1. "Dubike" concept folding bike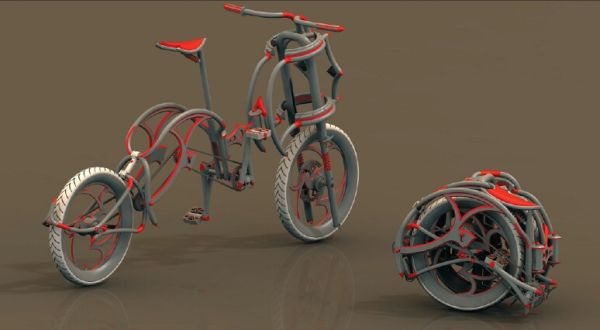 Designed and created by David Fionik, the "Dubike" is a unique and stylish concept folding bike. Fionik is a student at the Poland's Bialystok Technical University and he has created this innovative bike as a student project. Fionik's design impressed many and was one among the top 35 projects at the 2007 SolidWorks Design Contest. Fionik said that he got inspiration to design the cool-looking Dubike after watching the television show "Orange County Choppers."
2. Foldable Sorena Concept folding bikes Mahdi Momeni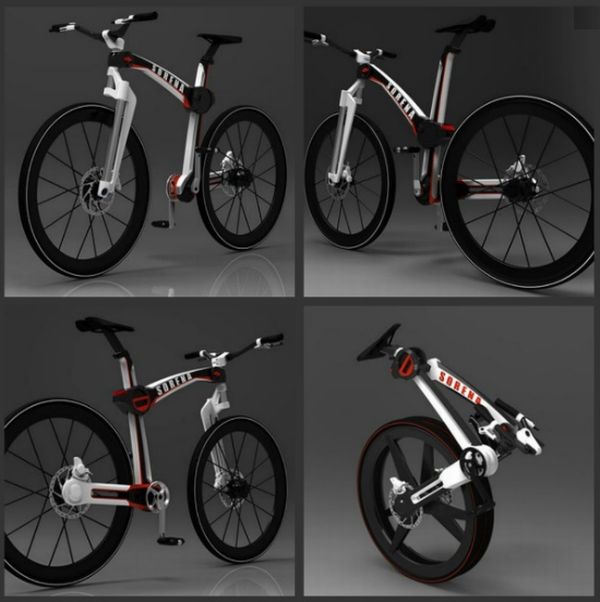 The credit for developing a foldable concept bicycle named Sorena goes to Mahdi Momeni. This stylish bike has a got a cool and stylish look, which will definitely attract young generation. With adjustable top tube, this bike can be used by both male and female. This foldable and lightweight bike is strong and sturdy. The user can carry this bike easily because it can be folded quite easily. Momeni won the prize at the 15th International Design Competition for this concept bike.
3. Gabriel Wartofsky's e-bike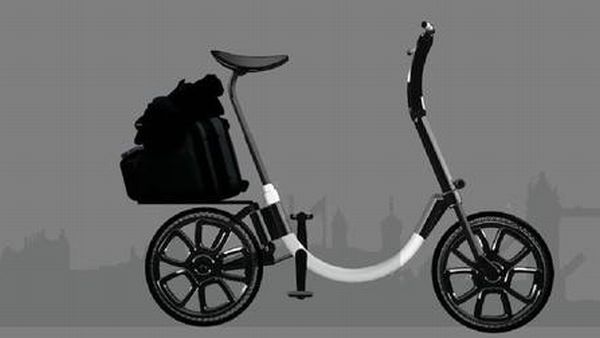 The foldable concept bike named e-bike designed by Gabriel Wartofsky has got a plausible-looking design. This strong bike can be folded quite easily and it can be carried from one place to another because it has been made using lightweight materials. While folding, the handlebars fold first. This bike is powered by an electric motor fitted in the front part. This bike features no chain.
4. Cannondale folding bike concept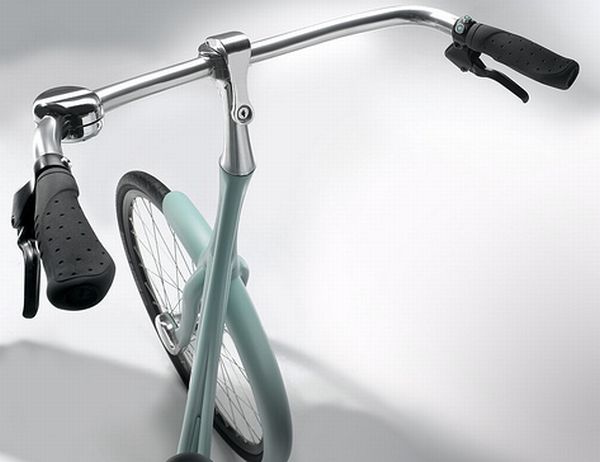 Cannondale is renowned for manufacturing road bike and it seems that the company has now decided to enter the folding bike market as well because the company has recently unveiled its first folding bike. Dubbed the Jack Knife concept, this bike is ridable as well. Cannondale engineers Torgny Fjeldskaar and Chris Dodman deserves credit for designing this bike which was shown to the world at Eurobike. The bike has got a sleek and smart design and the engineers at Cannondale have used weight-saving techniques to come up with a lightweight but durable folding bike. This bike can be folded by just using a button-operated hinge. It is expected that Cannondale will soon put this bike in mass production stage.
5. ARMADILLO concept folding bike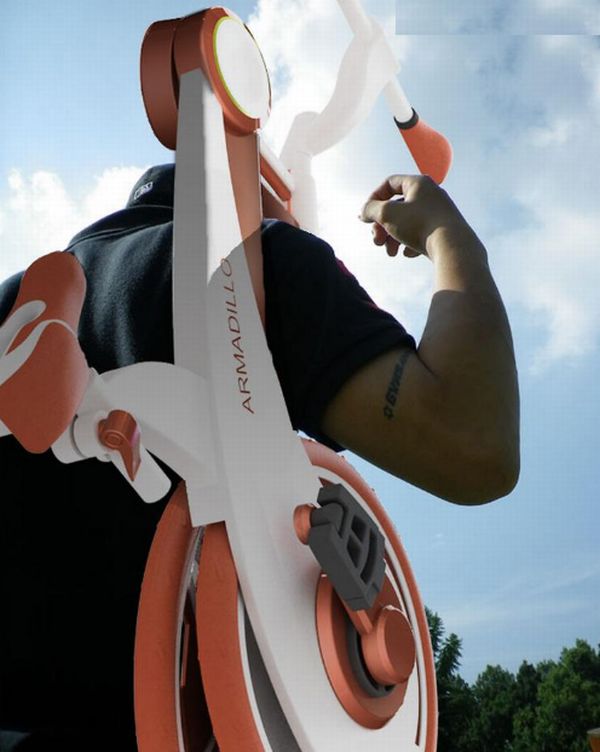 Designed by Hyijoong Rhie, this concept folding bike named ARMADILLO was an entry in the 2010 Seoul Cycle Design Competition. The folding process of this innovative bike is very easy and it can be carried as a bag or you can drag it like a suitcase! Featuring a central circular axis, this concept folding bike takes a convenient 'shape' merely by the unlocking and rotation of that axis. After the rotation, an optimum angle of the seat and the wheels is made with the axis, allowing the user to rest the bike as a tripod. This bike is completely eco friendly and lightweight.
6. eBrompton electric folding bike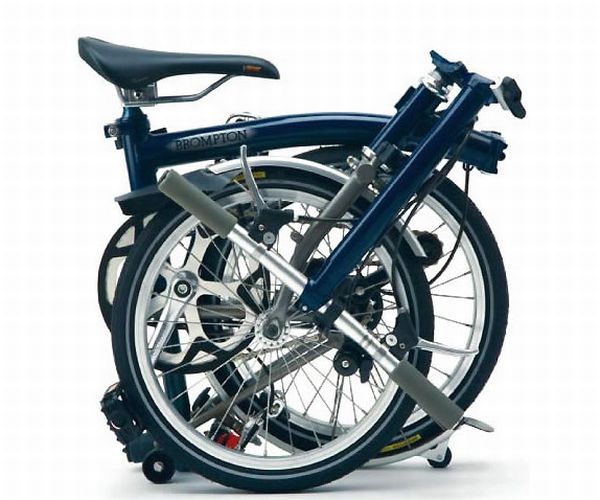 London-based folding bike manufacturer Brompton recently unveiled its new foldable bike, which can become extremely small when folded. The eBrompton, a folding electric bike, was promoted as "Project X" by the company. Powered by an electric motor, this bike is completely eco friendly and its folding mechanism is same as the folding mechanism used by Brompton in its other folding bikes.
7. Folding bike concept probably inspired by shopping cart, stationary cycle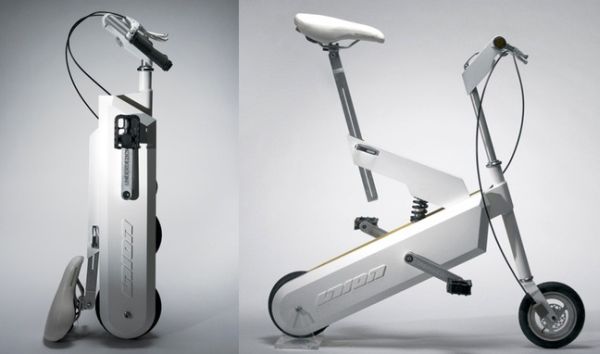 Weiche Wu and Minhan Lin have used their creative brilliance to come up with a folding bike, which is lightweight and easy-to-carry. This bike is taller than other folding bikes available in market and it has a shorter wheelbase, which means that people with long legs can ride it comfortably. The folding mechanism of this bike is simple.
8. YikeBike fusion electric folding bike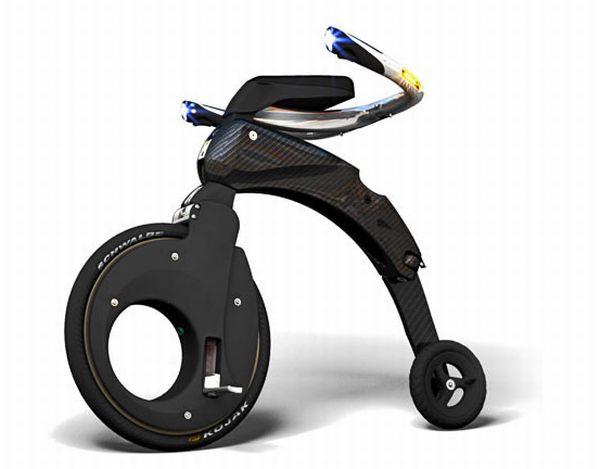 YikeBike is well known for manufacturing folding electric bikes and they recently added a new foldable bike in their YikeBike Fusion range. Priced at $1,995, this bike has been designed for the masses. YikeBike has used affordable materials in this bike to keep its price down. This bike is used by Google inside its campus.