In the world of skyrocketing buildings and high-rise towers, it is a challenge to go eco-friendly. However, many designers from all around the world are ready to take up this challenge.  Nevertheless, when it comes to sustainable architecture, architects face many challenges. Since sustainable concepts like bamboo architecture are relatively new, we still don't know how to go about them. With every passing day, scientists are coming up with new eco-friendly construction materials. However, we cannot draw any conclusions without putting them to extensive use. Research, although it is sufficient is many cases, is no supplement for practical experience.
20 Stunning examples of bamboo architecture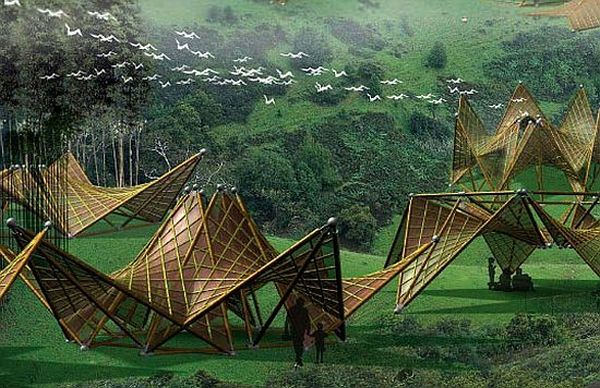 Bamboo architecture may well seem to be some sort of exotic form of field, especially in the Western context. And it is a fact that detailed literature about bamboo in modern architecture is hard to come by. But to put things into perspective, the bamboo industry (including small goods, fabric, etc) is expected to be worth $25 billion by the year 2012. Moreover, the cultures of East Asia and the South Pacific have traditionally shown an affinity for bamboo as a construction material.
Now equating that with its being one of the fastest growing plants in the world, and having high tensile strength (actually more than many alloys of steel), we certainly have a great future ahead with bamboo construction. Therefore, let us check out 20 amazing albeit sustainable examples of the one and only organic bamboo architecture.
1. DSA+s uses bamboo to build outdoor Japanese Noodle restaurant:

Minimalist in its form, organic in its bearing and utterly beautiful in its appeal, the following building is an outdoor Japanese Noodle restaurant designed by DSA+s. The naturalistic and sustainable conception just provides the basic essence of shelter in the form of shades from sun, wind, and rain. In addition, the fabricated nature of the construction also allows it to be assembled and disassembled just as easily.
2. Bamboo Pavilion: Mesmerizing eco home for communal living:

Don't be taken in by this conception's ethereally magical ambiance. It is actually a communal shelter for disadvantaged populations around the Indian Ocean peripheral area. In addition, adroitly designed by Esan Rahmani and Mukul Damle, everything ranging from water and drainage pipes to roofing and flooring are composed from bamboo material.
3. Rix Center for Ocean Discoveries flaunts bamboo 'shell' construction:

Now it's time for bamboo to be used for state-of-the-art research centers. The Rix Center for Ocean Discoveries, a hub for oceanographic researches designed by the eminent Canadian architectural firm de Hoog & Kierulf, incorporates an area of 1200 sq m and exhibits a plethora of spatial demarcations such as conference halls, lecturing halls and advanced laboratories for marine sciences. But the defining feature of this fascinating design would be its scallop shaped shell composed wholly from bamboo.
4. Sustainable dormitories for Thai orphanage:

Architectural firm TYIN Tegnestue has taken up the conscientious approach to bamboo construction. Noh Bo, a small village on the Thai-Burmese border will witness the construction of these simple yet convenient new dormitories made up of organic bamboo for sheltering a total of about 50 children.
5. St Val Architect proposes a wholesome vernacular bamboo housing project for Haiti:

Simplicity infused with a traditionalistic virtue defines this interesting design concept of ahousing project proposed for Port au Prince, Haiti. St Val Architect studio have supposedly been inspired by the prevalent traditional art of making cocoon-shaped baskets, composed from weaving natural plant fibers available from the local habitat. The buildings will maintain a vertical alignment so as not to increase the overall structural density of the area.
6. Rryuichi Ashizawa Architect's Bamboo Forest and Corinth Hut:

Rryuichi Ashizawa Architects have conceived a set of temporary wooden buildings with a framework of curved bamboo tent-like lattices. Exhibited for the Aqua Metropolis Osaka Event, these structures will form spatial elements for holding workshops or art programs. Moreover, for easier dismantling and reassembly, the joint provided for these irregular structures are actually bolted in their place.
7. Architects envision bamboo supported building:

According to structural engineering tests, bamboo has a higher tensile strength than many alloys of steel, and a higher compressive strength than many mixtures of concrete. It also has a higher strength to weight ratio than graphite. Furthermore, taking advantage of such properties, Dutch architect Robert Verrijit along with Indian architect Shefali Balwani of Architecture Brio will design a 3 storied building with bamboo as the most important supporting member.
8. Eco-minded architect creates sustainable café using bamboo:

A naturalistic fusion of vernacular architecture and clever planning, architect Vo Trong Nghia has ingeniously contrived a sustainable café, composed entirely from bamboo and other natural materials. The fascinating structure has been constructed without using any modern machinery and even nails for fixing. In addition, the architect has only made use of traditional Vietnamese weaving techniques.
9. Folding bamboo houses to provide shelter after nature strikes:

At the first instance they may seem like 'visually appealing' alien tripods, harvesting our resources. But believe me when I say there is clearly conscientious touch to the conception. Designer Ming Tang has conceived of these unique structures made from a latticework of light bamboo poles. Supposed inspired (or rather instigated by the recent Sichuan earthquake), the designer thought of these sustainable structures. One can fold and open it just as easily, to act as temporary shelters for victims of any natural disasters.
10. GREAT (BAMBOO) WALL:

This concept by Kengo Kuma was a part of an initiative to develop a full fledged housing project, all by Asian architects along the Great Wall of China. Bamboo in this case is rather used as a symbolic element, which though having its high strength. In addition, it allows for greater diffusion of circulation and accessibility in comparison to the stringent segregation offered by the Great Wall of China.
11. Mother's star gazing gets an architect to build house with an 'Umbrella Roof':

Supposedly influenced by his mother's star gazing fixation, architect Benjamin Garcia Saxe has conceived this enthralling piece of housing design. The conspicuous feature of this house is its cone-shaped "umbrella roof". Itopens to reveal the natural elements. Moreover, composed of two different spaces, the design also features a state of amalgamation with the surrounding natural environment.
12. Woven house weaved from Bamboo – The new generation lumber:

Somewhat akin to Anikin Skywalker's (Darth Vader) house in Star Wars Episode 1, designer Søren Korsgaard has come up with this futuristic dwelling dubbed as the Woven House. Moreover, clearly alluding to the name, this structure is composed by weaving strips of bamboo to form a dense mesh to act as walls and ceiling.
13. New Zealand's Whimsical Yellow Treehouse Restaurant:

Looking like voluptuous petals of a grandiose lotus about to unfurl upon a tree, this stunning treehouse restaurant was designed by Pacific Environments Architects Ltd. (PEL) in New Zealand. Though not strictly using bamboo, the conception does incorporate plantation poplar slats with redwood balustrading. Moreover, it uses natural daylighting techniques to accentuate upon its naturalistic bearing.
14. Self-sufficient, eco-friendly bamboo tree house:

Perched atop a bamboo structure, this wondrous hooch (improvised dwelling) will have a south-side opening to let in sunlight. Therefore, its natural light will further heat a set of aluminum cans filled with water, kept inside the dwelling. In addition, the resultant thermal energy thus stored can be used during those cold winter nights by covering those cans with a bamboo mesh.
15. Urban Bamboo Utopia is an all green home for land and water:

Utopia is certainly the phrase that came to our mind, when we saw this blatantly interestingconcept. Conceptualized by Hungarian designer Dvorcsák Szabolcs, the Urban Bamboo Utopia (UBU) will be a dwelling with a plethora of sustainable elements. It would be entirely constructed of bamboo and reused tire grind. Furthermore, the house will fastidiously incorporate a rainwater harvesting system, a solar energy generating system (with 95 percent of the house covered with solar cells) and two conspicuous wind mills for wind power generation.
16. The bamboo forest house by roewu architects:

Though it may well look like the scaffoldings are still on, the 'bamboo forest house' from Roewu architects have certainly made the bold architectural statement. Moreover, this vacation house in Taiwan has its upper part covered with a bamboo mesh screen not just for the perplexing aesthetics, but also to provide a sense of privacy and allow in natural light.
17. Mason Lane Farm:

A part of a 2000 acre farm property, this bamboo constructed sustainable facility has a myriad of spatial elements. These include  enclosed storage for farm vehicles & implements, covered (roofed) hay & equipment storage, grain storage, insulated work area & tool storage, farm manager's office, kitchenette, shower area, recycling area, and vehicle fueling station.
18. Plantation Design:

This unique and rather convenient proposition calls for a Hawaii company – Bamboo Living Homes and Resorts to deliver simple yet sturdy modular bamboo houses that can actually be fabricated in a period of just 3 to 8 days. Moreover, the models range from small huts(guest houses) , to a two-story, three bedroom house covering 2,000-square feet (186 square meters).
19. Two prefab bamboo homes completed in just two days:

Hawaiian company Bamboo Living Home has struck again, and this time it is with their prefab bamboo homes that could be completed in just two days! In addition, touted to lower carbon emissions by 20 tons for each 1000 sq ft floor, this remarkable design is fervently sustainable as well.
20. Kerala Bamboo House:

Located in the sands of paradisaical Varkala beach in Kerala, this sublime design in the form of a beach house. In additoin, it is studded in the gorgeous setting close to the sea, certainly manages to impart that all-natural vibe. Furthermore, some part of that essence has to do with its fully organic bamboo construction.