A home or a dwelling can be envisaged as that the ultimate personal space, which we privately relate to after our hard day's work. While on the commercial scale, homes do contribute to the majority of the revenues created by our ever thriving construction industry. When we combine both of the above factors, it provides the ideal ground for green technology to favorably breed – making us individually eco conscious as well as lowering emission on a larger scale. But beyond the scope of sustainability comes the issue of spatial management. The silver lining regarding this predicament is that there have been a slew of innovative conceptions that fervently addresses this factor. So, while we are at it, let us check out some of them.
1. Walking House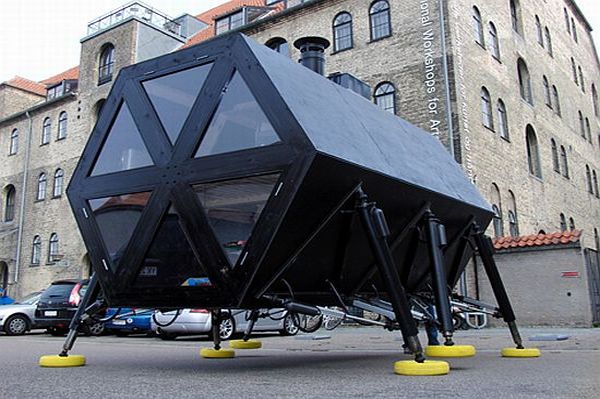 We have been comically brainwashed with transforming robot cars, but here is the real deal – a 'robotic' dwelling for 4 people that can literally move (at a speed of 60m/hr) from one place to another. This allows it to be plugged in to a conventional power source at the user's leisure. As for strengthening its green credentials, the house is powered by wind and solar energy. Moreover, spatially the house also has a conveniently composting toilet system.
2. Ecofabulous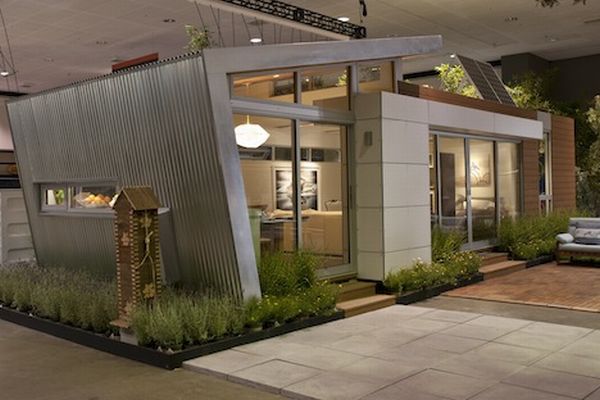 Conceptions such as these vehemently prove that limitation in space does not correspond to a cramped design. On the contrary, Zem Joaquin in collaboration with Jonathan Davis have made sure that the 550 sq ft building form remains unabated, with innovative features such as clerestory windows, undulating roofing and a linear patterned plan. To top that off, the house has a plethora of green features ranging from appliances, countertops to flooring.
3. Portland Alternative Dwellings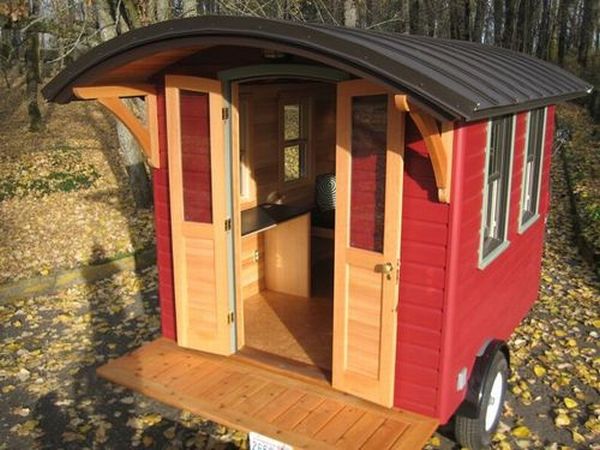 Christened as the Don Vardo (sounding almost like some villa!), the bantam 7×10-foot portable home is designed by Portland Alternative Dwellings. Coming at a price of $22,000, the dwelling spatially consists of a desk, kitchen nook, pull-out double bed, and radiant heat floors. As for its sustainable attributes, the conception incorporates a LED rope-light with salvaged cabinets, sink and efficient double-hung windows.
4. Mobile Homes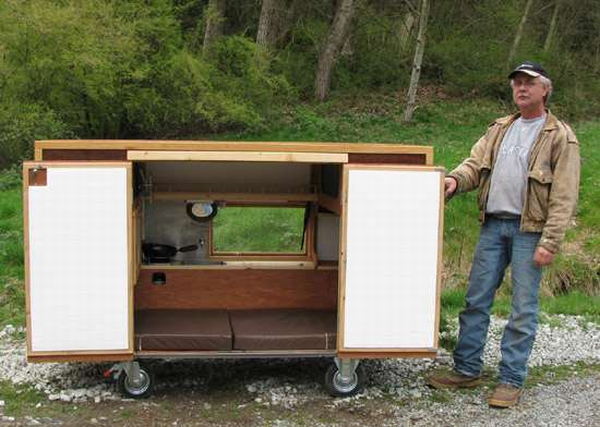 Up till now, we have come across dwellings that cater to the conventional user. But what about a conscientious conception for the homeless people? Well, Paul Elkins has designed a diminutive 225 lbs house that contains all the primary services including a sleeping area, kitchen and even. Moreover, it has a set of wheels, which in turn can be used to haul away the house in case one wants some scenery change.
5. Tumbleweed houses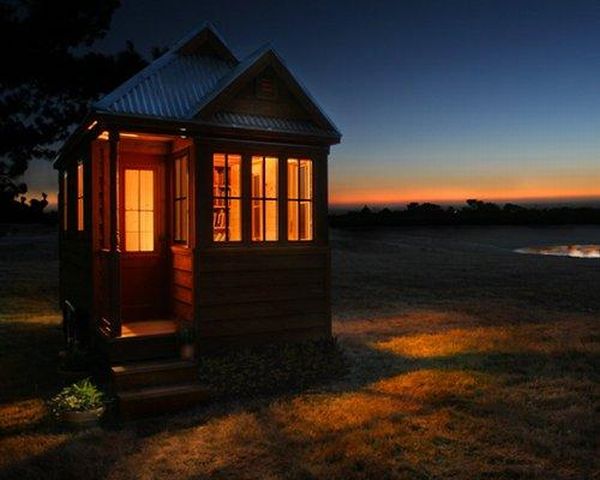 According to designer Jay Shafer, he has been continuously living in an 89 sq ft house since 1997. And with this inspiration and experience, he founded the Tumbleweed line of compact, tiny dwellings. Majority of his conceptions are DIY constructional systems, while their styles vary from being petite 99 sq ft cabins to ultra-sleek 89 sq ft portable houses.
6. Tiny Texas houses
Tiny Texas houses were envisaged as more of an emancipated movement than some commercial venture by designer Brad Kittel. The fundamental outline was to construct newer, more compact yet energy efficient dwellings from salvaged landfill materials such as timber. Almost every component of the houses like windows, doors and even flooring are created from re-used and recycled elements, thus exhibiting zero carbon footprints.
7. Toronto's little house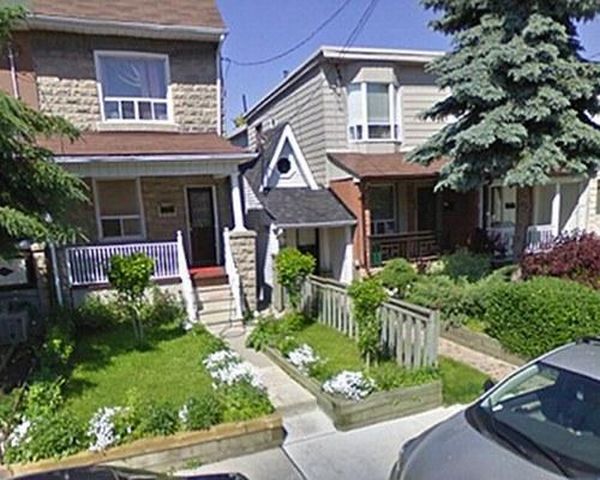 The above pictured conception is touted as the smallest house in the city of Toronto. Located in what used to be a driveway, the bantam dimensions of the house only measure 7.25 feet (2.2 metres) wide and 113.67 feet (34.6 metres) long. And well, if you are interested, the pricing for the unique dwelling is set at $179,900.
8. Single Hauz home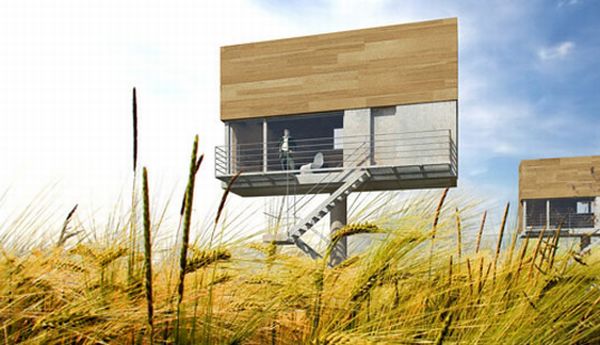 Ingeniously inspired from bill boards, the Single Hauz will be complete pre-fab structural component based on a central pillar. Conceptualized by Poland based Front Architects, the dwellings will be of just 27 square meters (290 square feet) area, with spatial divisions of bathroom, kitchen and living space in the 'first floor'. Though we are not sure of logistical predicaments, the elevation can surely give a good view of the surrounding landscape.
9. Roll it House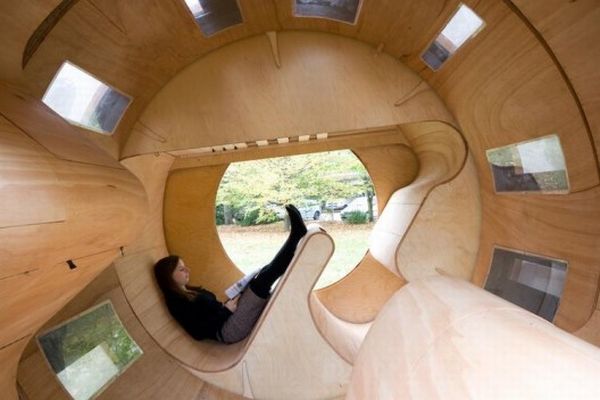 Do not be fooled by the bizarre cylindrical shape of the experimental Roll it House. Designed by the members of the University of Karlsruhe, this modular prototype embodies the usage of flexible yet compact space with all the modernistic furnishing of a house – including bed, table, exercising cylinder and kitchen space. As for other user oriented features, small openings are embedded on laminated OSB panels for induction of natural light.
10. Hanse Colani Rotor House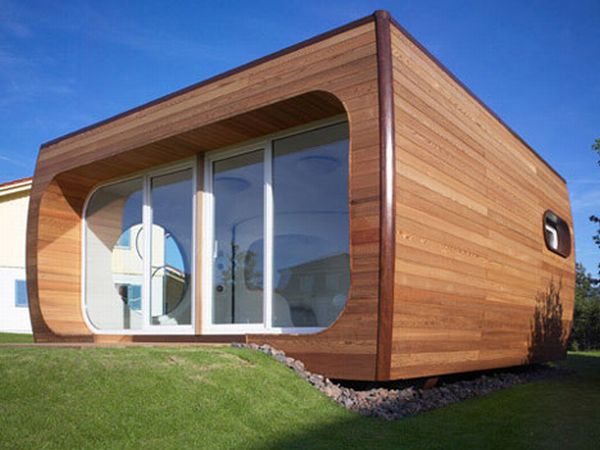 Lastly, we come to a conception that exudes minimalist style with space efficiency. This is the Hanse Colani Rotor House designed by Luigi Colani. It comprises of a six square meter cylinder that can be rotated to change the surrounding view. The internal spatial distribution is accessible through a collective hallway, while the intrinsic mechanism of the dwelling can be controlled by remote.