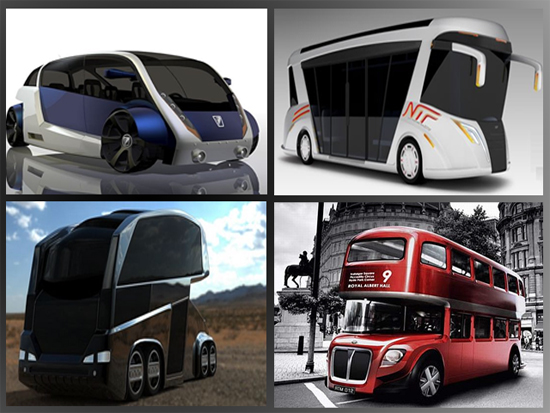 Commuting by bus is considered a great way to lower your carbon emissions. However, in doing so using the currently available options, you're sacrificing your comfort as well. Industrial designers are trying hard to make people believe that when parking space won't be available and gas would be as expensive as gold, they'd be traveling in hi-tech green buses, which wouldn't be much different from their cars, at least not in comfort and features. Here is a list of 10 such concept buses that can lure people toward public transport without making them sacrifice the overall experience of a car.
• Transalon – An electric bus for fast-paced Chinese cities: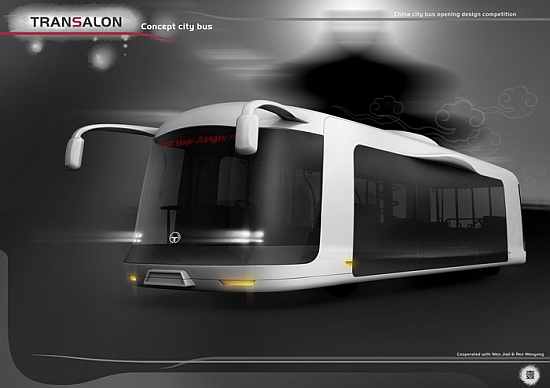 Being the world leader in population and the fastest emerging market in the world, China needs fast and green transportation facilities that could carry much more that what normal facilities are designed for. Industrial designer Xiao-Fang Shen has designed a green ride for the urban population of China. Transalon, as the bus has been named, runs on clean electricity.
• FreightBUS – Multipurpose hydrogen-electric bus could carry passengers and cargo to reduce traffic: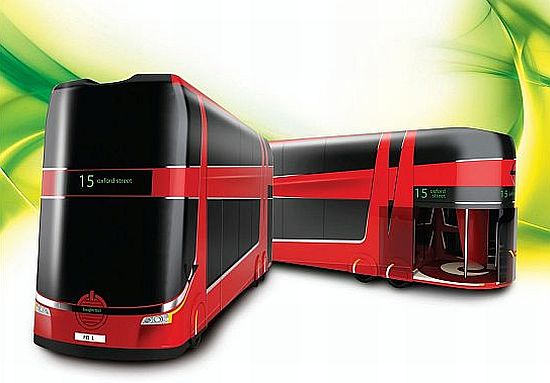 Unlike conventional buses that just carry people to their destinations, this bus will carry passengers and freight around the city and thereby reduce traffic and emissions by having less trucks and delivery vans moving goods around town. The bus will be powered by an eco-friendly engine that would either be a whole electric system or a hydrogen fuel-cell system.
• Razan Hydrobus – Entertainment on wheels: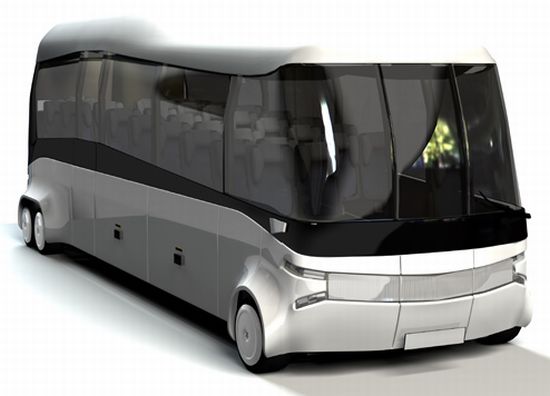 The Razan Hydrobus bus that comes with a complete onboard theater and theatrical seating is powered by hydrogen fuel cells. Water that is generated in the process is used for cooling the bus, providing an easily accessible and energy efficient air conditioning system. The fuel cells in the bus will be backed up with lithium-ion batteries that will be charged by regenerative braking.
• Electro Bionic Bus – Zero-emission bus inspired by insects: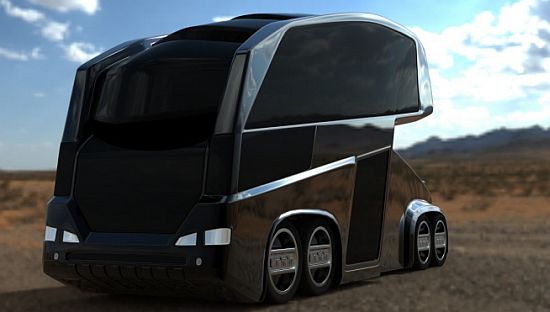 Designed by Mohammad Ghezel, the Electro Bionic Bus is inspired by insects. The bus is powered entirely by electricity, some of which is generated by its photovoltaic embedded roof. The eight separated wheels come with in-wheel electric motors that are fueled by a battery pack
• NTF 2010 – Hybrid bus designed to run on hydrogen and electricity: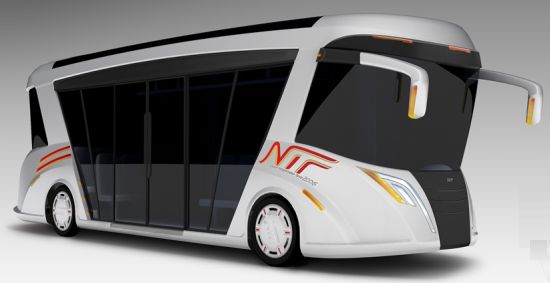 The natural transportation force (NTF) utilizes hydrogen and electricity for a clean ride. The concept borrows its design from the Chinese Gallery Bridge that will be a sort of mobile public place where people would be able to communicate and share their feelings with each other.
• Big Blue Bus – The Bus of the future: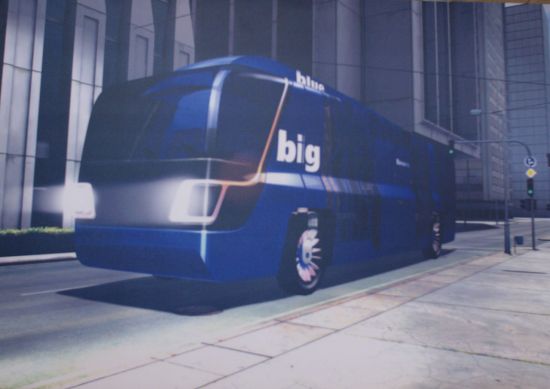 Powered by green fuel, the Big Blue Bus has been designed for the streets of Santa Monica. The design has incorporated green features such as positive emissions and use of sequestered CO2. It also has plenty of window space for the view that the city offers.
• Mybus – A small bus with big features: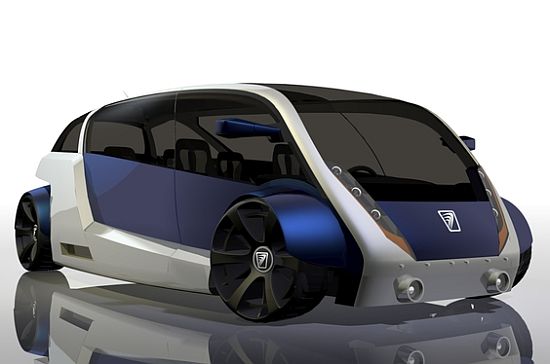 This electricity-powered passenger vehicle seems to be concerned about the safety of our globe, as it is designed to run on electrical energy. Features like electronic stability systems, smart cruise control, brake-by-wire, rear detection systems and smart wing mirrors have earned this concept a winning position at the 2007 Michelin Challenge Design.
• Slimbus – Public transport perfect for crowded metros: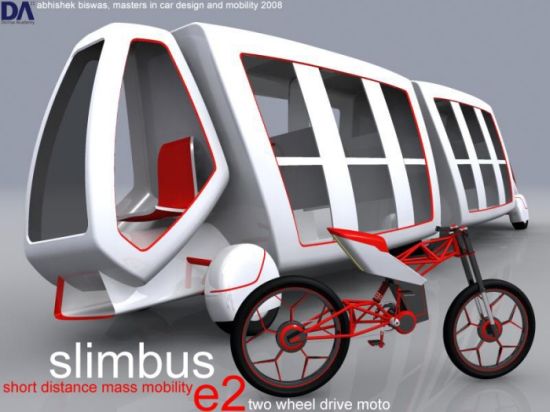 The futuristic "Slimbus" will be very compact, about 1.2 meters in width, in size and powered by the in-wheel motors. The vehicle is basically meant for short distance journeys. The Slimbus will feature five wheels connected by the hydraulically actuated wishbones that allows the vehicle to lean into the sharp turns.
• Welcome Back – Low-emission hybrid bus designed for London: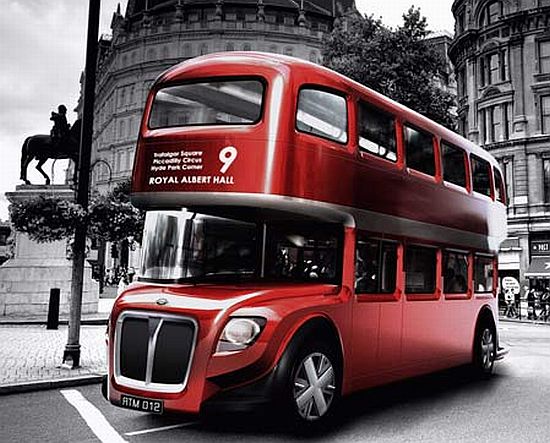 The bus is powered by a hybrid diesel-electric engine that ensures a low-emission ride. Apart from ensuring lower emissions the bus is made to be compact and small to promise an easy drive in the congested lanes of London. Welcome Back will also feature cantilevered seating to make cleaning the floors easy. To talk about the safety of the passengers onboard, the bus will have lighting in the entrance platform toward the rear of the vehicle that will inform the passengers when the bus is about to move.
• Hyundai Fuel Cell – Hydrogen powered bus emits clean water: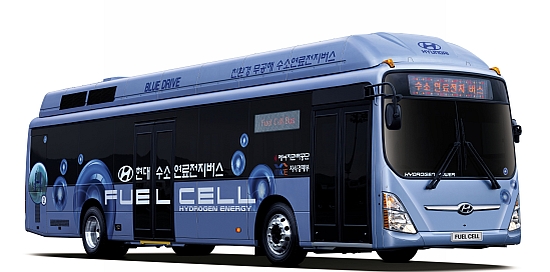 Based on the latest Low Floor Aero City bus platform, Hyundai's latest fuel cell electric bus concept features numerous technical refinements which have increased the maximum speed to 100km/h. This improves on the 75km/h limit of the previous system which relied on a single 240kW motor. Under the new architecture, three 100kW Permanent Magnet Synchronous Motors are arranged in parallel to provide a total of 300kW of propulsion for a 33 percent improvement in top speed.