Most of the vehicles that we see on the roads today have been designed to deliver a sense of thrill to their speed loving owners. However, most eco friendly cars have limited speed, which is one main hurdle in the global adoption of green rides that are mostly propelled by electricity. But speed lovers need not worry as here's good news for you. Here we introduce you to 10 of the fastest vehicles of the world with land speed records to their credit. The most impressive part of these vehicles is that they are not only velocity friendly, but also eco friendly.
1. Car powered by wind having land speed record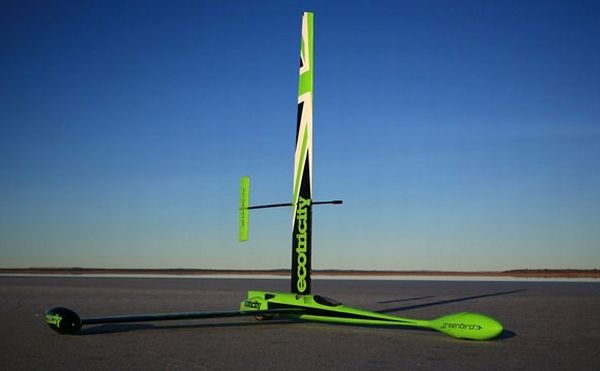 Greenbird, designed by British engineer Richard Jenkins, has broken a longstanding record to create its own. Powered by wind, the vehicle sped up at 126.1 mph at lake Ivanpah. Ecotricity, the company that is to be credited for this fast wind-powered car, has plans of launching a wind-powered supercar of a more conventional design. The company believes that wind would become one of the primary sources of energy that would fuel regular cars within two-decade time.
2. BMW biodiesel-fueled motorbike sets new land speed record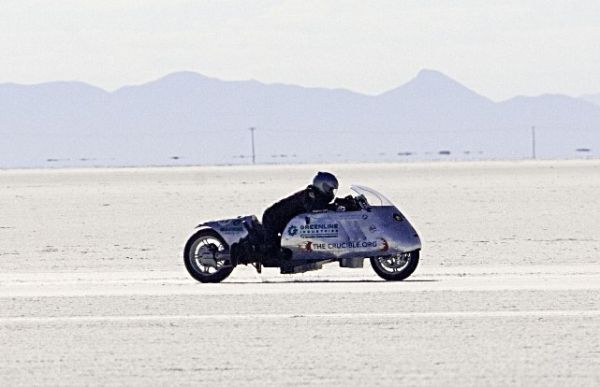 When the BMW R 1150 RT was modified and its engine replaced by a 3-series 2-liter diesel one, a new land speed record was created that beat the record created and held by a diesel fueled motorbike. The founder and executive director of The Crucible, Michael Startz, drove the bike in Utah's Bonneville Salt Flats to zoom in the record books. The Crucible, an artistic industrial design center based in Oakland was involved in the development of the vehicle, whereas Greenline Industries provided the fuel called B100.
3. BYU Electric Blue sets land speed record at 155.8 mph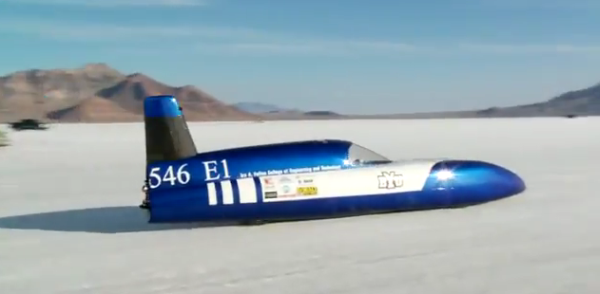 Seven years' time and contribution of 130 students of the Brigham Young University (BYU) under the guidance of Associate Professor Perry Carter gave birth to this vehicle that has created its own land speed record in the Bonneville Salt Flats. Named Electric Blue, the vehicle is below 1100 pounds and for its E1 weight class has made its way to a world record. The vehicle hit a speed of 175 mph during one of the qualifying runs. The vehicle with an aerodynamic, carbon fiber frame includes lithium ion batteries and has ground clearance of less than an inch.
4. Student built Buckeye Bullet Electric Streamliner sets new land speed record at 307.66 mph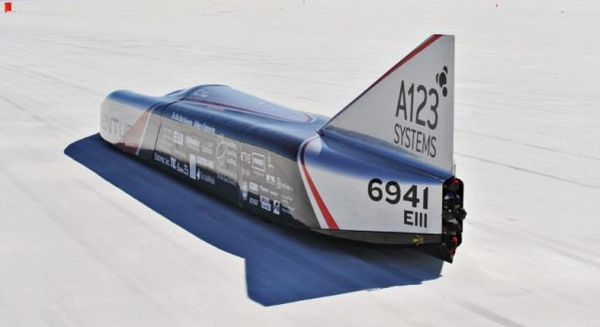 Buckeye Bullet, the electric streamliner, is a brainchild of the students of the Ohio State University. Previously, the vehicle had hydrogen fuel cells to power the electric motor, which were replaced by lithium ion batteries from A123. The vehicle made a FIA two-way land speed record in 2009 when it was powered by the hydrogen fueled cells. Recently, the university joined hands with Monaco based Venturi to transform the car for testing purposes so that it could be launched in a brand new avatar in 2011. The top speed derived from this vehicle after the modifications is 320 mph.
5. American engineer shatters land speed record in a hydrogen-fueled car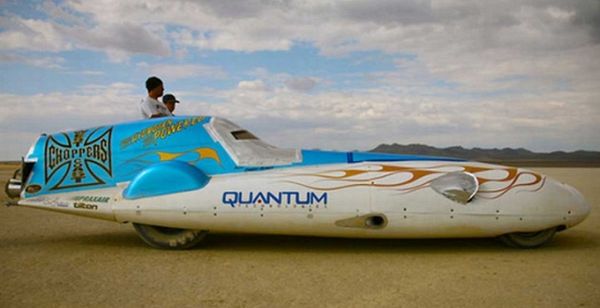 American engineer and stuntman, Jesse James, has broken the record held by BMW H2R that had a speed record of 185 mph, by wheeling a zero emission car that's fueled by hydrogen gas. The new record set at Mojave Desert is of 199.7 mph that the driver managed to extract out of the vehicle by replacing the Chrysler engine of the 1960s car with a twin-turbocharged 9.8L V8 engine from Chevrolet.
6. Electric motorcycle sets the Salt Flats on fire, clocking at 150 mph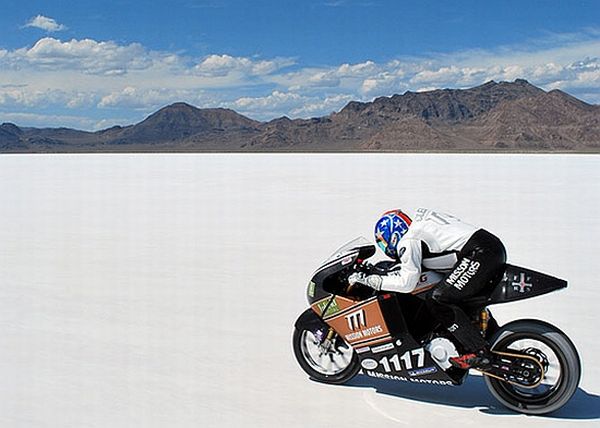 Mission Motors joined hands with Fuse Project to create this electric motorcycle that created a new record of land speed at 150mph at Utah's Bonneville Salt Flats. The company is now into producing this bike for the masses. As per the company, the bikes that will be released in the market soon will have similar features as the record breaking one and would be able to get a speed of 80 mph when on streets.
7. Lightning Motorcycles break 200 mph electric bike speed record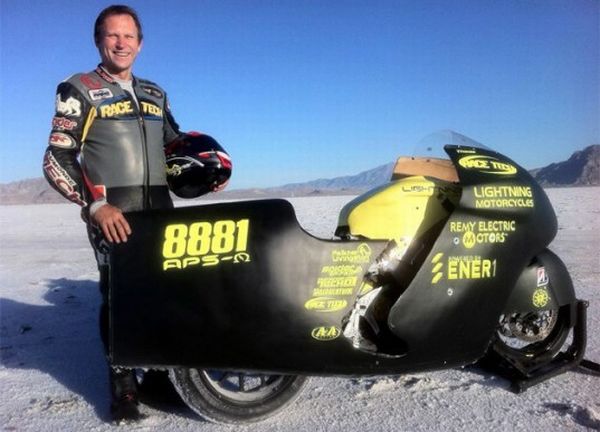 Breaking the land speed record of electric bikes, here's the new bike from Lightning Motorcycles. The bike created a record of 206.079 miles per hour on an average. Paul Thede, who rode the bike in Bonneville Salt Flats to create the record, reached a speed of 208.38 mph during the stunt. The bike is powered by a nano phosphate battery pack of 345 Volt 11 kilowatt-hour safe LiFEPo4.
8. Lawless Electric Drag Bike having land speed record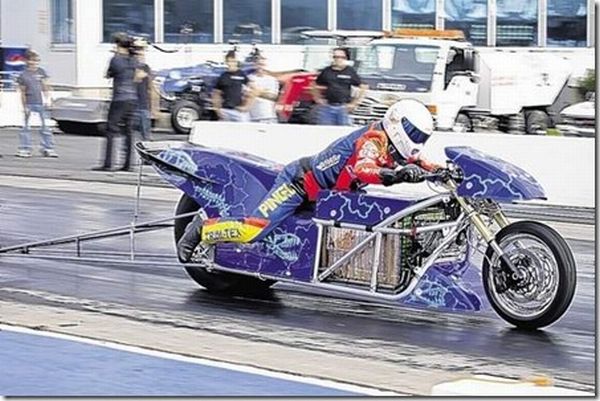 Orange County Choppers, a custom motorcycle shop, together with Lawless Industries made a new quarter-mile record for battery-powered motorcycle at Virginia. The bike that made this possible has been named the Lawless Electric Drag Bike. The 4000 amp electric bike with 363 volt and a horsepower of over 600 was driven to a speed of 177 miles per hour quarter-mile pass by Larry 'Spiderman' McBride, the legendary drag racer.
9. Student-built 155 mph biofuel truck breaks world land speed record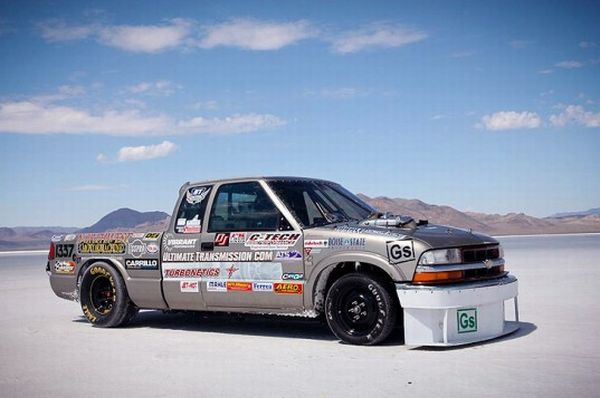 This vehicle that runs on vegetable oil has been designed by Boise University. This Greenspeed pick-up truck has created a new world land record of biofueled vehicles. Developed by a student team under the supervision of Dave Schenker, this vehicle managed to reach a speed of 155 miles per hour in south California. A 1998 Chevrolet S-10 has been modified to bring this vehicle into existence by the team.
10. Steam-powered supercar shatters world land speed record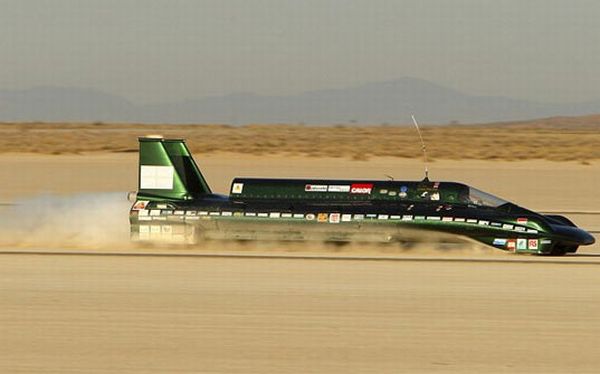 This British Steam car, called the 'fastest kettle in the world', has made a record of 139.843 mph breaking all previous records of steam driven vehicles. The 25-ft long car made the record in California while it was being driven by Charles Burnett III. 12 boilers running on liquid petroleum gas heat water to a temperature of 400 degree C or 752 degree F, which is then sent to the turbine to power the engine.