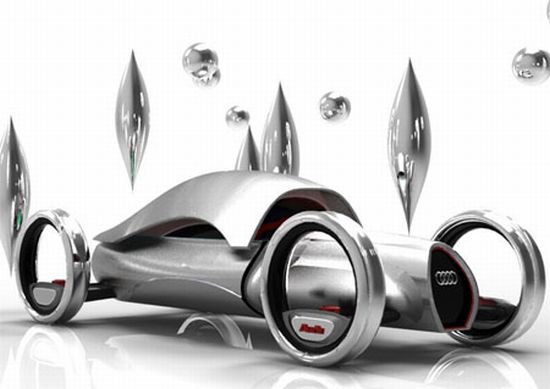 Eco friendly cars have emerged as an answer to the soaring fuel prices and factors that lead to global warming. Companies and designers have sweated to bring forth designs that are low on emissions and high on performance. These designers also make sure that they keep the brand value of the company they're designing their concept for, intact. Here is a list of 10 most innovative eco friendly concepts that have been designed for Audi.
Futuristic Audi concept car uses hydrogen for zero-emission propulsion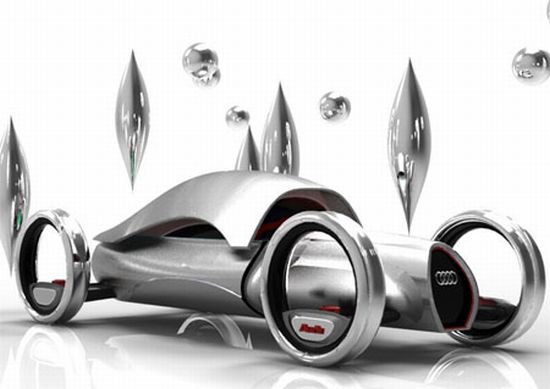 Victor Uribe has designed a range of concept cars for Audi, which run on clean hydrogen. A sliding roof meant for passengers to enter has replaced the sliding doors. The cars have great looks and give the rider the feeling of a racing car.These futuristic concept cars comes as Audi Concept Car1, Audi Concept Car2, Audi Concept Car3, and Audi Concept Car4.
Audi A3 e-tron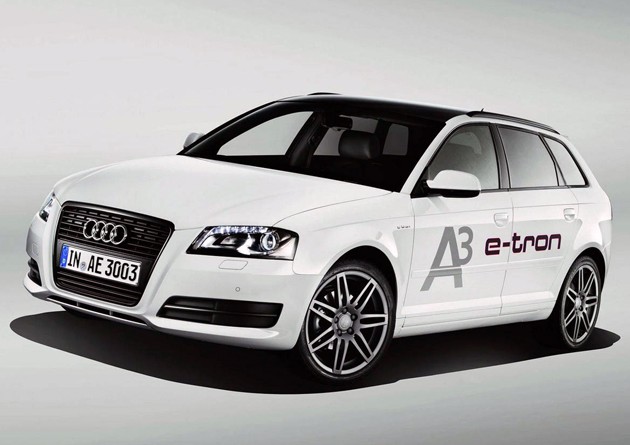 An Audi A3 e-tron is identical in looks to other standard cars. Instead of an engine it uses a 26.5kWh lithium-ion battery with a capacity of 134hp. Speeds between 0-100km can be achieved in 11.2 seconds, maximum speed being 145km/hr. The battery will last for a 140km journey and can be recharged in two ways – a 230V electrical power for 9 hours or a 400V electrical power for 4 hours (for faster recharge). It has an improved air-conditioning system and leather seats.
Audi urban concept car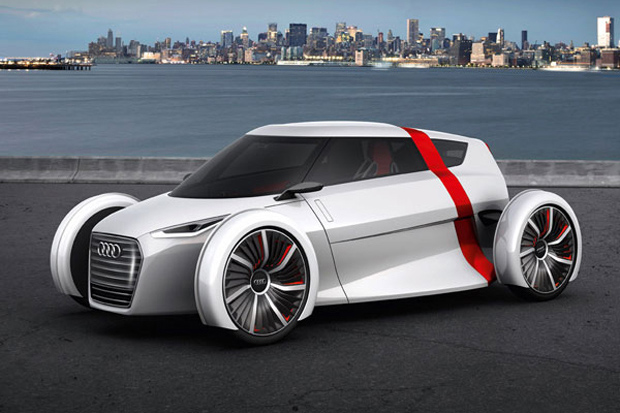 The Audi urban concept car has two electric motors run by lithium-ion batteries. It is very lightweight with a carbon fibre reinforcement body of plastic. It is a two-seater with the passenger seat placed slightly behind the driver. According to Audi configuration, it is called 1+1.
Audi A0 QS sports car concept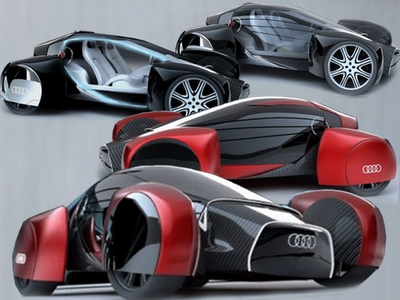 Alexander Tiganova has designed this sports car that has a hybrid drivetrain because it has an electric motor and a hydrogen engine. 'Q' represents a four-wheel drive and 'S' stands for sports. The three-wheeled trike analogy combined with a special rotation system of the wheels enables the wheels to bend along the vertical axis without rotation. The doors are made of a rubber fabric that can turn transparent according to the driver's needs. The length of the car is 3.4 meters.
Eco friendly concept car designed by Małgorzata Hop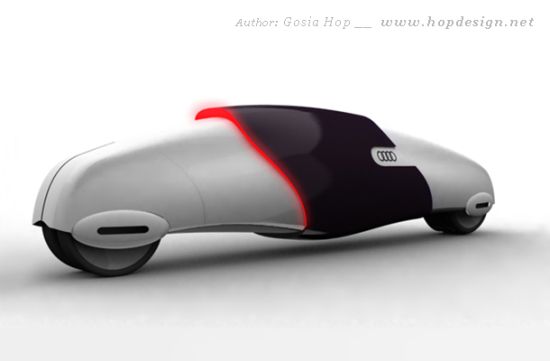 This car has low ground clearance and wide and comfortable wheels that give the driver the feel of riding a motorcycle. Stability is ensured during slow maneuvers as the rear wheel divides into two parts and the vehicle becomes a three-wheeled car. During parking, the car folds itself up into a 1.5meter case. It is a two-seater with one seat behind the other.
Audi Panzerspahwagen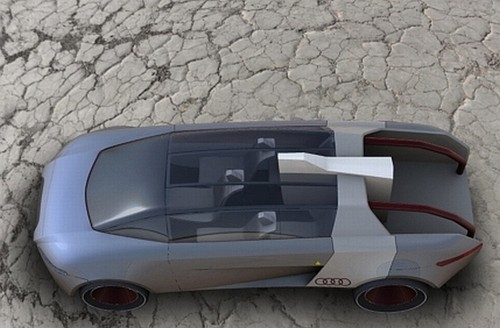 This car has a plug-in hybrid platform, V12 TDI diesel engine, 6L bio diesel, and an R10 based twin-turbo. It has four independent electric motors (100kw each) mounted on each wheel. Its lightweight body is made of aluminum chassis combined with carbon-Kevlar. It has a regenerative braking mechanism that reabsorbs energy.
Audi Cross Tareq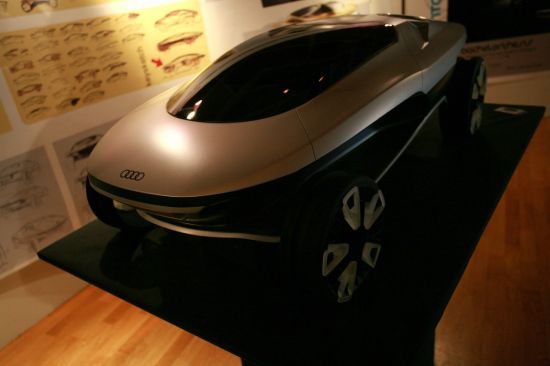 Fuel efficiency is maximized by its aerodynamic design and lightweight construction. It has thermoelectric devices that trap solar heat, converting it to electricity to run the onboard batteries.
Audi E/0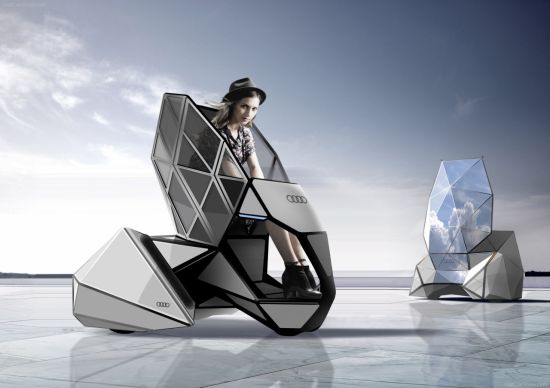 Designed by Constantine Taranova, this car runs on electricity and on two different modes – Audi E and Audi 0, depending on the area of usage. Using the main module "E", the driver can reach a destination and leave the car for charging and can continue to travel using the secondary module "0".
Audi A9 concept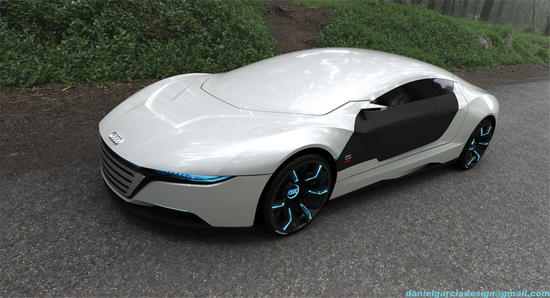 A low-emission hybrid car designed by Daniel Garcia, this one has its windscreen and roof made of a futuristic nanotech material that, if damaged, can repair itself automatically. It has an internal combustion engine and electric motors set in each of its four wheels.
Audi Avatar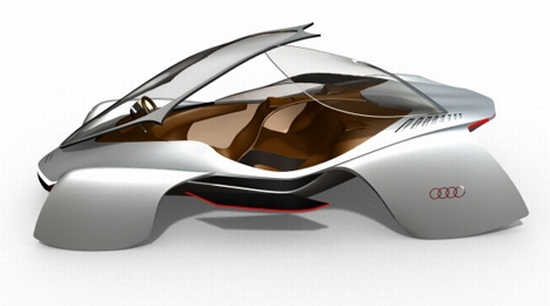 Designed by Edwin Conan (Yi Yuan), this is an electric car that runs on a supercharge-ion battery. It can reach a speed of 360kph, can accelerate to 100kph in 2.9 seconds and has a lightweight and aerodynamic design.