Mercedes Benz is a class apart and has been ruling hearts from the past many years. It is a technologically advanced auto brand and comes injected with a lot of luxury. The brand provides a comfort coated ride that is perfectly blended with modern technology. In this Eco-conscious world, even Mercedes has got stung by all-electric ride fever. Below is a list of ten concept electric vehicles designed for Mercedes Benz that will replace the gas-guzzling beasts in style.
1. Mercedes-Benz LeMans Electric Race Car Concept
Ozgun Culam is a designer from Turkey but based in Italy. He has come up with an electric car named Mercedes-Benz LeMans Electric Race Car Concept that will set onlookers in a drooling mode. The lightweight concept is a streamlined creation that has been wedged with four engines that have been fitted in each wheel. It has been crafted in an attention-grabbing way and comes draped in a lot style. The glass wrapped cabin has been styled like that of a fighter jet and giving extra stability to the design are the large spoilers.
2. Mercedes-Benz Aria Concept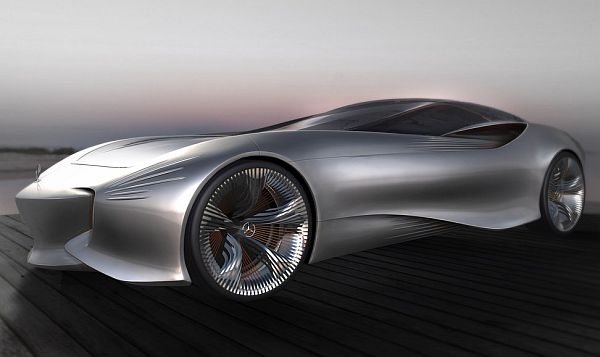 Mercedes-Benz Aria Concept is a brainchild of Slavche Tanevski and looks every inch a sinner. It is a luxury coupe that vows to sprinkle a lot of comfort and will make sure that the ride is worth remembering. The outline has been stirred by flying hair, which has been incorporated in its long, extravagant and very elegant design. The futuristic concept will be an all-electric drive and has been envisioned for 2030. The Aria Concept is very sexy and will manage to make heads tilt in amazement.
3. Mercedes Benz Electric Vehicle Concept by Ali Khanzadi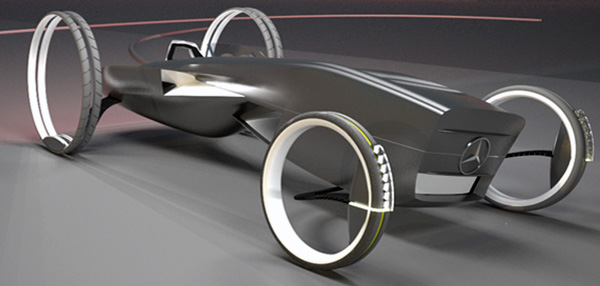 Ali Khanzadi has crafted an electric sports car concept for Mercedes Benz that is a reminiscent of the 1930s. The body of this dynamic design has been crafted using a combination of salvaged plastic and carbon fiber, while a composite of aluminum and carbon fiber was used to make the chassis. The electric concept is a great blend of functionality and style. An electric and magnetic technique is exploited in braking rather than the conventional brakes. The silhouette is unique and will definitely make it stand out of the crowd.
4. Mercedes-Benz Nimbus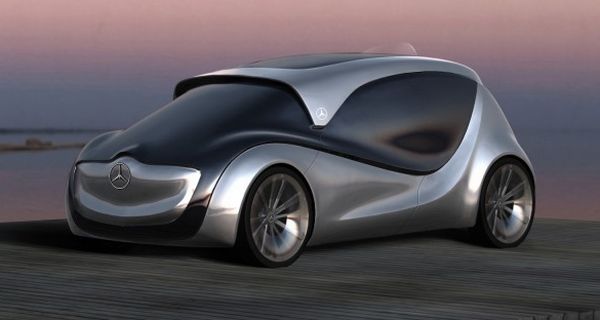 Catering to the needs of keeping the environment clean and green is the Mercedes Benz that has been conceived by Slavche Tanevski. The coupe promises to be a perfect solution for the year 2025, a time when streets will be choked with traffic. It is a compact creation that will come wedged with four motors placed in each wheel. Nimbus will also feature lithium ion batteries that will be fitted in the floor of the car. The absence of glass dome and front struts won't restrict visibility as the driver gets to sit in the middle. The car is quite spacious and presence of a large glass area will unfurl beautiful views.
5. Mercedes Benz F125 Hydrogen Gullwing Concept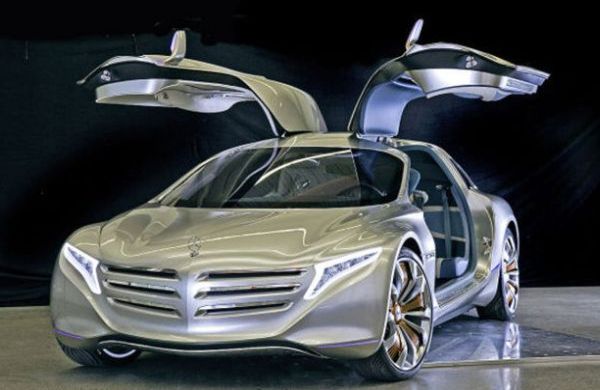 Mercedes Benz F125 Hydrogen Gullwing Concept has an interesting layout that will fetch a lot of attention every time it zooms on the roads. The coupe has been fitted with four electric motors that will run on the electricity produced by the presence of clean-running hydrogen fuel cell stack. The car's Eco-friendly power train is a worth a steal and the striking silhouette adds to its overall appeal.
6. Mercedes Futuristic Formula Zero Sail Racer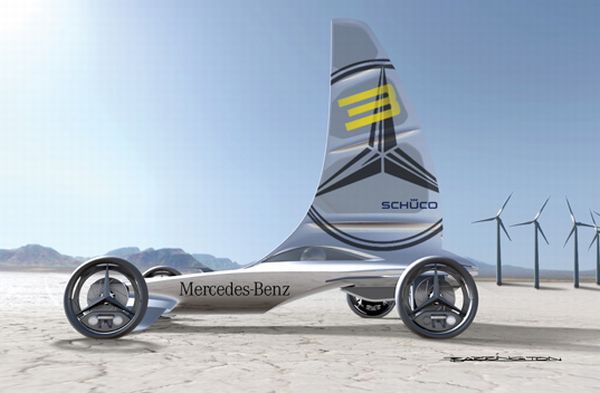 The Formula Zero Racer by Mercedes Benz comes dipped in futuristic traits. The concept is a great amalgamation of high speed racing and sumptuousness. The highly efficient creation is a zero emission ride that comes ornamented with electric motors. The outer skin has been swathed with solar panels that harness energy from the sun, whereas the nose of the vehicle has been fitted with wind turbine. Both the solar panels and wind turbine produce energy that are responsible for charging batteries of the Formula Zero Racer.
7. Mercedes-Benz BlitzenBenz concept car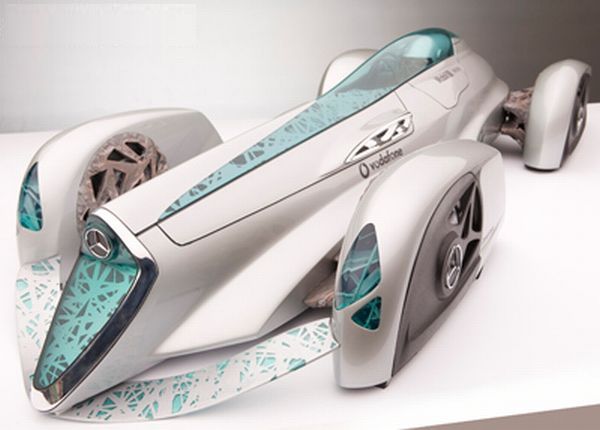 Mercedes Benz BlitzenBenz concept car is a futuristic racing vehicle that has been brought to life by designer George Yoo. The designed has fetched heavy inspiration from the Blitzen-Benz from the year 1909. The outside has an organic structure and the concept has been wedged with an advanced four in-wheel electric motors and a Hygenius hybrid hydrogen engine. The wheels pods can intelligently sense exactly when the electric motors have to be cooled down.
8. Unimog Tractor 6EV Concept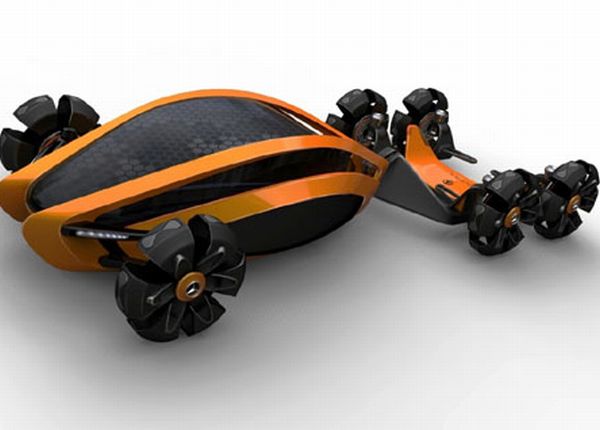 Unimog Tractor 6EV Concept will solve multiple purposes and can be used for various things. Designed by Victor Uribe Chacon for Mercedes Benz, it can also be used for towing an airplane apart from a simple transporter. It has a great form and unfurls lot functionality. The multipurpose vehicle has been fitted with six electric motors that produce a lot of power. The top of driver's cockpit has been fitted with solar panels that will produce solar energy and lend some more Eco-friendly streaks.
9. Mercedes Reporter Pickup concept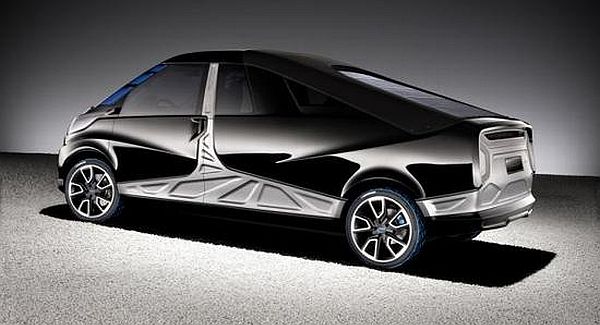 Mercedes Reporter Pickup concept is worth gawking at and has been blessed with brawny features. It comes fitted with an electric motor that is responsible for driving the rear wheels of the concept. The solar roof panel makes sure that enough electric energy is produced that is constantly provided to the batteries. The Pickup concept has a modular design that can be flexibly used for various purposes. The most attractive feature is its plug-in hybrid power train that includes a turbocharged 1.2 liter, four-cylinder engine.
10. Mercedes-Benz Arrow concept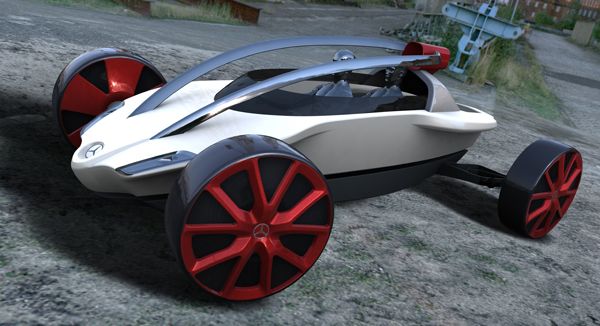 Come 2050 and the Mercedes Benz Arrow concept will be all set to grace the roads with its presence. Conceived by Felipe Palermo it has fetched inspiration from 1954 Gull-wing, Silver Arrows and Slr Mclaren. The coupe is leisure coated and will prove to be an apt recreational vehicle. The coupe will be a fun vehicle that won't pollute the beautiful surroundings at all as it will be electrically operated.