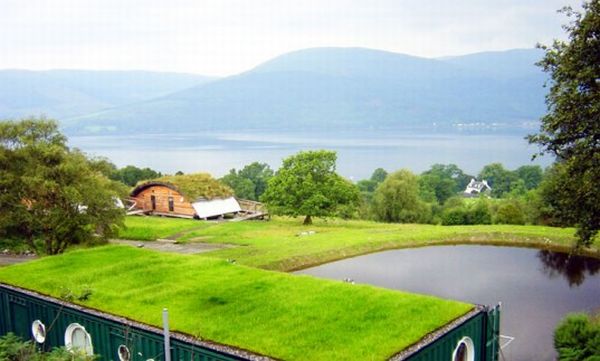 Every stretch of the world today is experiencing a green theme in all possible ways. More and more numbers of people are looking for a green concept to create a masterpiece for their luxurious living. The best option available in the context is the shipping container architecture. It certainly sounds strange when we say that buildings and structures are now being made of shipping containers and empty cargoes but once erected these are awe-inspiring and magnificent.
Shipping Container architecture amazingly delivers a symphony of beauty, contemporary designs, and green living concepts. It provides an unparalleled lifestyle with the glamorous deco designs, exclusive ambiance, and a unique way of expression through every corner of the house. There are infinite numbers of shipping container houses and offices artistically crafted with creativity, imagination, uniqueness, and excellence. From this infinite list there are few most glamorous and incredibly outstanding shipping container architectures.
Adam Kalkin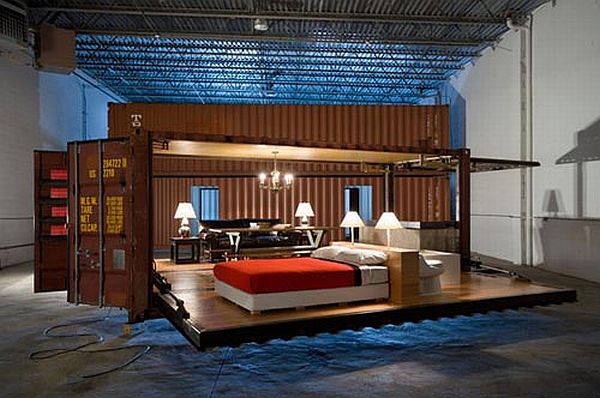 Adam Kalkin is a radical architect who created a new niche on the platform of luxurious living. He represented a new level of luxury through his excellent and outstanding efforts of creating a beautiful retreat using five recycled shipping containers. His efforts and stern dedication took him high where he offers a blend of beauty and luxury with an affordable price tag of almost less than $ 100,000.
Puma City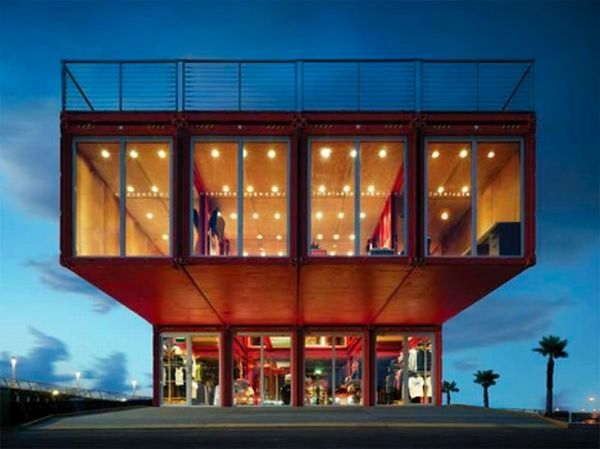 Puma City is a wonderful creation of Lot-ek who gave a new horizon to the construction industry. With innovation and creativity they have designed a demountable retail showroom for Puma using 40 shipping containers. The building is artistically designed comprising of an office, press area, storage area, bar, lounge, and an open terrace. The structural component of the overall construction is just commendable.
Austrian Extravagance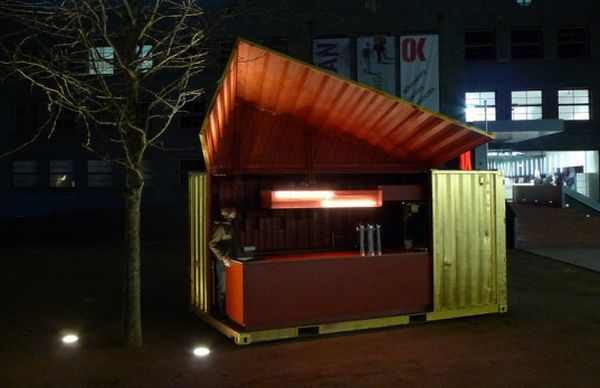 At a time where the popularity of shipping container architecture is increasing, a skilled architect Andreas Strauss created a magical blinged-out container bar that enlightens the night life in Linz, Austria. It is a beautiful mobile food establishment that turns to be an excellent hangout spot with extravagance. Another amazing characteristic of this glamorous construction is the gold plating that enhances the beauty and also adds more thrill and excitement to the site. It is a 20-foot long shipping container that was originally brought from China and then was upcycled to create the masterpiece of Austrian Extravagance.
Nomadic Museum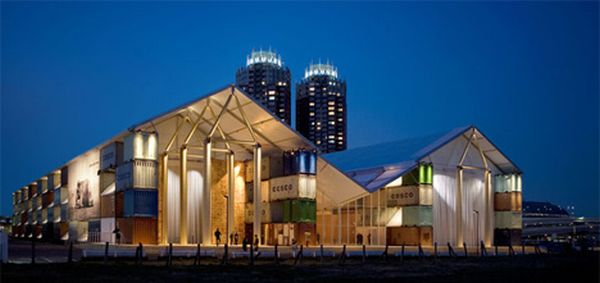 The Nomadic Museum is an incredible mobile museum that was originally designed by renowned Japanese architect Shigeru Ban. It is magnificently created of containers that behold the incredible ability to rebuild and deconstruct at different locations around the world. At every site this beautiful architecture is created with a distinctive and unique iteration in association with different engineers.
Container Nation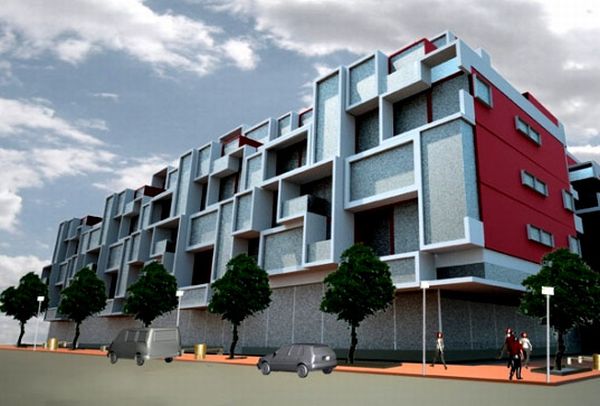 Container Nation is multi family housing in Utah that is known to be the brainchild of San Francisco-based Group 41. This is a proposed plan that is expected to use about 1,000 shipping containers and is still waiting approval. Joel Karr, principal of Group 41 has put forward an amazing design that creates virtual flying bridges within the spaces to ensure free flowing air inside and outside the house. Further to that a central courtyard is planned to provide an open common space. Once the approval is granted, the Group is sure to create magic and build unique green homes using these containers.
Platoon Kunsthalle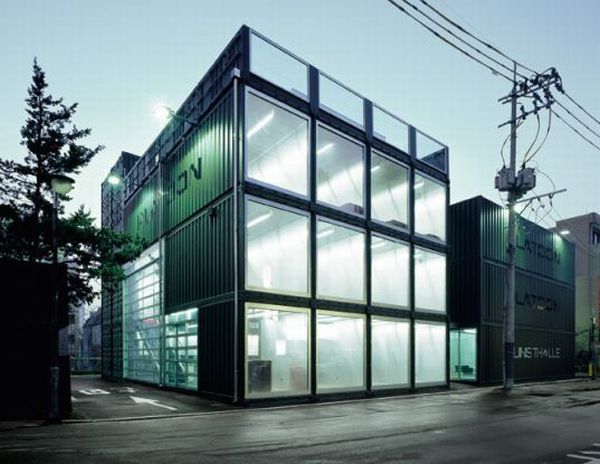 Platoon Kunsthalle is a striking and inspiring exhibition hall and art center situated in Seoul, Korea. The construction is artistically built by Graft Lab Architects using standard shipping containers. The construction reflects magic, beauty, and an exquisite feel through the artistic studio space, exhibit areas, restaurant and bar, as well as open space for gatherings.
LOT-EK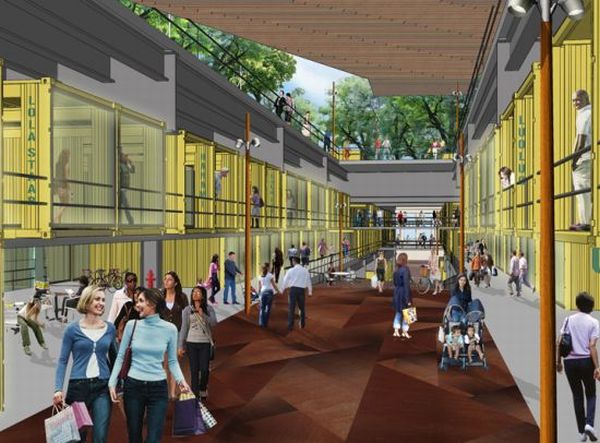 Lot-ek proposes a plan to redevelop Chelsea's Pier 57 through a shipping container shopping center. The plan seems to be interesting and inspiring with the complete transformation of shipping containers into artisan stores. It is proposed to be a complete commercial center with spaces for small businesses, exhibition gallery, auction space, contemporary culture center, and entertainment areas.
Cove Park Shipping Containers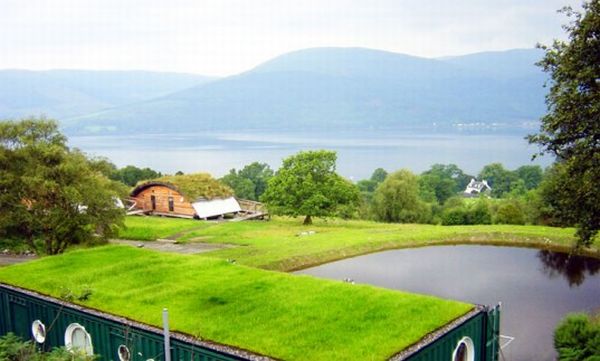 Cove Park is an inspiring cluster of green roofed retreat composed of shipping containers. This beautiful and exciting architecture enlightens the timeless beauty of the west coast of Scotland. Artistically created by skilled architects and engineers of the Urban Space Management, the retreat is an eye-catcher with bright, lavish, and simply furnished accommodation. The visual beauty of the green retreat is timeless.
Port-a-Bach Shipping Container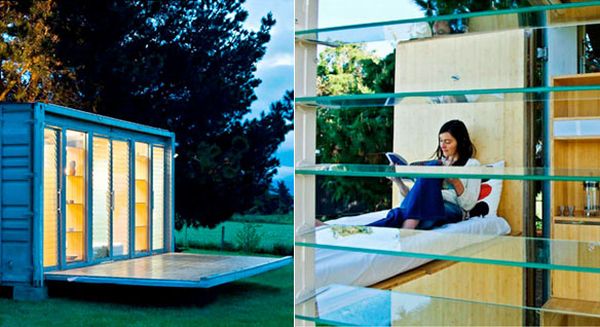 The term 'bach' is akin to small beach houses and holiday homes in the New Zealand. With the significance of this term, a magnificent holiday home known as the Port-a-Bach is designed in the country by Cecile Bonnifait and William Giesen of atelier workshop. Using shipping containers they creatively designed a portable, secure, eco-friendly, and lavish accommodation for all. It's an exciting home with excellent and unparallel qualities of being an absolute home on-the-go that can be rolled, folded, and transferred easily and conveniently.
Linx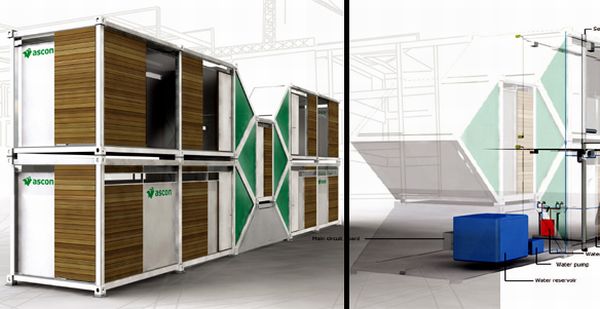 Linx is an authentic two-story break room designed by Dublin-based designer Richard Barnwall using four 20-foot shipping containers. This is basically a temporary construction that can be used for permanent shelter as it comprises of all the basic requirements like the changing room, bathroom, lunch room, and office space. The complexity of the design is awesome but that is outweighed by the beauty and magic of exquisite designer structure of shipping containers.