There's one main problem with many eco-friendly building materials. It is usually difficult to mold most of them to the architectural shapes that most of us are accustomed to seeing. However, as we are beginning to utilize them more and more extensively, we are not only finding new materials, in addition, we are also finding ways to use the old materials in a brand new way. In fact, concepts like bamboo architecture and cardboard architecture are developing into specific fields. These would definitely help in promoting the green architecture industry.
A few days ago we brought to you some fascinating examples of bamboo architecture. But for the last two decades, there has been another naturalistic, recyclable yet surprisingly sturdy material. It is creating a niche for itself in the architectural field. Yes, we are talking about the paper's stronger cousin – cardboard or the 'evolved wood' as architect Shigeru Ban calls it.
11 – Beautiful examples of cardboard architecture
Being produced at a phenomenal rate of more than 100 million tons annually throughout the world, and being astoundingly fire-resistant (because of the intrinsic component of Calcium Carbonate inside used paper). This is perfectly convenient as well the adamantly 'green' way to go, as far as we are concerned. So let us respect our mundane packing boxes, and check out the 10 glorious examples of cardboard architecture.
1. Cardboard Cafe makes a mark at the London Design Festival:

No, these are no fly-ash bricks or regular polished bricks for that matter; these are cardboard blocks adroitly arranged to form a Cardboard Cafe. The remarkable yet sustainable design conceived by b3 designers, was showcased at the London Design Festival, 2008. Other than the walls, the table, chairs and the glasses are also composed from cardboard blocks. The blocks are held in position by hot glue guns to form the solid facades. Ultimately the functionality of the cafe is quite evident, as it also doubles up as a bar in the late hours.
2. Paper Tea House by Shigeru Ban:

We all know (or at least should know) about of the subtle impact of Japanese tea ceremonies on the Japanese culture, and clearly alluding to this great tradition, eminent architect Shigeru Ban has contrived the Paper Tea House along with its furniture, composed entirely from recycled cardboard rectangular tubes. The spatial element also incorporates a main room and a waiting area (with a customary bench).
3. Eco-friendly Lisbon store built from cardboard sells recycled products:

What better way to market sustainable products than showcasing them in a sustainable environment? And that is exactly what designer Pedro Campos Costa has come up with in his interesting conception called the LOW, which is a combination of a store (used only for sale of recycled products) and a bar. The store shelf and furniture is wholly made up from paperboard without any gluing. Now, who said there can't be any 'green' consciousness on the business side of affairs?
4. The Cardboard House – modern architecture floor plan:

Comprehensively proving the fact that housing can be constructed fully from recyclable and low cost materials, Stutchbury and Pape, in collaboration with the Ian Buchan Fell Housing Research Unit at University of Sydney has designed the The Cardboard House. Composed entirely from cardboard planks, the easily movable dwelling can used for living comfortably albeit temporarily, especially in cases of emergency housing conditions.
5. Cardboard Sound Installation:

Other than its fire retarding qualities, corrugated cardboard also has sound mitigation attributes. And utilizing this specially convenient quality, Helsinki-based architects Martti Kalliala, Esa Ruskeepää and Martin Lukasczyk has created the ultimate sustainable sound proof room. Featuring an irregular cocoon like cavity inside, the whole structure doesn't make use of any adhesive.
6. Bridge made from cardboard tubes:

Now moving to outdoors, cardboards have once again proven their adaptability infused with dollops of strength. Again designed by Shigeru Ban, the bridge was made of 281 cardboard tubes, weighs around 20 tones and could carry 20 people at a time. Each tube was four inches in diameter and 0.46 inches thick, while the steps were composed of recycled paper and plastic, and the foundations of sand-filled wooden boxes. Though the whole structure was temporary and had to be dismantled before rainy season, but in a clear allusion to history it was just located at around half a mile from the fascinating Pont du Gard, an old Roman stone bridge.
7. Hansmeyer's column:

At a first glance it may look like we are examining one of the wondrously intricate pillars of Dilwara Temples, but in reality it is a mesmerizing conception, fastidiously conceived entirely from cardboard, by Michael Hansmeyer. Touted to be one of the world's most complex architectural piece, Hansmeyer's column stands nine feet tall, weighs about 2000 pounds, and is made out of 2700 1mm-thin slices of cardboard stacked on top of wooden cores. According to Hansmeyer, the 8 to 16 ornamental polygonal faces are even too complex for a 3D printer to handle!.
8. Packed Pavilion Constructed Completely From Cardboard:

Fusing the elaborate forms of art and architecture, this uniquely semi-spherical shaped pavilion is designed by ETH Zurich students Min‐Chieh Chen, Dominik Zausinger and Michele Leidi. Made from 409 circular cardboard pieces connected together with ties, the pieces used here are actually derived from recycled common corrugated cardboards.
9. Innovative Recycled Cardboard Tubes Pavilion by UNSW's Students:

Another intriguingly designed pavilion, and this time it is from the students of the University of New South Wales. They utilized plywood sheets and cut holes in the wood for void structural forms, into which 2,000 pieces of cardboard tubes were inserted. The foundation was made from wooden planks, while the final structure culminated in two half circular forms. Located in front of the Sydney Customs House aim of this design was to showcase the ability and potential of recycled components to be used as building materials.
10. A Room made of cardboard!

How naturalistic one can really get? Designed by the eminent architectural firm SeARCH in collaboration with Christian Müller architects, the bigger conception is actually a full-fledged villa that actually has been carved out of a mountain facade. Now inside this villa is a cabin with falsely vaulted roofing defined by lightweight cardboard sandwich cut-outs. These cutouts extend conveniently to the floor in a regular pattern to form cardboard shelves and closets.
11. Christchurch Cathedral in New Zealand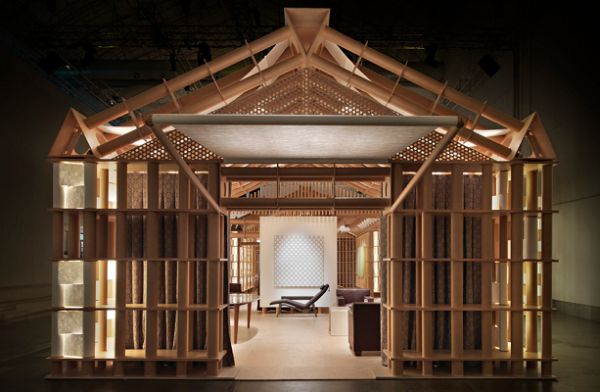 Come next year, and construction will set out in full swing for Christchurch Cathedral in New Zealand. So, you would be wondering what's so special about this. However, the church will be entirely made from recyclable cardboard materials. Earlier this year, the church was substantially damaged by an earthquake. So, it had been an absolute necessity to repair the church since it had become a potent threat to the civil life of the city.
Shigeru Ban Architects, an architecture firm located in Tokyo, is the one behind this entire concept. The firm choose cardboard because of some of its awesome features including its easy availability and ability to recycle. Furthermore, as against concrete buildings, cardboard-based buildings are less vulnerable to earthquakes and can be easily deconstructed. The entire cost of the project would be approximately $3 million.
Surprisingly, the architecture firm is working free of cost for the Cathedral. Moreover, once construction is over, the church will be able to accommodate as many as 700 people. In addition, the construction would be in the form of 'A' made from 64 locally obtained cardboard tubes. Coming to the life span of this church, it would be around 10 years.