Electric vehicles are slowly penetrating their way into the commercial automobile market thanks to the numerous unique features offered. Aside from being eco-friendly, most electric vehicles nowadays are performance-based and help cut costs in the long run. One of the latest innovations is the ZeecOO custom e-bike, an electric motorbike with a top speed of 75mph and an overall range that varies between 55 to 85 miles. Introduced by Kota Nezu of Znug Design, the ZeecOO is definitely a looker with its sleek and alien-looking appearance. The motorbike was created along the lines of a futuristic jet fighter and made its debut at the 2012 Tokyo Motorcycle Show.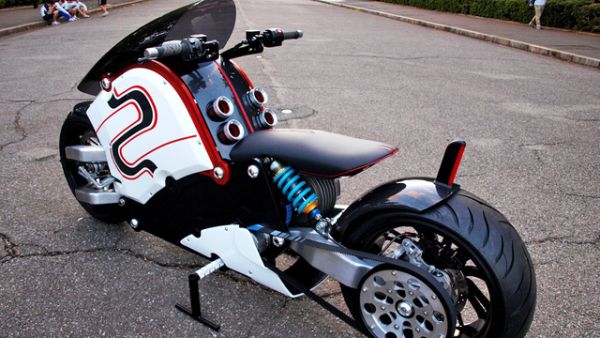 The ZeecOO is an environment-friendly electric bike that packs in quite a punch considering it runs on an electric charge. All it requires is a charge of between 4-6 hours using a retractable power cord for an overall driving range of 55 to 85 miles. The bike is said to be silent and fast and offers a smooth ride even with its ultra-low rider styling. For the front suspension, the ZeecOO uses four futuristic-looking extruded gauges to compliment the carbon fiber body.
Kota Nezu of Znug Design has done an awesome job with the finishing and has designed it in such a way that the rider doesn't really need to bend his back too much while riding. The bike has attracted a lot of attention from the Japanese press and is expected to receive a positive response from bike enthusiasts and experts alike.
The company will introduce a limited edition run of the ZeecOO before deciding on mass production. The custom e-bike will wear a price tag of $70,000. However, despite the high price tag, there's a chance that the makers could drop the cost along with boosting its performance if it goes down well with bike enthusiasts.
Via: Gizmodo