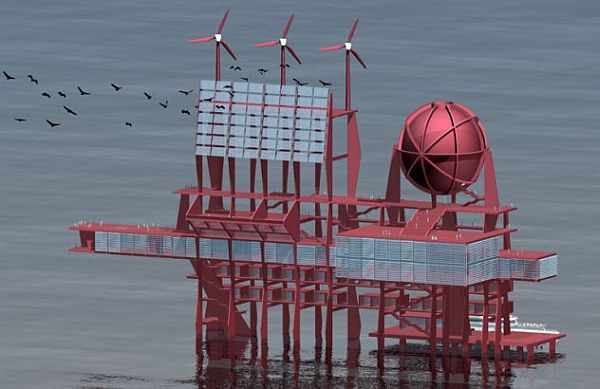 The Afsluitdijk in actuality is a major causeway which is 32 km in length and connects North Holland Province with Freisland Province in Netherlands. The fascinating causeway is flanked by saltwater Wadden Sea on one side and the freshwater Ijsselmeer on the other side. This expansive connection has long been an embodiment for celebration of indomitable human spirit and the surrounding omnipresent natural beauty. Taking these intriguing features into account, Matthias Karch Architecture has envisaged their ambitious project of a world sustainable center near the mid point of the kilometer long Afsluitdijk dike; along a small community known as Breezanddijk.
According to moderate estimates, each year the Afsluitdijk attracts around 300,000 visitors to Netherlands. The sublime confluence of the endless stretch of water with the nigh linearity of the dike certainly alludes to an altogether 'enlightening' experience for a traveler. This unburdened scope of raw naturalistic appeal is further accentuated by lack of obtrusive man-made structures in sight.
Taking all of these psychological and physical elements into consideration, the architects wanted to conceive a public building on a societal scale, which would bridge the gap between inherent naturalism and user oriented accessibility. They came upon the idea of a world sustainable center, which would comprise of a volumetric fusion of a museum, cultural center, education and research center along with a hotel for tourists.
The building will be constructed above the water surface with a support system of sturdy piers. It can be only accessed by a transit system consisting of boats; thus maintaining its physical detachment from the conventional man-made dike. The irregular de-constructive form exemplifies the nature of flexible fluidity, where its subtle verticality is superimposed by the vast expanse of the surrounding water-scape. This coalescing of an artificial structure into a natural system will certainly uphold the intrinsic visual quality of the Afsluitdijk.
Coming to green attributes, the whole building will be sustained by a plethora of renewable energy sources. The conspicuous vertical turbines at the top section will harvest wind energy. While an 'adaptive membrane' with solar cells and water collecting mechanisms will act as a collection facade for other clean and green energy sources.
Via: Architizer