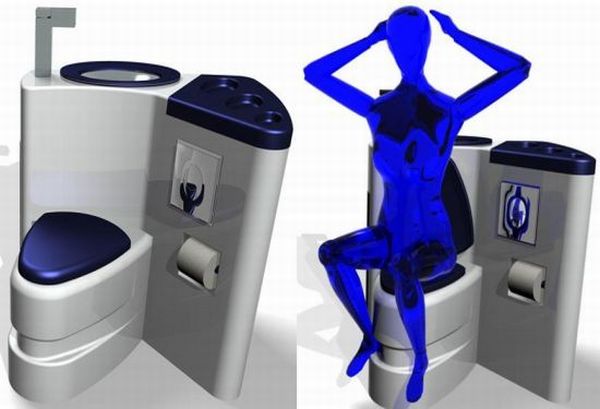 Uncontrolled environment degradation has polluted our environment and left us with scarce resources. Reduction in the consumable water level is of great concern and researchers are sweating hard to find out various ways to stop water wastage. Eco friendly toilets are one such new innovation in this regard. These environmentally friendly toilets do not consume more than 0.8 gallons of water and hence help in saving freshwater.
Given below are 10 eco toilets designs for sustainable homes of the future
1. Toto Neorest AH type tankless toilet: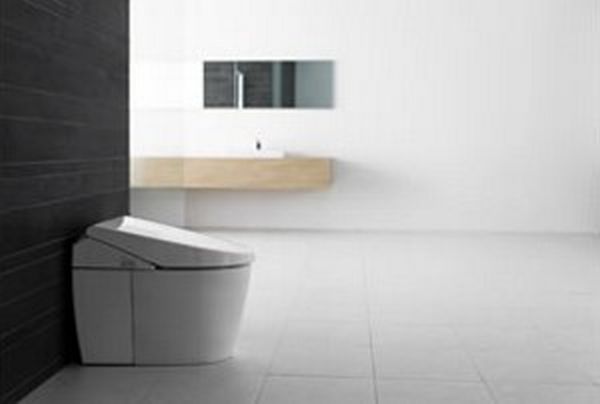 Japanese bath fittings giant, Toto, has come up with Neorest AH type tankless toilets. This newly designed toilet keeps in mind both the comfort of the user as well as environmental issues. It uses only 5.5 liters of water instead of 13 liters as used by the conventional toilet pot. It has a hybrid design which means it uses water from external source as well as toilet tank. The most appealing features of Neorest are warm water supply to clean the user with dry and warm air. It has a unique facility of maintaining the adequate temperature that adds to the user comfort.
2. ZESS Public Toilet concept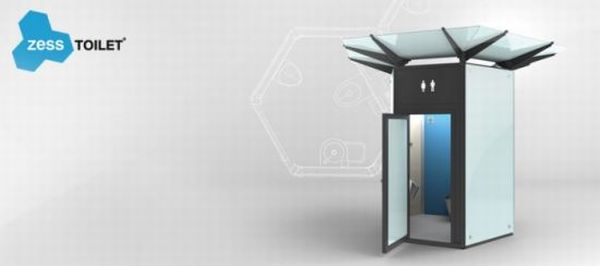 Designed by Belgian design house Bundl, ZESS public toilets are self-sufficient standalone public toilets. The energy and water needed for its working are generated using natural resources. They are not only eco friendly but also add to the beauty of the city with their stylish and packed in looks.
3. Public composting toilet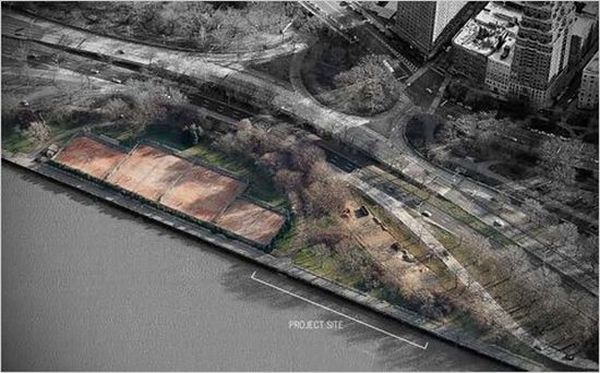 Designed by architecture firm Cook + Fox Architects, this carbon-neutral complex would be the first communal bathroom of its kind in the New York City Park. It will be made using recycled materials and will work completely on solar panels and feature a green roof beatifying the multifaceted compound. The most striking feature of this toilet is that the sewage waste will be decomposed and used to fertilize greenery of the park. This compound is expected to be fully functional by 2012.
4. Tlalock toilet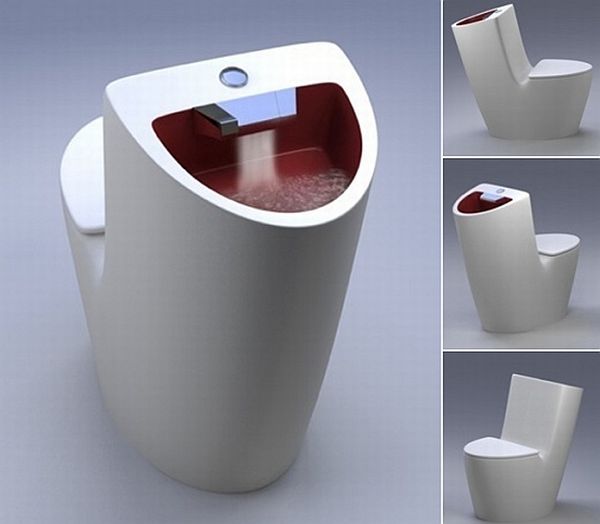 Making sea water potable is a very difficult and expensive process. The best way to avoid water-less tomorrow is to use products that save water. One such toilet design has been given by Industrial Designer Ariel Roja. This distinctive toilet uses gray water in the toilet flush. The gray water used is collected from the sink fixed over flush tank, thereby saving 83 percent of clean water otherwise being directed drained. The designers of Tlalock have claimed that a family of four can save 17,520 liters of water annually using this system.
5. Eco toilet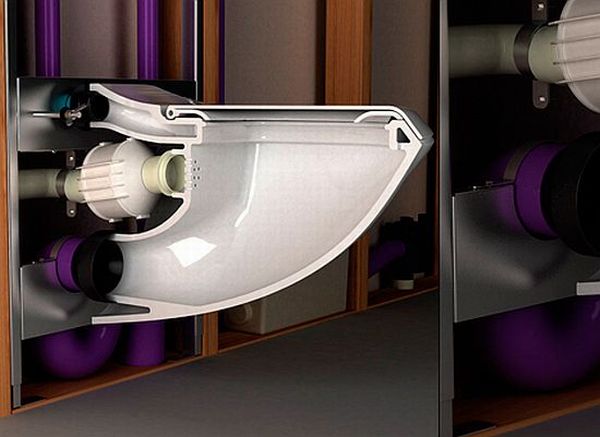 Designed by Alison Norcott, Eco toilet is also based on the similar concept of using gray water in flushing system. The only difference is that instead of using sink water it uses water collected from shower. Its features have been designed keeping it mind hygiene and cleanliness. It offers antibacterial surface coating. It has an automatic lid closing system which shuts off the system while flushing.
6. Fountainhead toilet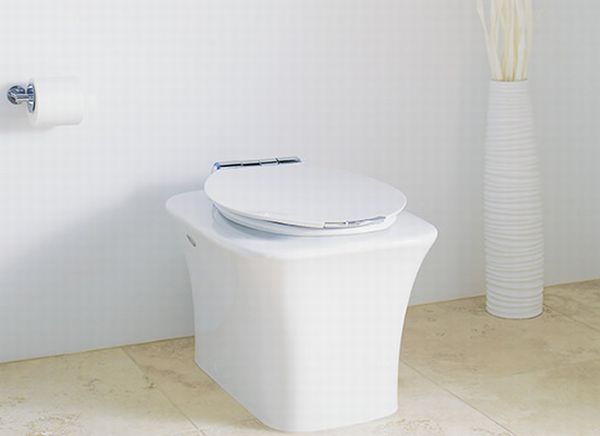 Kohler's Fountainhead toilet is a luxurious eco-friendly tankless toilet using built-in Power Lite technology. Power Lite flushing technology produces a powerful flush that cleans the toilet using less amount of water. It has a very stylish design and a one touch button that opens and closes the toilet seat automatically. Another green feature of this toilet is its handy LED light which serves as a night light. Its comfortable seat and automated temperature control system ensures ultimate comfort.
7. Stealth toilet
Niagara Conservation has come up with its latest toilet design named as Stealth toilet. Their structure and shape are similar to the conventional toilet but they uses entirely new concept known as "vacuum- assist" technology. This technology enables Stealth toilet to use only 0.8 gallons of water and makes it less noisy. Instead of using compressed air of the sealed tank to create pressure, Stealth toilet pulls the content down from below.
8. Eco logical toilet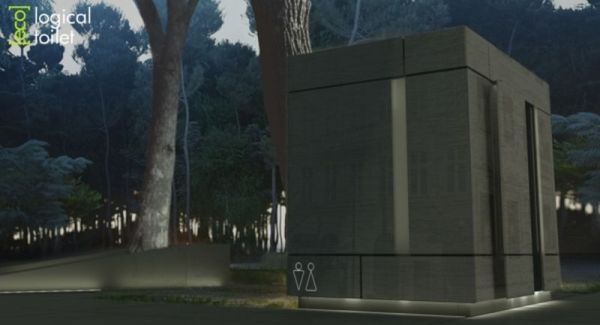 Simple in design and modern in functionality, Lukasz Ekwinski has designed an eco-friendly toilet keeping in mind beauty of nature and requirements of the city. It is powered with a solar panels fitted to the roof which also has the facility of collecting rain water. It has an ingenious system that maintains appropriate temperature inside it. Shaded part keeps the interior cool while the metal cover heats up the air when it gets cold. Round interior structure helps in cleaning each and every corner properly. Another striking feature is that its design has been created keeping in mind disable people too. Handrails and hydraulic lifts have been installed for their convenience.
9. Recycle used water with Harris A's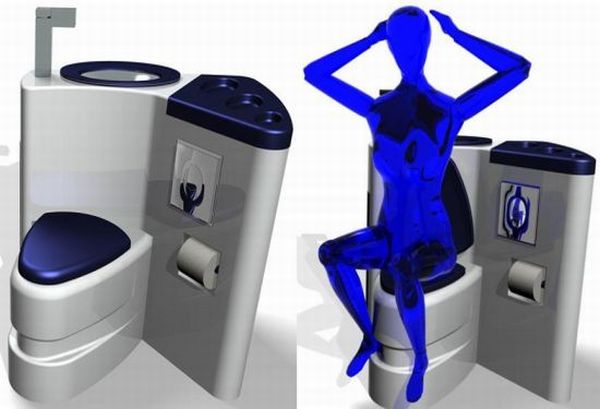 This innovative and environmentally sustainable design was given by Harris A at the Reece Design Competition. It functioning is simple. It stores sink water in the toilet tank and uses it for flushing. Provisions for storing laundry water were also made in the later models of these toilets.
10. Propel Air toilet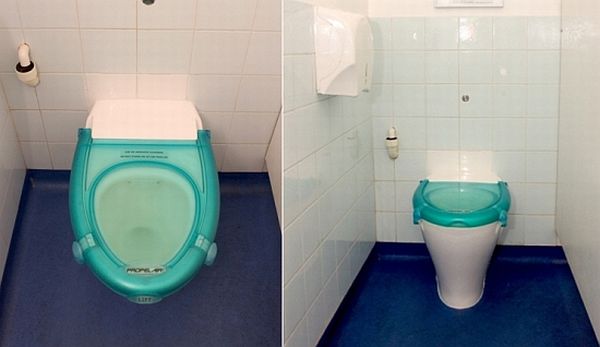 A unique air flushing toilet designed by UK based company Phoenix Product Development saves almost 84 percent water. Unlike conventional toilets which use 9 liters of water per flush, these toilets use just 1.35 liters. Air seal is formed in the pot once its lid is closed. Small amount of water enters the pot to wash it, followed by the displaced air. This air entering the bowl compels the contents without consuming much water and makes it ready for the next use in just 3 seconds.