From ancient times, wind provides green and free power. It helps to charge many things right from personal one where moving air is used to power your devices to action toys which get energy from the mini wind turbine. This ecofriendly solar charger not only helps us in many ways but also saves the environment.
These chargers are more popular for small electronic products. It is used as an alternative energy charger for PDAs, iPods, cell phones, digital cameras and mp3players.
Need for change
If you are tired of wind or solar power recharging products, then try out new thermoelectric cell phone concept charger. This concept of charging is totally different. You can wear this product in your wrist so that cell phone gets charged quickly. It does not use the motions energy, but it generates the electricity with some minor changes in the temperature of your wrist. Due to thermoelectric effect, on board thermocouple is carried by the charger which produces electricity and converts the temperature differences to electric voltage. It has got enough power to charge your cell phone for some time when it is of utmost necessity.
1. HYMINI tiny portable wind-powered gadget charger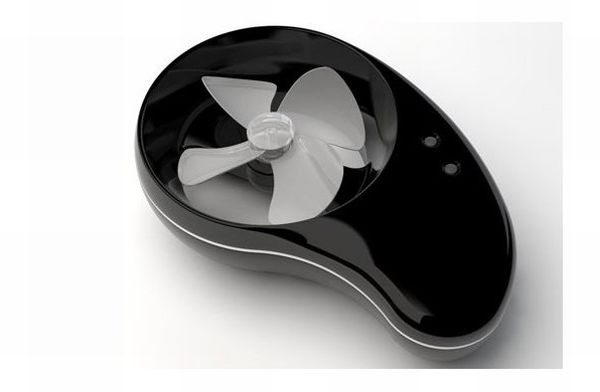 What's new?
This is a great device that lets you use the wind power wherever you go. This mini wind turbine is portable which you can connect to different devices. It allows you to charge your cell phone, cameras and other electronic devices through wind power. You can attach this small device to your bike or you can also carry it with yourself whenever you go. With this newly introduced product you can power your iPod while iTunes are set to your pace.
What difference will it make?
When you are going to drive down the road you don't have to plug your gadgets inside the wall again. You can also extend it further, so that you can harvest the renewable energy with optional solar panels. You can get enough power to listen up to over 8 hours of music on your MP3
Problems
If you stick this to your bike, you will have to pedal harder in exchange of squeezing some more energy out of it. It means you have to work more to get more energy out of it. Hanging it out of the car is also another problem, as you will have to pay penalty in gas mileage. The situation can become worse if you simply plug the charger into the car jack.
2. iFan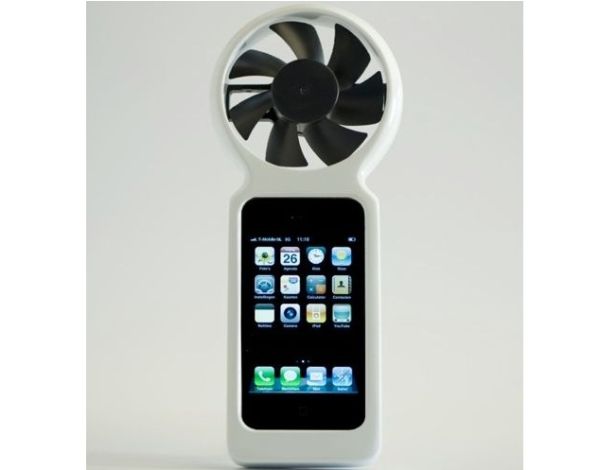 What's new?
Many people complain that iPhone has got short battery life. Many people have to charge their phone every day. To solve this battery charging problem, the concept of off-grid charger has come up. Many revolve around solar power; where as concept of iFan uses the power of strong breeze.
What difference will it make?
This concept is made of rubber skin which you can place around your iPhone and complete it with a fan at the top so that you can catch the wind. The best part of using this product is that you can bring changes to it so that it can be attached to bicycle handle for capturing the breeze while riding.
Problems
It doesn't charge the phone for long time. Cover of the phone can be problem in future for some users.
3. K2 by Kinesis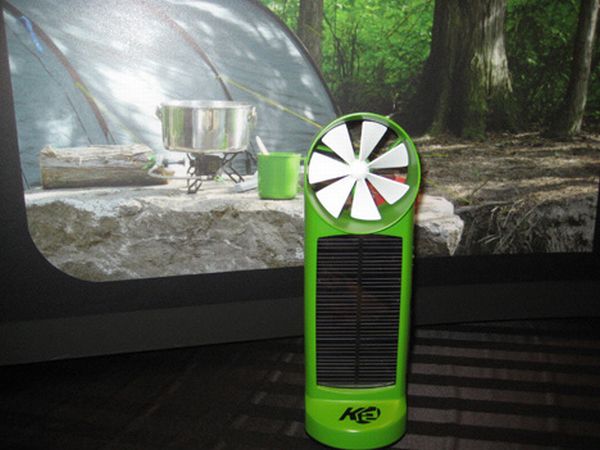 What's new?
This product is a great user friendly model. K2 is a wind hybrid charger which is designed by kinesis. To charge electronic device this product is best. You can use it with USB device like cell phone. It is popular because of its ability to recharge your cell phone 5 time on full K2 battery.
What difference will it make?
The best part of using this product is that it is easy to use. You can use the wind power without the need of sturdy stand or hook. All you need to do is simply lay it on its side. It is considered as most efficient power supplying fan.
Problems
Its big design can be a problem for users. It is bit bigger than the product for which it will be used. This can be inconvenient for the users.
4. Febot wind powered battery charger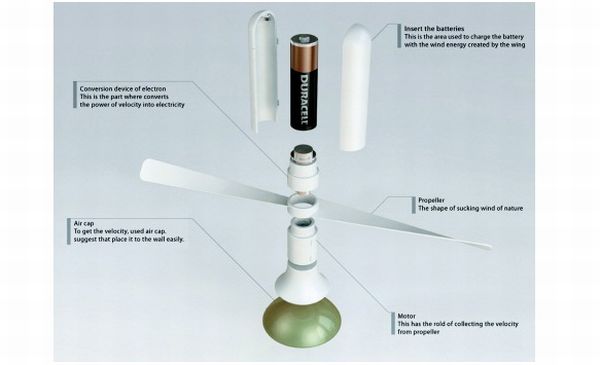 What's new?
This charger can be assembled quickl. All you need to do is simply put it together and insert the batteries. You will have to then stick it to the surface of the window where wind whips by. It has got many features similar to HYMINI but only for batteries.
What difference will it make?
The best part of using this product will be that you can charge the batteries while off the grid and on the go. With the use of clean energy you can easily make the juice for your gadgets.
Problems
The only problem user can face is with the designs, which need to be worked on. It must be designed in way that it will recharge more than one battery at a time along with easy set up in various wind situations.